How to Recover Deleted Files from Recycle Bin Using Command Prompt
If you delete files, then they are first put into recycle bin, where you can restore them by the right-click to select them and click "Restore". However, if you have emptied them in recycle bin, you can't do the restore with simple clicks. Instead, you need data recovery tool or Windows Command Prompt to recover the deleted files. Here in the following, I'd like to introduce you how to recover deleted files using Command prompt.
Part 1. How to Recover Deleted Files from Recycle Bin Using Command Prompt
Why need Command prompt to recover deleted files from recycle bin? Just think about it what you can do after you empty the recycle bin, then you see nothing you can restore. And while using the computer, it just quit, refuse to reboot. Command prompt is a great way to recover deleted files from recycle bin on computer. Here are the steps:
Press the Windows key and R at the same time to open the dialogue window
Type in cmd and press Enter
At the prompt type in cd\ and press Enter
Next, type in cd Recycled and press Enter
Type in dir and press Enter
After then, you can see there is a list with items like Dc25.url, Dc26.Ink, etc.. Actually, the number represents the number of deleted files. "D" means the drive where the Windows operating system is installed. A hidden folder is creating on each volume that has the recycle bin enabled named Recycled. Any deleted files are moved to this folder and renamed to: C<original drive letter><number file deleted>.<original extension> and the original full name and path stored in a mapping file Info.
Use the COPY command to recover the files you need. For example: COPY *.DOC C:\Temp to copy all DOC files to C:\Temp. Now you can open these files and find the one(s) that you wanted to retrieve.
Part 2. How to Recover Deleted Files Using Attrib command
As we all know that while connected an extra device, like flash drive, or USB drive with computer, when you delete a file from the device, the deleted files are not put into recycle bin, right? That's where this Attrib command way is used for. You can use it to recover any file in flash drive/USB drive. Here are the simple steps:
1.Click the start button of your Windows PC at the bottom left and type cmd in the dialogue box. End it by pressing "Enter"
2. Type in chkdsk F: /f and press Enter
3. Type in Y and press Enter to continue
4. Type in F and hit Enter again
5. Type in F:\>attrib -h -r -s /s /d *.* and press Enter
Note:
All the above mentioned "F" represents the drive letter of your external hard drive where you want to recover lost files. After step 5, your lost files will be saved back to your external hard drive/device in a newly created folder. You just need to change the file extensions back to a normal format to make them reusable again.
Part 3. BEST Command Prompt Alternative to Recover Deleted Files (Recommended)
Using Command prompt to recover deleted or lost files is a little complicated, right? To use them, you're required to know the basic command line languages. If you prefer an easier way to recover deleted files without Command prompt, I'd like to recommend you using a professional deleted file recovery tool – iBeesoft Data Recovery.
iBeesoft Data Recovery is designed for people to recover deleted files from computer and external hard drives, like SD card, Flash drive, USB drive, phone internal memory and more. With its simple interface, people will know how to use it to recover files easily. Below are the step-by-step guide for how to use it.
Step 1. Download and install deleted file recovery tool
Click the download button to get iBeesoft Data Recovery tool. After downloading it, double-click the .exe file to install on your computer. It is fully compatible with Windows 10, Windows 7, Windows 8, Windows XP, and Windows Vista. Next, run it right away.
Please note that if you're going to retrieve deleted or lost files from an external hard drive, you need to connect it with your computer via a USB cable first.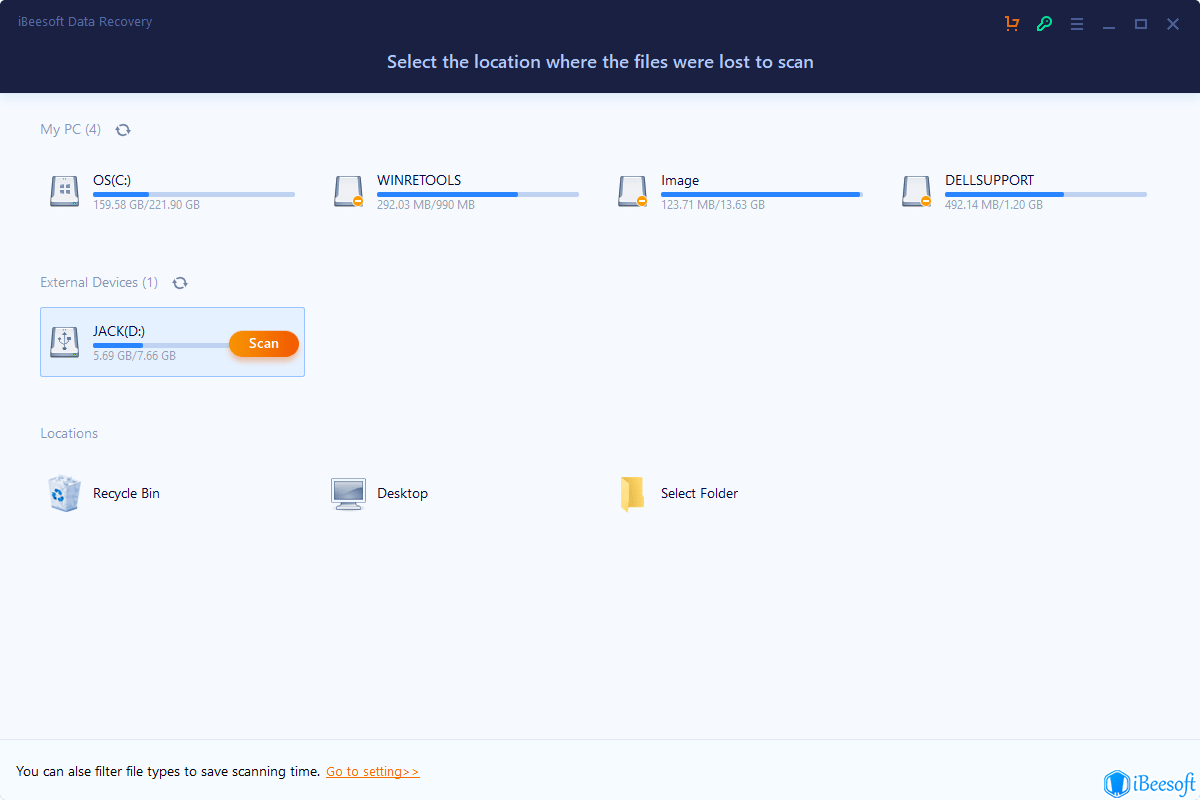 Step 2. Select File Types to Recover
The supported file types are listed in the main window. Please check the file type you want to recover. By default, all supported file types are checked. Please uncheck the not unwanted ones and click "Start", letting the software scan for your lost or deleted files.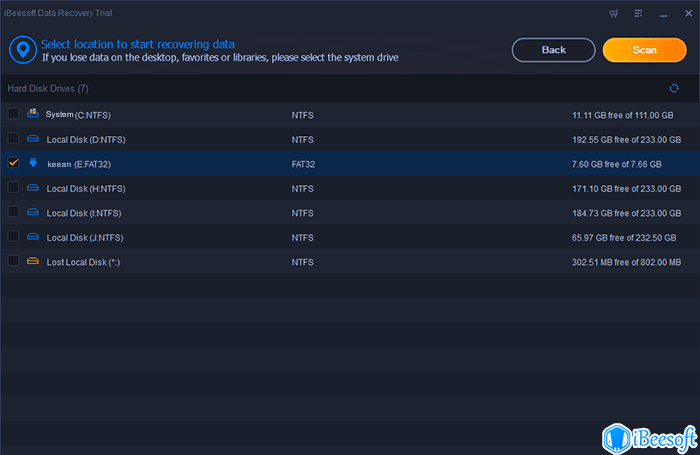 Step 3. Recover Files from Computer or External Hard Drive
It only takes a few seconds for the tool to scan for deleted or lost files. After the scanning, all found files are displayed in the result window. From there, you can select files to preview them or click "Recover" to save them on your computer.