iBeesoft Duplicate File Finder 2.0
iBeesoft Duplicate File Finder is the best duplicate file finder to find duplicate files on Windows PC, helping you remove duplicate in a single click. It helps keep your computer clean, tidy, and boost your computer performance.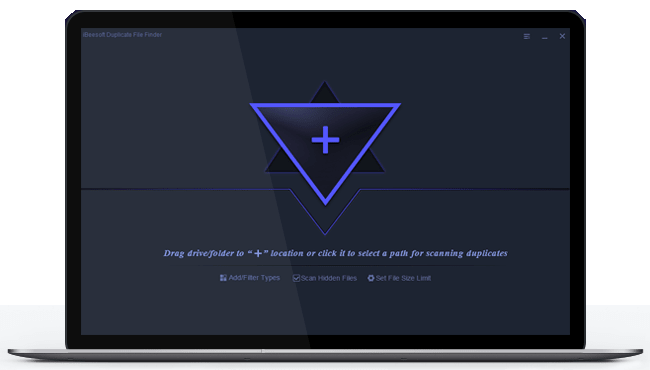 iBeesoft Duplicate File Finder
Reviews (286)
Why Choose iBeesoft Duplicate File Finder?
Your duplicates your way to find and remove them. The duplicate file finder meets your special requirements to filter duplicate by file types and file size, select duplicates intelligently, making the whole process of removing redundant duplicate files swiftly, saving you time to tidy and clean up your computer, free up storage.
Quickly Target Files with File Types

Set up file types to scan, find and remove duplicates swiftly than you thought of.

Efficiently Locate Redundant Files

Set up file size to filter large-size duplicate files, free up space with high efficiency.

Intelligently Remove Duplicates

Select duplicate files intelligently, make it a single click for you to remove them.
Remove Duplicates to Keep Your Files and Storage Well-organized
iBeesoft Duplicate File Finder locates duplicate files in folders and drives within 1 minute and a single click to remove duplicate files with 100% accuracy, reclaiming wasted disk space and boost computer performance for you. Equipped with the edge-leading technology to identify duplicates not only with its name, but file content as well. It's one of the best duplicate file finders for Windows PC.
Remove Duplicates with 100% Accuracy

It's hard to remove duplicates accurately when you do it manually. This Duplicate File Finder is developed with the most advanced technology. It's able to compare the files in names and content intelligently, finding duplicate files quickly and letting you preview the duplicate files. After then, a single click on "Remove" to remove duplicate files 100% accurately.

Keep Photos/Videos/Songs Well-organized

Never want to view duplicate photos in the album, playing duplicate videos or listen to repeating tracks in the playlist? You now need the Duplicate File Finder to scan your computer hard drive, external hard drive, CF card, TF card, SD card, as well as music player, cleaning the duplicate files, making it a great experience for you to enjoy your time.

Free up Disk Space and Boost Performance

Think about useless duplicate files occupied your computer disk space or external hard drive, slow down its performance. How bad it is!!! iBeesoft Duplicate File Finder removes these duplicates from hard disk, free up disk space and boost computer and disk performance for you. You can find your computer and hard disk run faster than before.
3 Simple Steps to Remove Duplicate Files
It's easy to remove duplicate files with the streamlined built-in navigation. 3 simple steps it's done. It only takes less than 1 minute to scan over 100GB files. In the result window, you can preview the duplicates and a single click can delete the duplicates swiftly.
User's Review
"Easy duplicate file finder works greatly, finding over 100 duplicate pictures on my computer, saving my time cleaning up the duplicate. I tried to remove duplicate files manually, it took so long and made me tired."

Jenny

"Bravo!!! Duplicate file remover saves my time. My disk is almost full and I have to remove files to free up space. The software has removed over 500 duplicate pictures and 10+ redundant videos saved the space for my new documents. It frees my time and energy."

Cary

"It cleaned up my hard drive duplicate files very quickly. I first just tried it and wanted to know whether it works or not. It found the duplicate files and I reviewed the results. It's accurate. I clicked the "Remove" button, it saved me several GB space. The software really changes the way we manage files and computers."

Martin

"Trustworthy tool, really great!!! I used it to remove duplicate files from WD external hard drive. It found many previous family pictures duplicated, helped to remove them from the disk. The scanning process is very quick. Easy and simple to use."

Wayne

Discover iBeesoft
Products