This is the 21st century and our phones and photos have become a very important part of our lives. Photos help us to keep memories. There may be times in which these special photos get deleted. This experience can be seen as extremely painful. Loss of these photos may also arise due to some scenarios such as accidental deletion, system crash, virus intrusion, factory reset, lost phone, damaged or broken phone, iOS update, stuck at the Apple logo, jailbreak, or accessibility issues due to forgotten password. No matter the issue leading to the loss of your photos, iBeesoft has come to save the day by helping you recover deleted photos on iPhone.
iBeesoft iPhone Data Recovery is a very powerful software tool which offers the best iPhone photo recovery features. It provides iPhone users the opportunity to get back photos lost from their iPhones, iPad or iPod. This software is not a software which is limited to recovering only deleted pictures from an iPhone. It is good enough to recover any data lost on an iPhone due to any of the aforementioned scenarios. It is capable of recovering a variety of lost data such as lost photos, videos, contacts, messages, Whatsapp chat history, audio and other forms of data from iPhone, iPad and iPod touch.
The iBeesoft iPhone Data Recovery Software is very powerful and helpful in recovering almost any type of lost data. To increase the chances of recover deleted photos from iPhone 6, 6 Plus, 6s, 6s Plus, 7, 7Plus, iPhone 8, iPhone 8 Plus, iPhone X, iPhone SE and more. it provides users with three data recovery methods, namely:
Your Effective & Safe iPhone Photo Recovery Software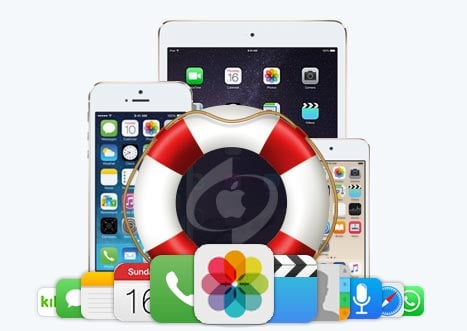 Recovery from iOS device: The software is able to recover different types of files from iOS devices such as iPhone, iPad and iPod touch. This method is effective in recovering deleted photos.
Recovery from iTunes: The software would scan the iTunes backups and locate deleted or lost pictures and data when the iOS device gets lost or stolen.
Recovery from iCloud: The software would extract your photos from the iCloud backup to gain access to lost photos and data. This method does not require a connection between the iOS device and a PC.
Let's look at each of the listed methods in detail.
Method #1. Recover Deleted Photos from iPhone
This is still the easiest method till date to recover photos from an iPhone, iPad, or iPod touch. It deals with the scanning of the device to locate the lost pictures. It is quite simple and easy. Deleted files often become invisible and are waiting to be overwritten by newly generated data. In order to guarantee success from this method, it is suggested that you stop making use of your device until a successful data recovery. This method is suitable for recovering lost files just recently lost. iPhone data recovery can be gotten according to the following steps.
Step 1. Download and Install iBeesoft iPhone Data Recovery
The iBeesoft iPhone Data Recovery software should be downloaded and installed on your computer. The software is safe to use for any PC.
Step 2. Scan your iOS device
Make use of a digital cable to connect your iOS device with your PC. Start up the iBeesoft iPhone Data Recovery software and choose "Recover from iOS device" from the first window. Automatically, your iOS device should be detected. If this does not happen, make sure you have enable the option "Trust this computer" on your device and input the password if it demands for one. Click "Start" to allow the software begin its scanning for deleted pictures.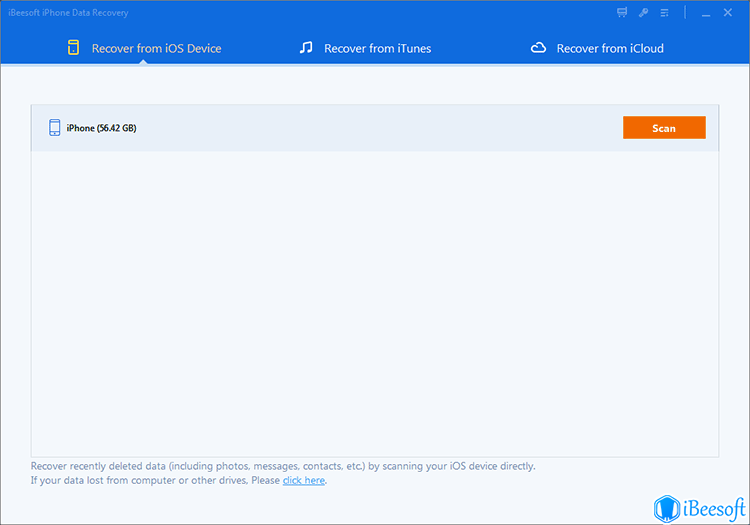 Step 2. Preview and Recover iPhone files
The software will scan for the deleted files in a few minutes. During the scanning, the software will automatically sort all the files into different categories on the left side. These files can be previewed on the right side. When trying to locate the target files, select them and click on "Recover". This will save them to your computer system.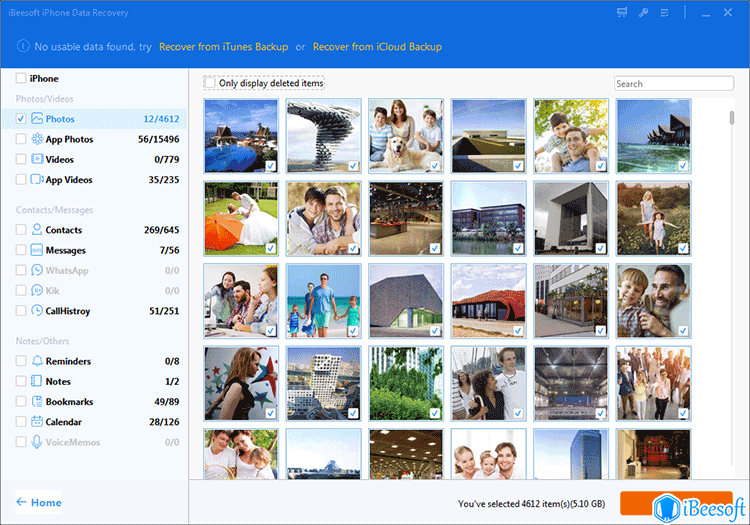 If you are unable to directly locate the target photos on your iOS device, ensure you try to recover them via iTunes or iCloud.
Method #2. iPhone photo Recovery by Extracting from iTunes Backup file
This method will be most efficient if you connect your iOS devices with your PC regularly.
Step 1. Choose an iTunes Backup file to extract
Start up the iBeesoft iPhone Data Recovery. Choose "Recover from iTunes" from its main window. This means you would try extracting photos from an iTunes backup file. The software will help detect all available iTunes backup files and display them on the PC. Choose the file which contains the deleted photos you are looking to recover and select "scan".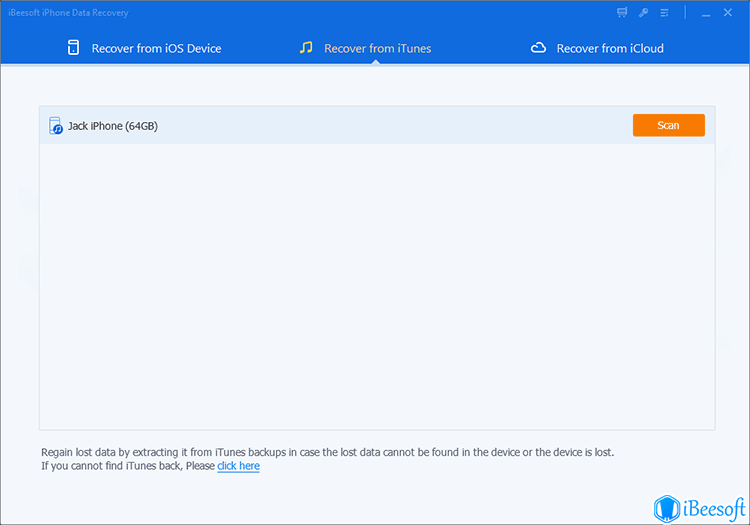 Step 2. Preview and Recover Deleted files from iTunes Backup
The software will extract the iTunes backup file in a few minutes. After the extraction, it will sort out all files into categories on the left side. The next thing to do is to preview the extracted photos and choose the photos to be recovered. Select the files and click on "Recover" to save them on your PC.
Method #3. Recover iPhone Deleted Pictures from iCloud Backup File
If you constantly make use of your iOS devices without connecting to the computer, you may have enabled the "Backup iCloud" option. This feature allows you backup all your files on the iCloud. This means you can try recovering lost photos from the iCloud.
Step 1. Log in with your iCloud Account
In recovering data from iCloud, you need to get the iCloud backup file. In the iBeesoft iPhone Data Recovery software, click on "Recover from iCloud" to get the iCloud backup file. After this, log in with your iCloud name and password. The software does not save your account information but only gets the iCloud backup files and extracts them for you.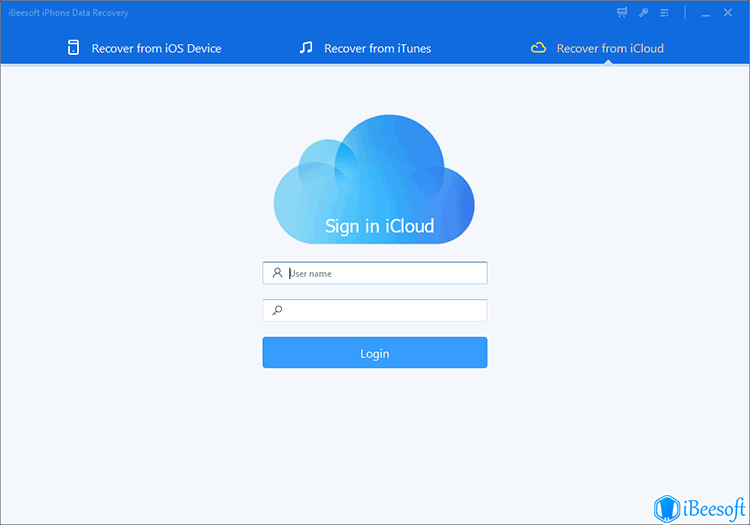 Step 2. Download iCloud Backup file
Upon logging in, all available iCloud backup files will be displayed there. Select the one of your choice. The latest backup file may be the one with your deleted photos.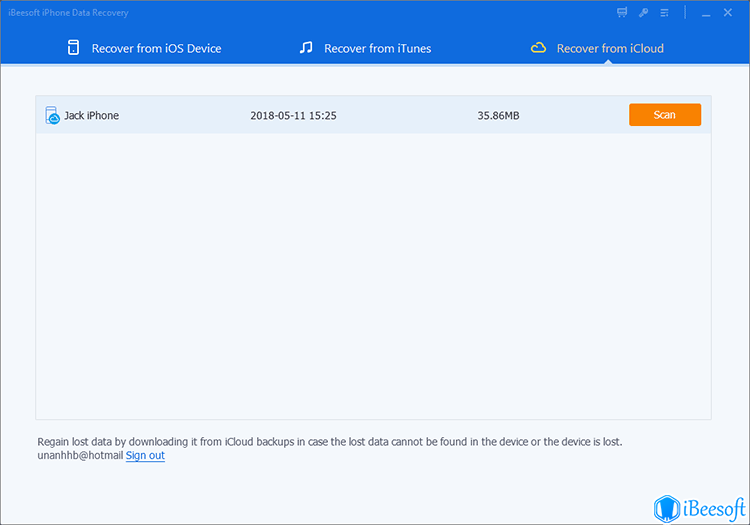 Step 3. Recover file from iCloud backup
After downloading the iCloud backup file, the software will extract and sort out all the photos into categories. All that is left is for the user to select the files to preview and recover.