How to Recover Unsaved, Lost or Deleted Excel File on Mac

It happens regularly that you're working on an Excel workbook, and suddenly it stopped working or the computer crashed right away, leaving you worried about the work have done because it's too late for you to save the Excel. That's the reason why people need to recover unsaved Excel file on Mac and they asked for the recover Excel file Mac solution on the forums. Actually, there is 2 way to recover Excel file not saved on Mac. Check out the details below for how to recover Excel file on Mac whether it is unsaved, deleted, emptied the trash, formatted drive, or other cause of loss.
Part 1. How to Recover Excel File on Mac Due to Deleted, Lost or Emptied Trash
Part 2. How to Recover Unsaved Excel File on Mac for Free
Part 1. How to Recover Excel File on Mac Due to Deleted, Lost or Empty Trash
MS Excel can draw beautiful charts and spreadsheet to provide an intuitive and effective presentation for reports. It can also process and analyze various data. However, it is frustrating to lose Excel files due to accidental operations. Don't worry, here you can free try the professional Excel recovery Mac tool - iBeesoft Data Recovery for Mac to completely recover Excel files on Mac in minutes. The best Mac file recovery software has a powerful data recovery capability that can recover deleted Excel file on Mac or other drives. This program supports all file formats and storage devices, you can only click three to help you recover Excel files, Word document, PowerPoint photo, music, video and more on Mac.
(129)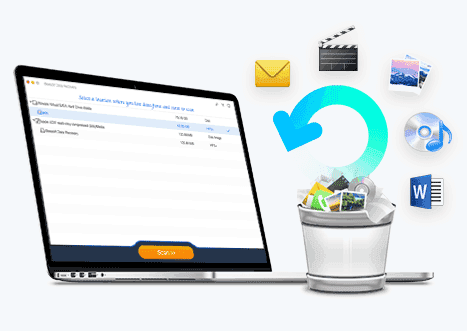 It provides two scanning modes to help you completely recover Excel file on Mac.
Fully compatible the latest macOS, this efficient file recovery software can recover deleted/lost excel files from Mac hard drive, memory card, USB drive, and more.
It can preview the recoverable files to make sure better Mac recover Excel files effects.

Things to pay attention to if you lost Excel files from hard disk/external device, please stop thinking anything to make it up. All files, including Excel files, graphics, emails and more are still on the hard drive/external device, but you can't see them visually. They are waiting to be overwritten. Any further operation your Mac will result in Excel deleted permanently. And you should perform the recover Excel file on Mac as soon as possible.
Method #1 - Video Guide for How to Recover Deleted Excel files on Mac
Method #2 - Text Tutorial for How to Recover Excel File on Mac
Step 1. Install the Recover Excel File Mac Application
Download the latest version of iBeesoft Data Recovery for Mac over the internet. Install it as the way you install other software on your Mac. It is fully supported macOS High Sierra and the latest versions.
Step 2. Select Files to Scan
Run the Mac Excel recovery tool. From the main window, you can see all the supported files are selected, the software is ready to scan for them. You need to uncheck them, only keep the "Documents" option selected and click "Start" to recover Excel file on Mac.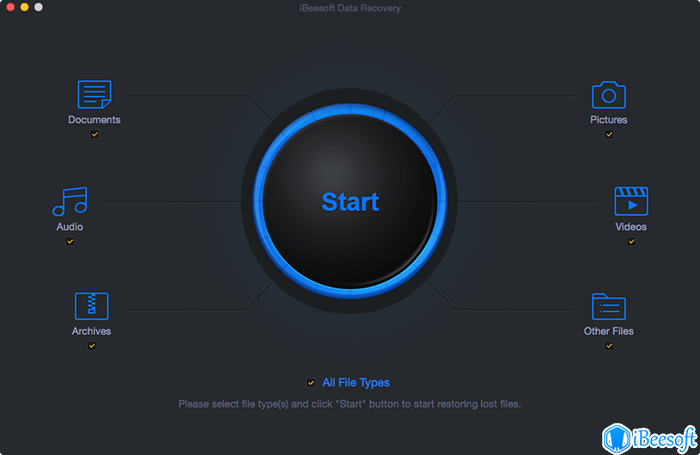 Step 3. Select Drive to Scan
All disk/volume, as well as external hard drives connected to your Mac are listed there. Please select the one where you have deleted or lost the Excel file and click "Scan" to scanning and recover lost excel files on Mac. A progress bar will tell you how it goes on with the scanning process.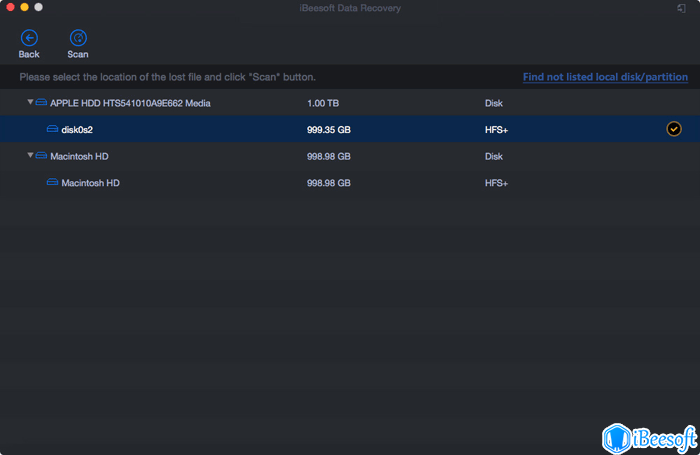 Step 4. Recove Excel File Mac
It only take a few minutes for the recover excel file Mac software to scan for the deleted or lost data on Mac. After then, you can see the found Excel files in the result window. Find the one you need and click "Recover" to save and Mac recover excel. There is also a "Deep Scan" option in the window, which will scan your Mac deeper for more files. If you're not content with the result, you can try it.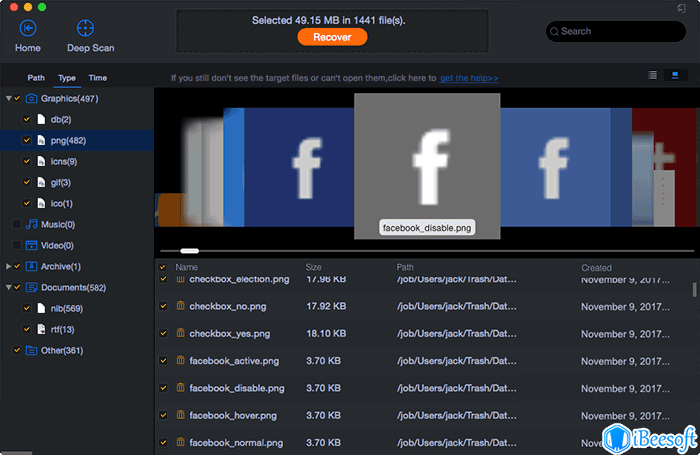 Part 2. How to Recover Unsaved Excel File on Mac for Free
Microsoft has developed tools or built-in features in Microsoft Excel to solve the problem of losing the unsaved Excel worksheet in case of users really need the file, but lost it accidentally. They are Excel AutoSave and AutoRecover. First, let's distinguish them, knowing which one you need to recover unsaved Excel file on Mac. They are enabled by default on your Mac Excel. If you haven't changed the settings yet, it is very likely for you to recover Unsaved Excel files on Mac of you need.
Excel AutoSave: it is a tool that automatically saves a new document that you have created but not saved yet. It is greatly helpful if you created a file, but have saved, and later your computer crashed or power failed.
Excel AutoRecover: it is a feature in Microsoft Excel that helps you to retrieved unsaved files on Mac after an accidental, like Excel or Mac corrupted, or shut down. After then, you restart your Mac and Excel, the option will appear automatically, asking you to choose whether to restore the current Excel to the last saved version or not. And you should remember that the pop-up only appears when your Excel worksheet has been saved at least once.
In this case, if your Excel crashed on Mac or computer issues resulted in the Excel file unsaved, and it is the first version you haven't saved yet, you can recover excel file on Mac with the steps:
1.Click Finder on your Mac.
2.Find the Excel file in this path: /Users/username/Library/Application Support/Micirosoft/Office/Office X AutoRecovery.
3.Select the auto saved Excel file, copy it to a location on your Mac computer.
If the Excel file you have saved over once, then go on editing it, then unsave it and your computer crashed or the Excel software not working, or the Mac shut down, then try the AutoRecover feature to restore the previous version of Excel file on Mac.
1.Open the current Excel file, click "File" menu > "Restore".
2.Find the latest version you have saved and click "Restore".