Best 10 Duplicate Photo Cleaner for PC [2021]
Taking pictures is a common habit for people daily since it is no longer the privilege for camera owners as the smartphone is everywhere. However, it is a problem that confuses people when there are hundreds or thousands of pictures, especially duplicates photos on a computer. If you're looking for a duplicate photo cleaner, take a look at the 10 top duplicate photo cleaners for PC and iBeesoft Duplicate Finder is one of them. You can download it right now
Updated on Dec 8, 2020
Duplicate photo cleaner is a great software tool to remove duplicate photos on your computer, manage photos, and free up computer space. If you have many duplicate photos on your computer, pick up one of the suitable software below to clean up the duplicates.
Part 1. Recommended Best Duplicate Photo Cleaner – iBeesoft File Finder
Part 2. Guide to Use iBeesoft File Finder to Remove Duplicate Photos on Computer
Part 3. Other 9 Duplicate Photo Cleaner for Computer
Part 1. Recommended Best Duplicate Photo Cleaner – iBeesoft File Finder
The best duplicate photo cleaner full for your service is the iBeesoft File Finder. It helps you in identifying all the duplicates present on your system with ease. You can identify with file types, locate redundant files, and remove duplicates intelligently. Removing unwanted files helps you to keep originals and free up space. The main features are:
Your Effective and Best Duplicate Photo Cleaner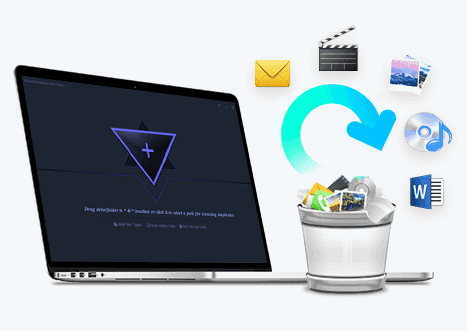 It can filter and edit the file type and size to speed up the scanning time.
The duplicate photo finder for Windows 10, Windows 8, Windows 7 can identify large files and free up drive space efficiently.
Intelligently remove duplicate pictures from desktop, notebook, memory card, external hard drive, CF card, and more with a single click.
Part 2. Guide to Remove Duplicate Photos on Computer
The best duplicate photo cleaner, iBeesoft File Finder, uses the latest technologies and algorithms to identify duplicate files with a 100% accuracy rate. You can download the duplicate photo cleaner and install it using the on-screen instructions to have a try now!!!. Follow the steps below to locate and clean duplicate files.
Step 1: Start the photos duplicate cleaner by clicking the icon from the desktop. The main window shows the + sign. You can click it and choose the folder to identify the duplicates or drag and drop a folder. You can filter types, scan for hidden files, and select the file size limit.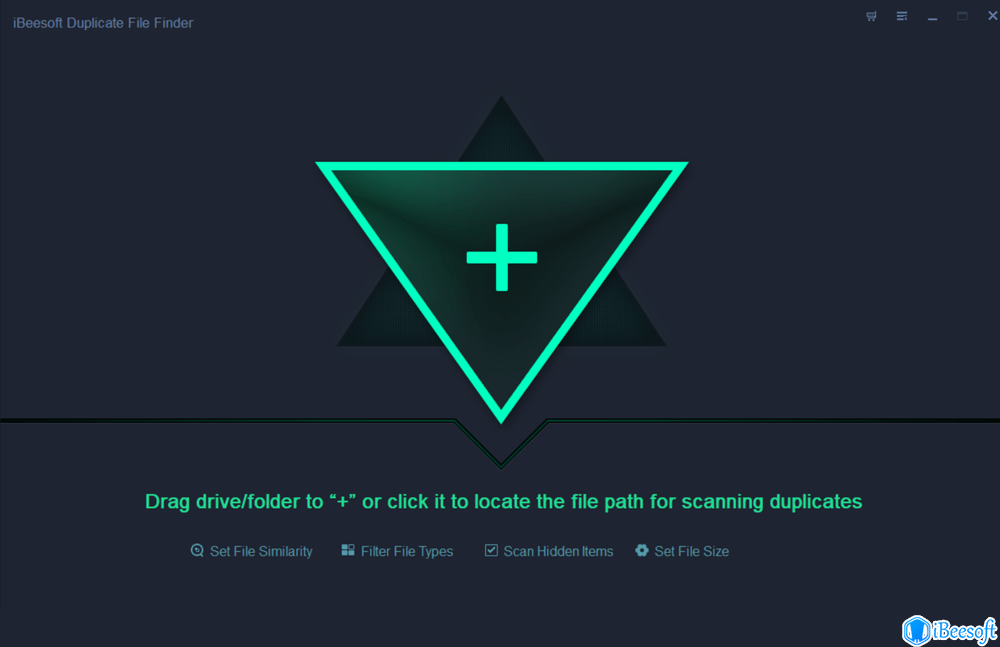 Step 2: The software will complete the scan and display the number of duplicate files. It will arrange them according to the file types. You can select the "Photos" category to see the number of records and the total space occupied by the duplicate files.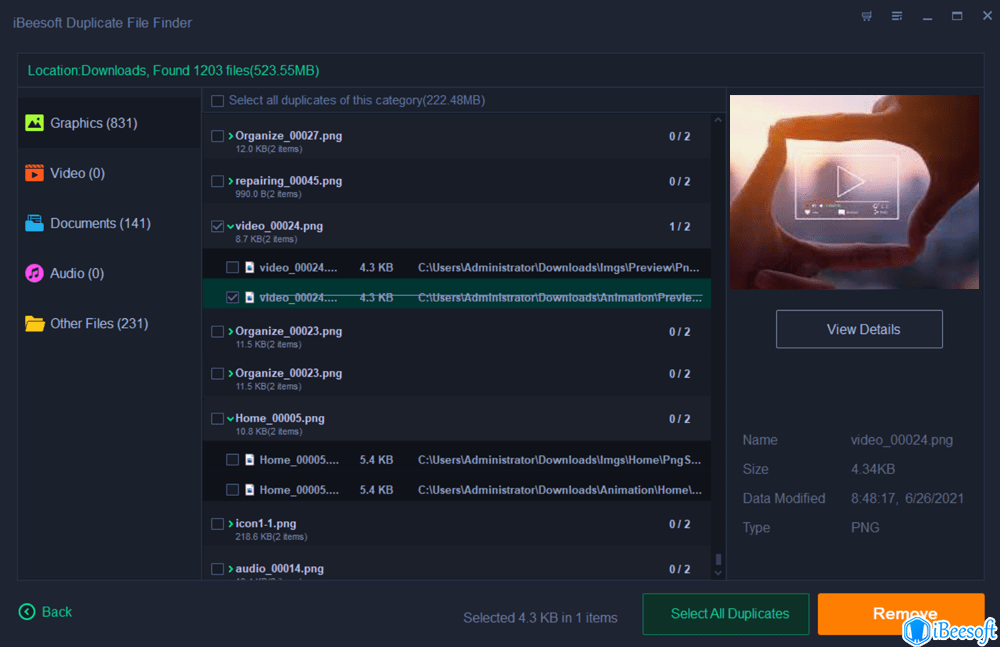 Step 3: Start selecting the files using the tick boxes. After completing the markings, you can press the "Remove" button to erase the duplicates from your computer. You will see a pop-up message stating the action is complete, and the duplicates are in the recycle bin.
Part 3. Other 9 Duplicate Photo Cleaner for Computer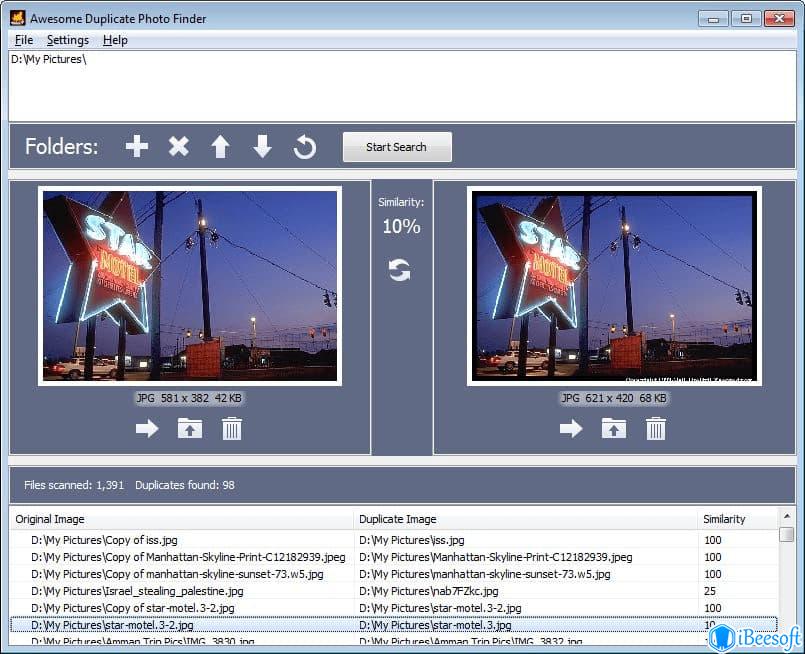 The duplicate photo cleaner portable is easy to use for beginners
Detects edited pictures and resized images
You can exclude or include a file format during the scan
It shows the similarity percentage
It is an incredible software and scans thousands of images with ease. It helps in identifying duplicates and removing them in a few seconds.
Advantages:
Lists the duplicate files in a list for convenient viewing
Sends the deleted pictures to recycle bin so that you can restore if the need arises
Supports different file formats
Disadvantages:
Does not have automatic deletion feature
Has fewer features
Developers fail to update the software frequently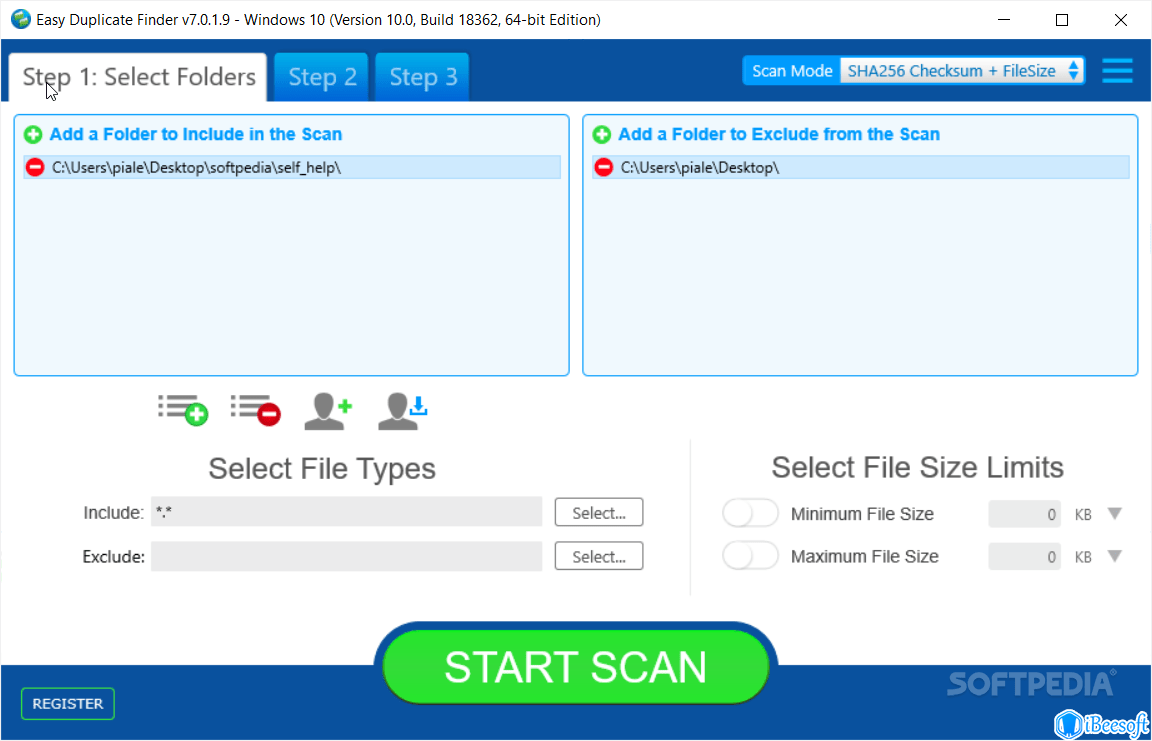 Several scanning duplicate photos and other files modes
Recovers lost disk space after remover duplicates
This duplicate photo cleaner for PC can detects and removes duplicate files of different file types
You can preview files before deleting
Find and delete duplicate files with ease. It has a unique "undo" feature to recover deleted pictures. It is a one-of-a-kind feature that makes it an exciting program.
Advantages:
See the amount of space occupied by duplicate files
You can rename, move, and export duplicates
Disadvantages:
Scanning results may not be accurate
Operates slow
It shows fake duplicates at times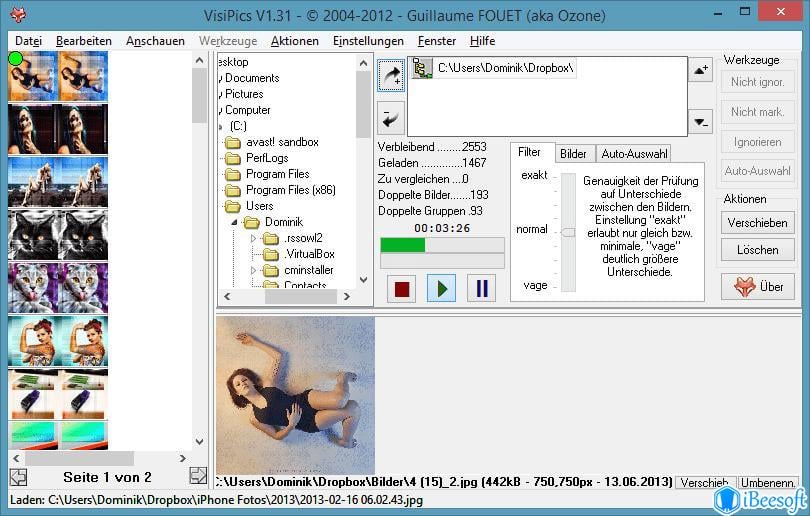 User-friendly interface. Basic, lose, and strict mode to alter the accuracy
Tutorials help a beginner to operate easily
Supports all file formats
Auto-select functionality saves time
The photos duplicate cleaner download for your computer operates at a faster rate than other tools at present. It uses five comparison filters to identify the original image against duplicates.
Advantages:
Greater control in deleting photos than other tools
Supports even RAW image file format
Disadvantages:
No updates
It consumes plenty of time to scan folders
Operates slowly due to increased filter operations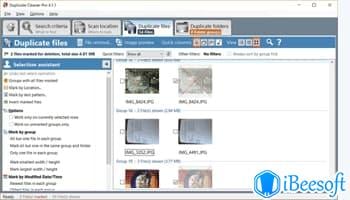 Comparison of audio files
Identifies duplicate files within a zip file
File and group-based search filters
Automated selection feature helps you to pay attention to essential pictures
If you are willing to spend money, then the Duplicate Cleaner Pro is the best app to remove duplicate files. Apart from detecting resized, edited, and rotated images, the other features include.
Advantages:
It has the most flexible interface than others
Delivers accurate scan results. Installs on all operating systems and is easy to use
Disadvantages:
You cannot pause the scan
You will experience some glitches during operation
You must mention file size in kilobytes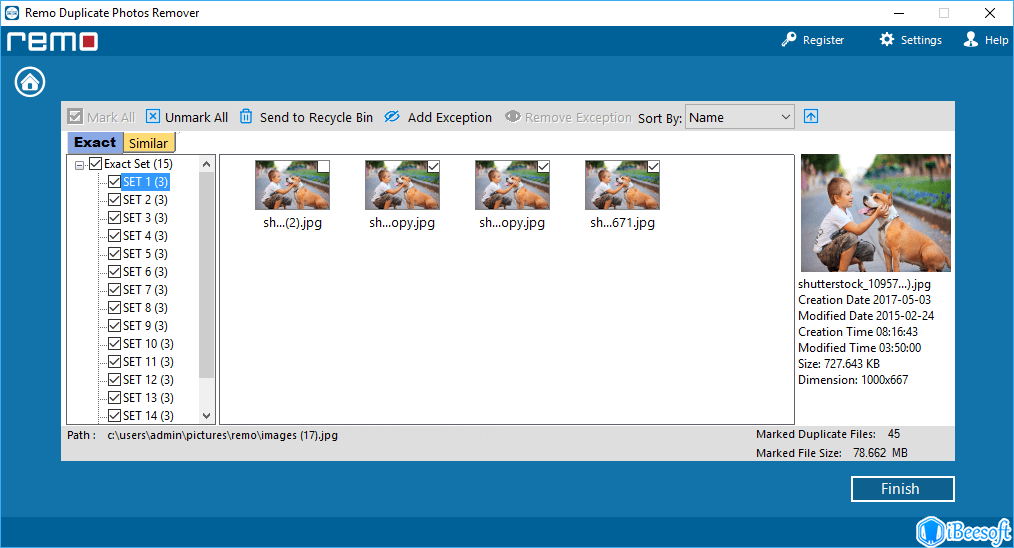 Ability to recognize multiple shots captured using burst mode
Scans for images received through WhatsApp and other messaging apps
Gives details of deleted pictures
Uses Remo De-Dupe algorithm to scan an entire hard drive
You can use the Remo duplicate photo cleaner full to get rid of unwanted junk files. The unique features make the program stand out from the rest.
Advantages:
Scans for HDR and resized pictures and saves the best shot automatically
You can see the image preview before deleting
Disadvantages:
The scanning process is slow
Demo version allows you to delete only 15 pictures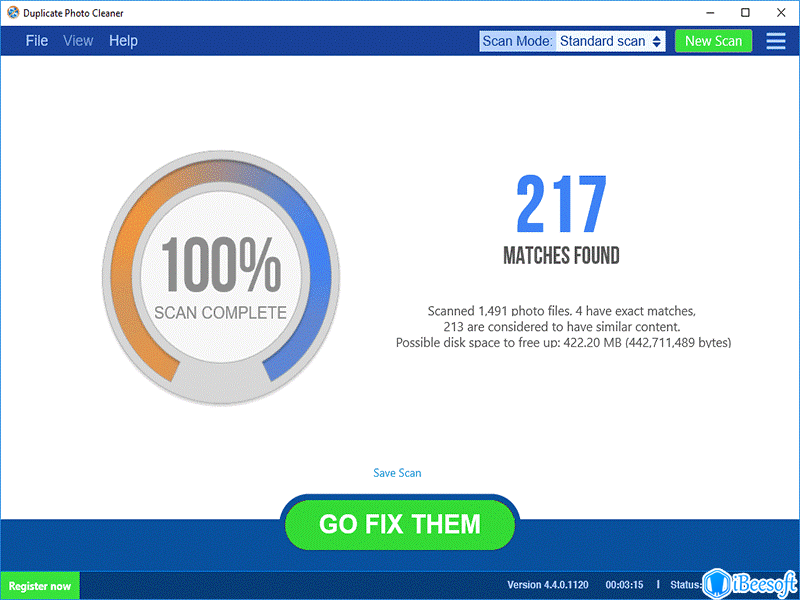 Identifies duplicate images based on content, compatible with varying versions of Windows operating systems
Helps in finding duplicates from Adobe Lightroom
You can merge and compare images for better results
You can compare folders to combine and manage contents
It is another duplicate identifier of pictures. You can use it to erase duplicate files and gain space. The above are the primary features.
Advantages:
Intuitive user-interface for quick scan and removal of duplicate files
Scans pictures swiftly
Disadvantages:
The duplicate photo cleaner will fails to detect duplicate images at times
Improper customer support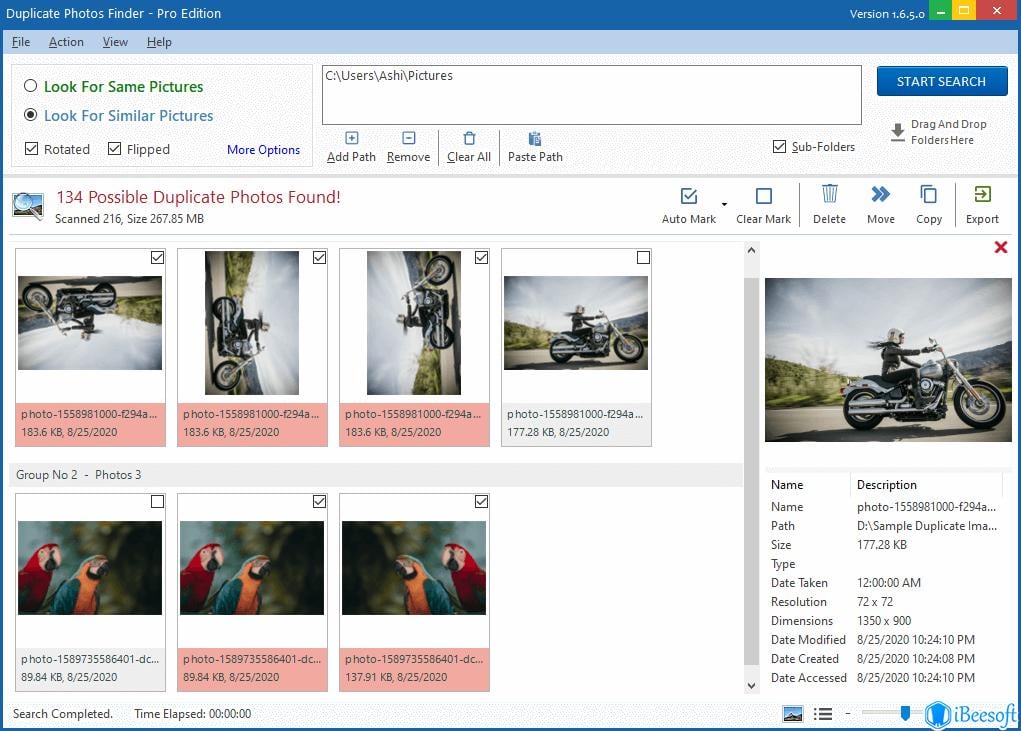 Detection of images using pixels, you can mark images based on date, time, folder, and drives
Identifies cropped, edited, and rotated imagesightroom
Side-by-side image viewing and recognizes pictures taken with different settings
Selection assistant for better duplicate photos deletion choices
It is the best duplicate photo cleaner that comes in both free and paid versions. It has a plethora of features, making it a delightful tool for removing duplicate pictures.
Advantages:
Scans the picture library at a faster rate
Picture comparison is easy
Disadvantages:
Finding duplicate pictures is slow
No regular software updates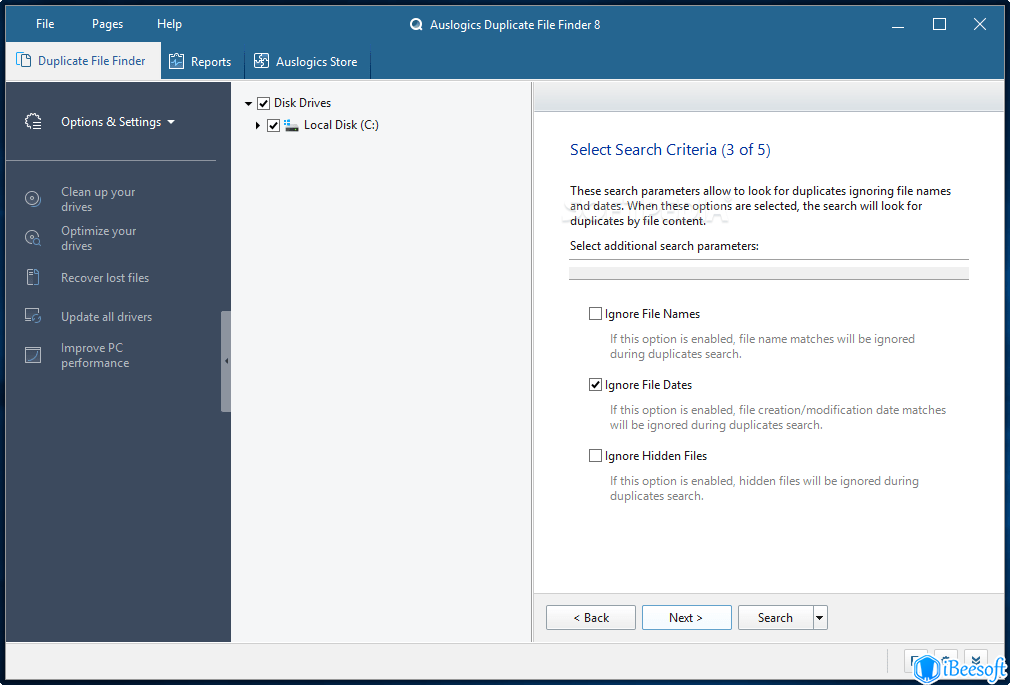 You can scan for files based on the file type or format
You can go through the results of the scan, choose which records to keep and delete the remaining
The software is free to use without any restrictions
The scanning for duplicate images is high when compared with others
With backing from Microsoft, the duplicate finder is one of the best duplicate finding software in the market. The unique feature is the smart duplicate identifying the algorithm. Apart from this, it has other features, which are:
Advantages:
You can restore the deleted images if you like using the rescue center option
You can take complete control over the settings and choose what to scan and delete
Disadvantages:
The fast scanning procedure misses on several duplicate files
The user interface is not friendly, and beginners will find it complicated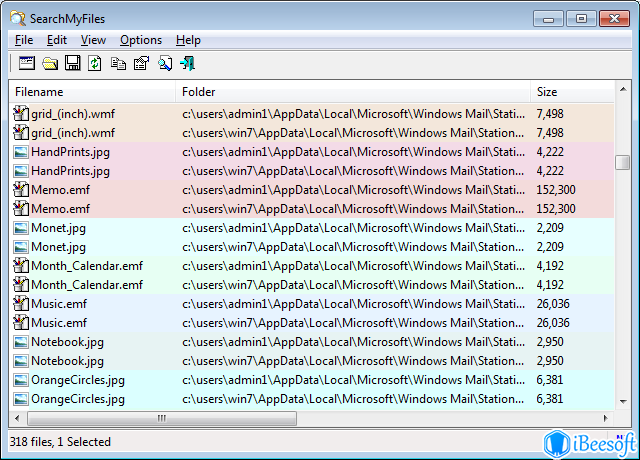 Massive collection of choices to identify duplicate files
You can filter records based on color-coding
You can search for data using the byte-by-byte comparison feature
The software is portable and does not require installation
If you are looking for a program that only helps you find duplicates but not delete them, SearchMyFiles is the answer. You can use the different features, filters, and options to find copies without a hurdle. Additionally, the above are the essential features of the duplicate photo cleaner:
Advantages:
The plethora of search options help you locate image duplicates with ease
It searches for duplicates swiftly from different corners of your hard drive
The interface is user-friendly, and beginners can use it with ease
Disadvantages:
The software shows the scan results in a new window
There are no software updates
Fails to display all the duplicate files at times
Several options make it tedious to choose the right choice for a scan