Unformat SD Card on Windows or Mac | Formatted SD Card Recovery

It happens all the time that files in your SD card messed up, and you didn't want to sort it one by one, since it seems there is nothing important. Next, you formatted it only to find there were some family photos or videos, and they have gone as well. After then, you need to unformat SD card.
What happens if you format a SD card?
Like the "reset to factory settings" function on phones, computers, cameras and more, formatting SD card means you are deleting everything you have added to the SD card. It is the quickest way to make your SD card neat and tidy. From there, you might say it's done and done, everything just gone and you can't unformat SD card, what a pity. However, the fact is you can unformat SD card. The data is not gone permanently right after you format the SD card. It is somewhere on your SD card with its once occupied space marked as space available for new data. If you format the SD card quickly enough, then there is a big chance to unformat SD card. If not, then the formatted data will be overwritten by newly generated data.
What to do to unformat SD card?
To unformat a SD card, the first thing you need to do is to stop using the SD card until you start to perform data recovery. Otherwise, you can't get back the data again. Second, try any of the following ways to unformat SD card.
Unformat SD Card with Formatted SD Card Recovery
Unformatting SD card with a professional formatted recovery Software is the most reliable and easy thing you need to do. You know, it will scan your SD card to find and recover files from formatted sd card you need without much efforts. The formatted SD card software I recommend you try is iBeesoft Data Recovery. It is the exclusive tool that allows you to recover data from formatted SD card in Windows or Mac. Here are the steps for using it to unformat SD card.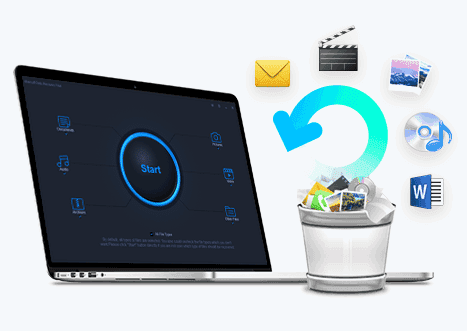 Supports recover more than 500 types of files. like, photos, videos, audios, documents, archives, emails etc.
The Software support undo format SD/CF/XD/MMC/SM/MS Card, Smart Card etc.
Fully compatible formatted recovery form SD card in Windows 10/7/8/XP/Vista and Mac OS X 10.6 and later.
Security Verified, 3,655,358 people have downloaded it

Steps for How to Unformat SD Card on Windows or Mac
Step 1. Connect Formatted SD Card with Computer
Insert your formatted SD card into the computer SD card slot or use an SD card reader to connect your computer. If connected successfully, your SD card will appear on your computer as an external hard drive.

Step 2. Install This Unformat SD Card Software on Windows or Mac
Click the download button below to download iBeesoft Data Recovery installation package. After then, double-click the .exe file to install it on your computer. It is fully compatible with the latest Windows and Mac. Please select the correct version and start sd card unformat.
Step 3. Select File Types to Recover/Scan
From the main window, you can see that all supported file types. Since you want to unformat your SD card, I suggest you scan for all the file types. If you only want to recover photos or videos, or other files, please uncheck the unneeded ones before clicking "Start".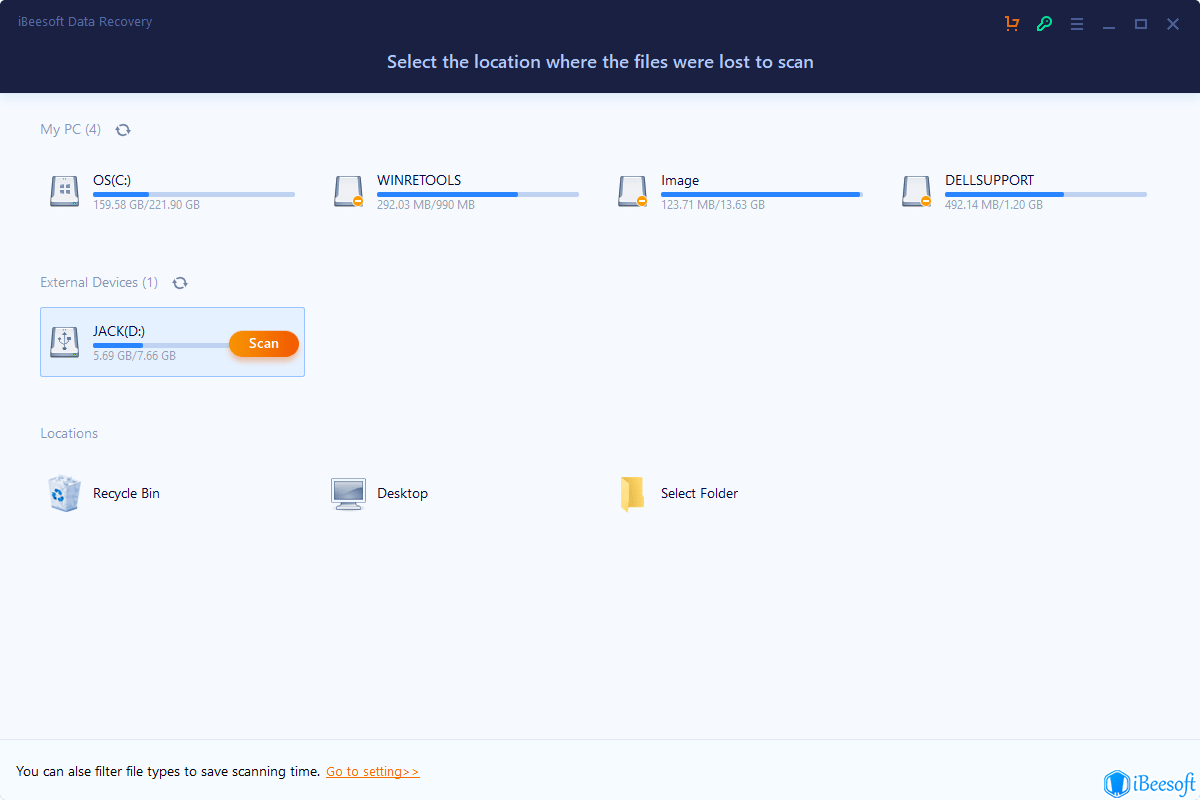 Step 4. Select Formatted SD Card to Scanning Lost Files
In the new window, you're required to select your formatted SD card to scan. Click the "Scan" button to start the scanning process.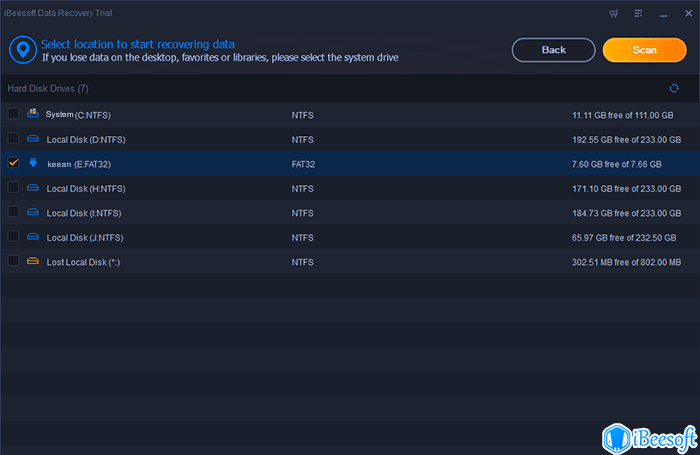 Step 5. Unformat SD Card
If you have hundreds of files on your SD card, it may take a few minutes to finish the scanning process. Otherwise, it only takes a few seconds to finish it. After then, you're required to select files you need and click "Recover" to save them to your computer.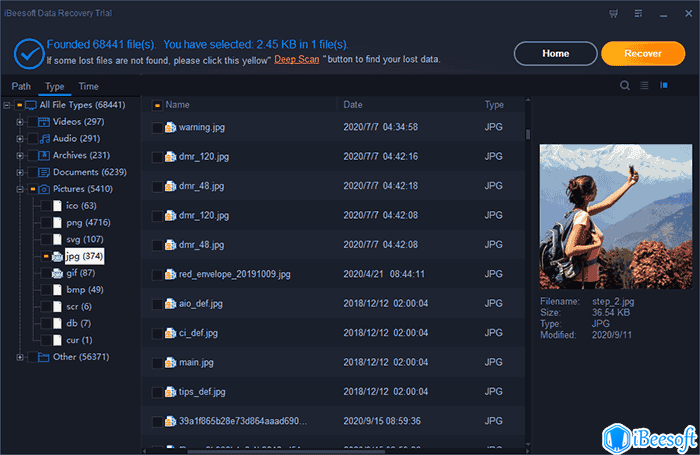 Note:to ensure the unformatted files are safe enough, instead of saving them to your SD card again, please save them to your computer hard drive.
Method #2. Use Command Line to Unformat SD Card on Windows
If you know Windows operating system quite well, you can try the command line way to unformat SD card. It requires a little bit patience as well.
1. Click the start menu of your Windows PC at the bottom left. In the search box, type in cmd and press the Enter key.
2. Type in chkdsk F:/ and press Enter.
3. Type in Y and press Enter to continue.
4. Type in F and press Enter again.
5. Type: F:\>attrib -h -r -s /s /d *.* and press Enter.
Please note that I regard the SD card drive letter as F, that's why I put F above. If your SD card drive letter is not F, then please replace it with the right one.