How to Recover Deleted/Lost/Unsaved and Previous Version of Word Document on Mac
If you're looking for a way to recover Word document on Mac, you're in the right place. This article covers all the detailed guide for how to recover unsaved word document on Mac, how to recover the previous version of Word document on Mac and how to recover deleted/lost Word document on Mac. You just need to skip to the right part you're looking form, and follow the steps there to achieve your goal. Let's start right now!
Part 1. How to Recover Unsaved Word Documents on Mac
There are many scenarios that caused the issue of unsaving Word document: shut down Mac without saving the Word document; the Microsoft Word program crashed and not responsive so that you have to quit it without saving the document; the computer crashed, and you haven't had time to save the word document at all.
Just calm down. It is not a big deal for not being able to save Word document, because solutions available for you to recover the unsaved Word document on Mac. First, please note that Microsoft Office has arranged the solution in case of any the up mentioned scenarios happens. It comes with 2 built-in features: AutoRecover and AutoSave.
AutoRecover allows you to retrieve an unsaved file which you have edited for more than once. It refers to recover the unsaved file which you haven't saved after making changes on it more than once. This feature appears the next time open the Word document, popping up a reminder, asking you whether you'd like to restore the current Word to the last saved version or not. It's up to you for restoring to which version.
AutoSave is a built-in tool that automatically saves a new document that you have created but not saved yet. It is enabled by default on your Microsoft Word on Mac. Here are the steps for how to use AutoSave to recover the newly unsaved Word document.
1.Click Finder on your Mac.
2.Find the Word file in this path: /Users/username/Library/Application Support/Micirosoft/Office/Office X AutoRecovery.
3.Select the auto saved Word file, copy it to a location on your Mac.
Part 2. How to Recover Lost/Deleted Word Document on Mac
If you haven't done any Word document deletion, then you can try Part 1 or Part 3 to recover them. However, if you have deleted or lost the Word documents on Mac, then you should try the following ways to recover them.
Recover Deleted Word Document on Mac from Trash can. if you have deleted the Word document, you should know that it is first put into Trash can. And the validate period for it to stay is 30 days. You can open the trash can, find and select it, and click "Restore" to save it to the original place. You can also try the spotlight on the very top right if you have remembered its name, search there, find it and drag it to the desktop. If you empty the Mac recycle bin or completely delete, formatted drive or other reasons due to lost word document, you can try using Mac word document recovery software
Recover Deleted/Lost Word Document on Mac with data recovery software. It is the most efficient way to recover the Word document for lost or delete files are invisible, you can't do anything to them without a tool. iBeesoft Data Recovery for Mac is such a tool that allow you to scan and recover deleted files on Mac and unformat Mac hard drive. It is professional and reliable. Here are the simple steps for how to use it to recover lost Word document on Mac.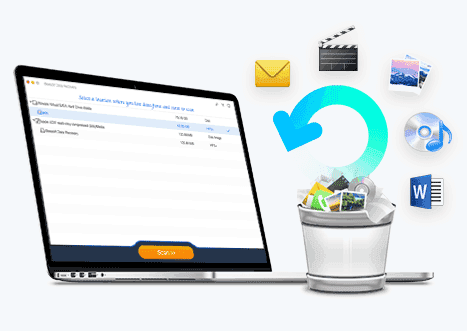 Recover lost Word document on Mac due to accidentally deleted, formatted hard disk, virus attack, reinstallation or Mac OS X upgrade etc.
Ability to preview missing Word document to ensure recovery quality
Support for almost all storage devices, such as hard drives, memory cards, digital cameras, players, USB drive etc.
Security Verified, 2,361,013 people have downloaded it

Step 1. Install iBeesoft Data Recoveyr for Mac
Download the latest version of Mac word document recovery software by clicking the download button below. Install it as the way you install other software on your Mac.
Tips: if you want to recover deleted/lost word document from system disk/partition on Mac OS X 10.13 (High Sierra), please click here to do the prepare work before running the Mac data recovery software.
Step 2. Select Files to Scan
Run iBeesoft Data Recovery on your Mac. From the main window, you can see all the supported files are selected, the software is ready to scan for them. You need to uncheck them, only keep the "Documents" option selected and click "Start".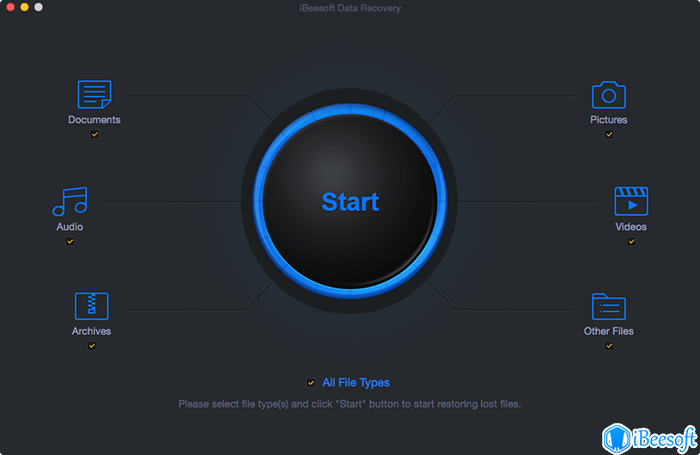 Step 3. Select Hard Drive to Scan
All partitions as well as external hard drives connected to your Mac are listed there. Please select the one where you have deleted or lost the Excel file and click "Scan". A progress bar will tell you how it goes on with the scanning process.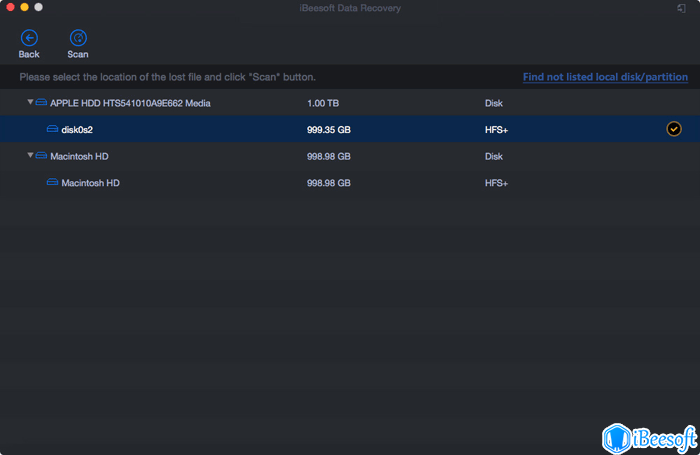 Step 4. Recover Deleted or Lost Word Document
It only take a few minutes for the software to scan for the deleted or lost Word document. After then, you can see the found Word document in the result window. Find the one you need and click "Recover" to save it to your Mac again.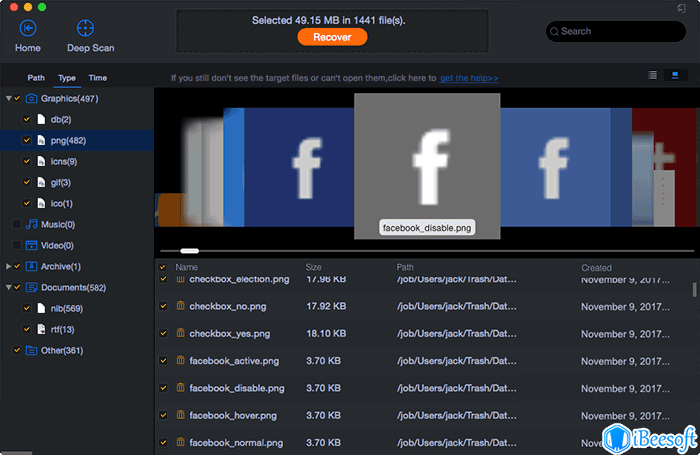 Part 3. How to Recover the Previous Version of Word Document on Mac
To be honest, the theory for how to recover the previous version of Word document on Mac is similar to the autoSave/autoRecover in Microsoft Word. In fact, whenever you edit , duplicate, delete or make a change of a Word document, Microsoft Word will automatically save the previous version there for you, in case you need the previous version.
Here are the steps for how to find and recover the previous version of Word document on Mac:
1.Open the current Word document, click "File" menu > "Revert To" > "Browse All Version".
2.Find the latest version you have saved and click "Restore".
Note: Compared with the precious version, if you haven't done much changes for the current Word document, you can backward to it by pressing the Command & Z buttons at the same time. It help you undo the changes.