Are you wondering how to recover deleted text messages on iPhone App? Unfortunately, there is no iPhone message recovery App that is currently available for recovering deleted messages from iPhone. There are a number of reasons for this. Firstly, the iOS operating system does not have this capability. Secondly, it is not possible to use an mobile application to recover any deleted messages. This is because the process of installing the application will overwrite some new data on the memory sectors that held the deleted messages. As a result, the deleted text will be gone forever.
Any Methods to Replace iPhone Message Recovery App
Here is a safe and correct method of recovering deleted text messages from iPhone - iBeesoft iPhone Data Recovery. This tool is effective for recovering and viewing deleted text messages on iPhone. These message could have got lost due to:
Deletion by accident
Infection of the device by viruses
Improperly operating the device
Damage to your iPhone
Other Reasons

This program is compatible with the Windows operating system. After you download, install and run it, this iPhone message recovery application can easily scan your iPhone and recover any data including images, text, videos ect. An excellent feature of the software is that it can recover messages without negatively affecting any other files saved inside your iPhone. It is safe to use. Except text message, the program also recover videos, photos, emails, documents, generic files etc. Furthermore, this data recovery application is capable of maintaining the integrity of the recovered file. So you can be sure that recovered messages will be legible and contain the complete information which you need.
There are some unique scenarios where this iphone text message recovery application can assist you. For example, if you lose your messages after performing a factory reset, you can utilize it to recover your messages. If you perform an iOS update and your messages are deleted, the iBeesoft iPhone Data Recovery program can help to recover them. If your iPhone device gets stuck and stops responding, you can use this software to recover the text message information. Should you perform a jailbreak or flash your ROM, this software tool can help you as well. If you are unable to perform a data synchronization, it can also assist you in recovering and backing up your information.
3 Methods to Recover Deleted iPhone Text Messages with iBeesoft Application
There are 3 ways which you can use this software to recover deleted text messages. They are:
1) How to Recover Deleted Text Messages by Scanning iPhone Directly
Step 1: Connect your iPhone to the computer with a USB cable. After that, install and launch this program. It will reveal a panel which has an option to scan your iPhone directly. Click "Scan" button to scan your deleted message on iPhone.
For successfully recognize your iPhone, please click "Trust" on your iOS device.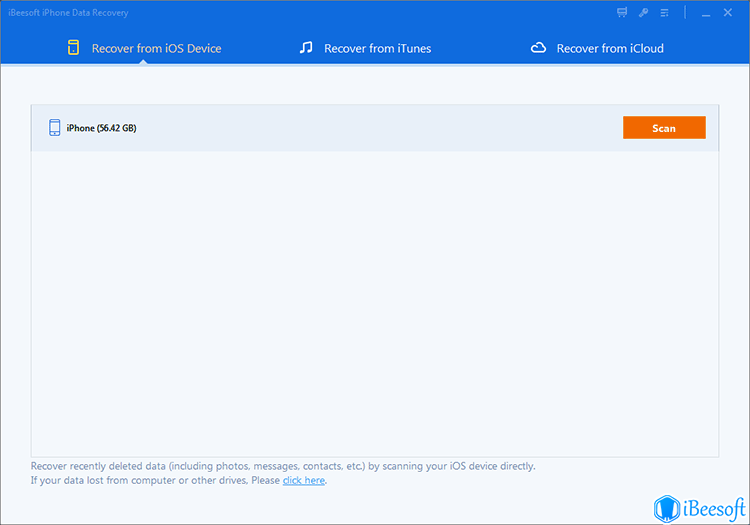 Step 2: It will activate a scanning process to list detected iPhone files as different categories. We can select what we need to recover, then click "Recover". We can then view your deleted messages before saving them in your iPhone or the computer system.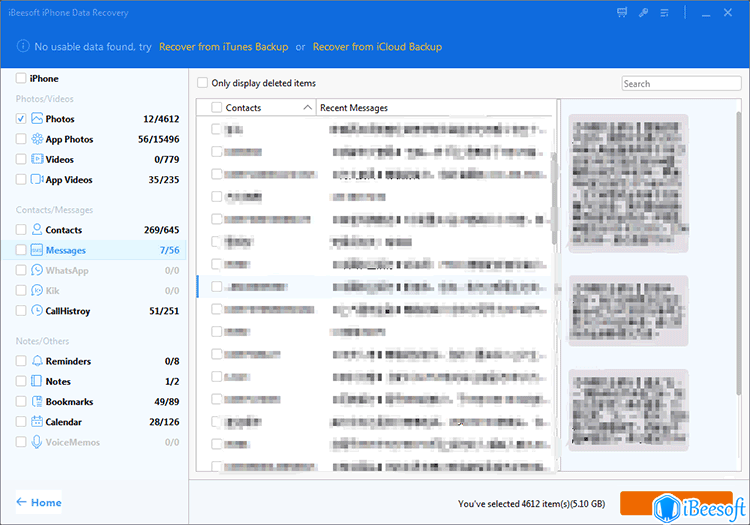 2) How to Retrieve Deleted Text Messages by Extracting from iTunes Backup
You can use this software tool to recover deleted text messages from an iTunes backup file. If you had generated this type of back up the file before, it is possible to extract text messages from it. This can be accomplished by starting up the software tool, connecting your iPhone to the computer and clicking "Recover from iTunes backup". The application will show your iPhone such as Paul's iPhone, click "Scan" to start to extract iTunes Backup. After completing scanning, it will display all backup files in the main panel, choose certain text message and click "recover" to get back what you want.
Note: Prior to performing this task, ensure that you do not connect your iPhone to the iTunes platform for synchronization. This is so as to avoid overwriting the files that you already had in the backup.
3) How to Recover Deleted Text Messages by Extracting from the iCloud Backup
You can also explore the iCloud backup location for deleted text messages. To recover them from this source, select "Recover from iCloud backup" This directly activates a special window which contains a login form. Proceed to enter your Apple ID and password to sign in iCloud account. iBeesoft program will display all iCloud backup files which you have saved in your account. Pick the ones that you want to recover to save the local computer.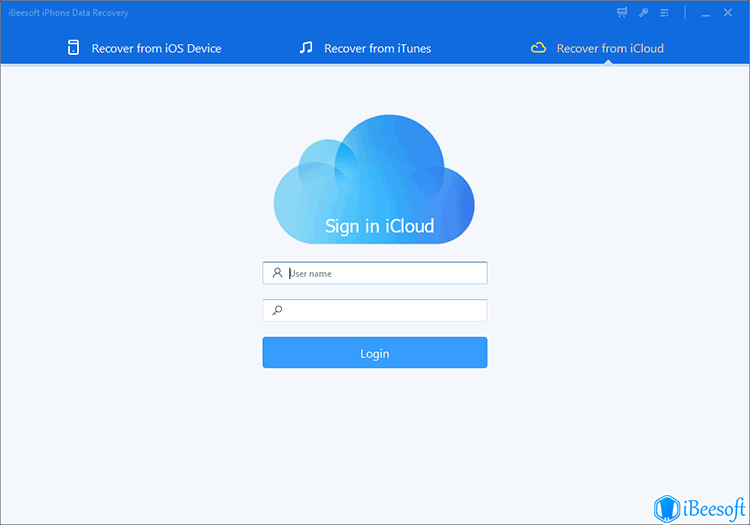 Conclusion
Whenever you need to recover from an iPhone data loss disaster, the iBeesoft iPhone Data Recovery application is the solution you need. The software is easy to use and has a short learning curve. Thanks to its small size, the tool does not occupy much space in your computer's memory. You can download a free trial version from their official website. After that, you can get the software permanently at an affordable cost.