Exporting text messages from iPhone has never been this easy to do. Most of the time iPhone users struggle with trying to export files from their Apple device to another storage space. Export messages from iPhone to your computer in a secure and easy way with a reliable iPhone data recovery software. It is a great way to backup your messages without doing a manual copy and paste.
So, how do you export SMS from iPhone?
This is where iBeesoft iPhone Data Recovery software does what it does best. It helps iPhone users recover lost data, backup files, and also allows users to export texts from iPhone. It is simply the best software to use. It gives you three features for a single price. It is also user-friendly as the interface is very simple to understand and use.
The iPhone data recovery tool scans your iPhone for all the text messages that can be detected, this includes messages that are currently present on the device and some recover deleted iMessages on iPhone. iBeesoft iPhone Data Recovery tool does not only scan the device for the messages, it also allows you to select the messages to export. This is very efficient since you may not want all the text messages on your phone to be exported.
Let me show you the way on how to export text messages from iPhone freely. There are several ways to do so, through iCloud backup, iTunes backup, or directly from your iPhone. Simply follow the steps below:
Method #1: Export SMS directly from iPhone
Step 1: Simply connect your iPhone to your trusted computer where iTunes and iBeesoft iPhone Data Recovery software is installed. Launch the iPhone data recovery tool.
NOTE: If your phone is not detected by the software make sure to check if there is a prompt on your device to Trust this computer, tap Trust to proceed. You may also want to consider the USB cable and ports if still not detected. Otherwise, contact Apple for support.
Step 2: Select Recover from iOS Device. Once you see your device, click on the "Scan" button to initiate the device scan. This will allow the recovery tool to find all messages to export.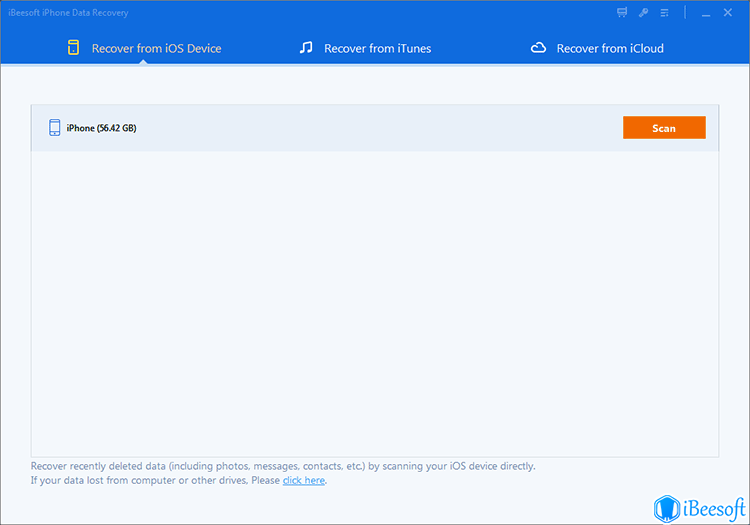 Step 3: After a completed scan of your iPhone, it will show all the files detected from your iPhone. It is already categorized which makes it easier to locate the messages that you need to export. Select Messages under Contacts/Messages category. This will show all your messages in list view and also lets you preview the messages from each contact person on the list. You can now select the messages that you want to export to your computer. Once all messages are selected, proceed to click on the "Recover" button.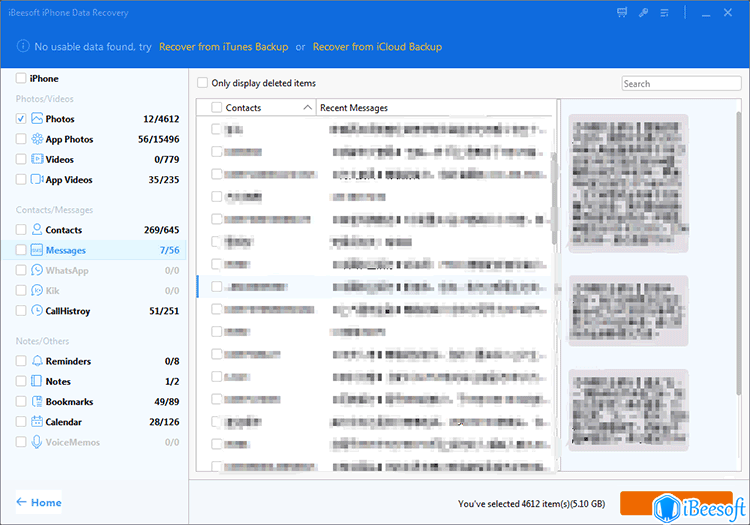 Method #2: Export text messages from iTunes backup file
Step 1: Using the same iBeesoft iPhone Data Recovery tool, you can now proceed to export the messages that you have from your iTunes backup. Launch the tool and select "Recover from iTunes". This will show all the backup files you saved on the computer from iTunes.
NOTE: iTunes backup is saved on the computer. Make sure that you install iBeesoft iPhone Data Recovery software on the same computer for it to detect all your iTunes backup files that include the text messages for export. You may also encounter an iTunes password in the process, this will appear if you have encrypted your iTunes backup file.
Step 2: Click on the iTunes backup file where the messages are stored then click on the "Scan" button. This allows the iPhone recovery tool to scan all items within the iTunes backup file. The process of scanning may take quite a while depending on how large the backup files are.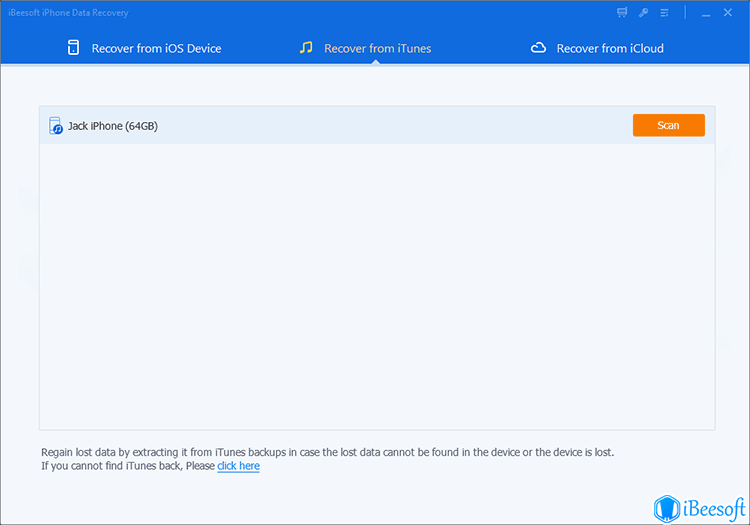 Step 3: When the scanning completes, the iPhone data recovery for Mac or Windows software will then itemize your backup files and sort them out. Simply choose "Messages" from the categorized list. This will show all messages from the contact sender and allows you read the messages prior exporting them. Select the iPhone text messages to export. Once completed, click the "Recover" button to continue. This will start the process of exporting your selected messages which would be saved on your computer storage.
Method #3: Export text messages from an iCloud backup file
If you usually back-up your files wirelessly, iCloud SMS recovery will be the best option for you. You can simply access your iCloud backup file through iBeesoft iPhone Data Recovery software to get all your backed-up iCloud messages in one place.
NOTE: iBeesoft does not store the information about your iCloud account information. It is very reliable and safe to use. If you have not done any backup yet, simply connect your device to a WiFi network and start the backup.
Step 1: Select "Recover from iCloud" after launching the iPhone data recovery tool. The screen will show a form that will require you to input your iCloud username and password. After login, there may be some confirmation or codes that you need to enter depending on your phone settings.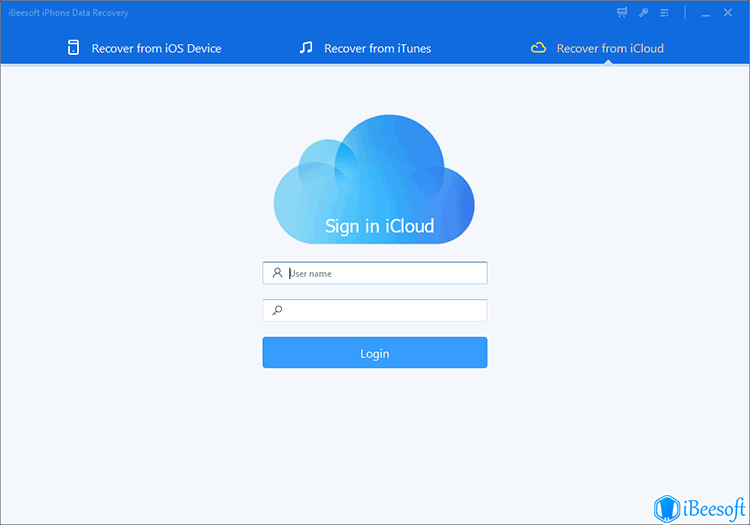 Step 2: After successfully getting into your iCloud account. The recovery tool will show all the iCloud backup files that you have. Select the iCloud backup where you think the message you need to export is included. Click on "Scan" afterward.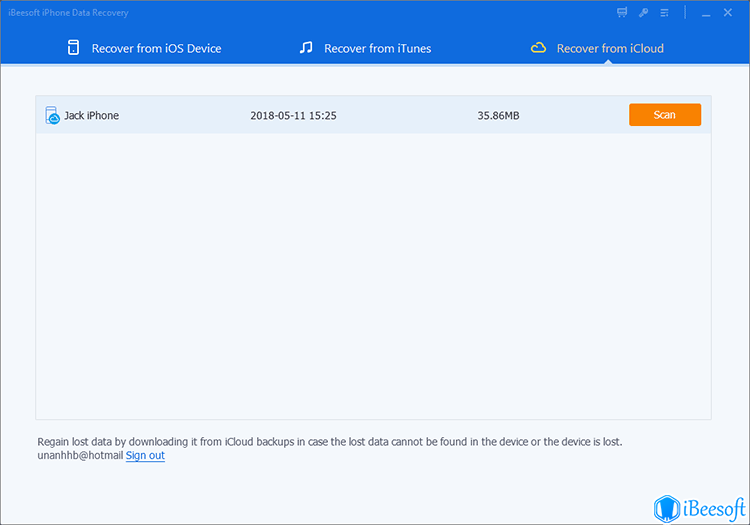 Step 3: Once the files are extracted, select the iPhone text messages that you need to export and save then click on the "Recover" button to start the process.
iBeesoft iPhone Text Recovery is the best way to preview and export your text messages to your local computer storage. You can go ahead and try it out prior making a purchase. The trial version lets you see all the available functions of the tool. It's reliable, easy to use, affordable, and the best way to recover your iPhone SMS. Make sure to always have a backup of your device in the event that your iPhone or any other Apple device is not readily available, broken, lost, corrupted, or even damaged.