USB File Recovery - How to Recover Files from USB Drive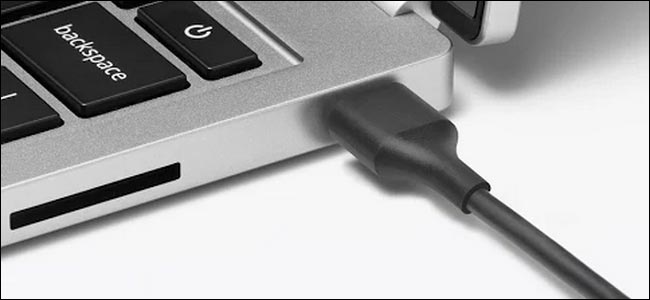 Because the USB drive is portable, fast to read or transfer data. So, it becomes a popular storage device to save your photos, videos, music and other files. However, the data loss from USB flash drive bothers people frequently. How to achieve USB file recovery becomes a continuously discussed topic online. If you are experiencing this problem, please don't worry. This article will help you how to perform USB drive file recovery. Before USB file recovery, let us understand the reasons for losing data from the USB drive.
Reasons File Lost from Your USB Flash Drive
If you find some valuable data on USB flash drive get missing, the following factors may be the causes:
1.Mistakenly deleting file(s) from USB drive without backup.
2.Unexpectedly formatting the USB flash drive
3.The USB drive displays as RAW or 'Media/Drive is not formatted, would you like to format now?'.
4.USB file loss due to turn off the USB during use, wrong pull out USB, system/software crash or virus attack etc.
How to Accomplish USB File Recovery on Windows or Mac
Unlike lost data from computer local drive, files lost from USB drive will not be stored in recycle bin. Thus, how to find and perform USB file recovery?
In fact, the deleted, formatted or files remain at the same location in the original USB drive until you write in new data to cover them. Therefore, stopping add new data to USB drive after data loss is the key to success of subsequent USB file recovery.
In this case, what is the best solution to USB drive file recovery? Professionally speaking, you need a third-party USB file recovery software to carry on the task. Here, this one will satisfy you – iBeesoft Data Recovery, a specialized USB file recovery tool, allows you to recover data lost caused by careless deletion, formatting, virus infection or other improper handlings from USB flash drive on Mac or Windows.
What's more, owing to its concise interface and process, you can operate this USB file recovery software effortlessly, even though you have rare experience in data recovery work. Just free download it and follow the guide to begin USB drive recovery.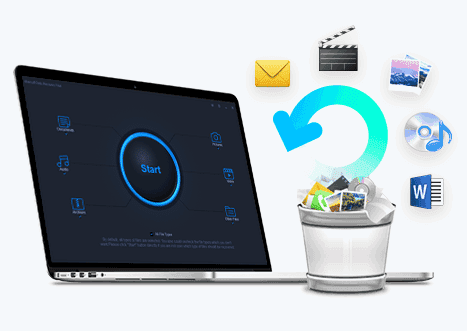 The reliable USB file Recovery supports almost all USB devices like SD card, external hard drive, camcorder, digital camera, music/video player and more.
You can choose to restore the specified file type from the USB drive to save time, such as photo, video, music, office document, and so on
Easy-to-use under Windows or Mac with its simple interface. The moment you see it, then you know how to perform USB file recovery.
Security Verified, 3,655,358 people have downloaded it

With the advantages of small shape and large memory, USB flash drive is used a lot to preserve and transmit data between external storage device and pc. Meanwhile, data loss cannot be avoided during the frequent usage although you are watchful to operate it. To learn an efficient way to USB file recovery is so significant.
In conclusion, iBeesoft USB flash drive data recovery solution can solve this problem thoroughly. Along with data missing from USB drive, the same issue on pc drive can also be dealt with easily. Just download this application if needed, and it won't let you down.
Guide to USB File Recovery on Mac or Windows
Step1. Select your lost file types
Run the USB file recovery software and select your missing file type. If you need to restore multiple types of files, recommend checking "All File Types" and click "Start" button.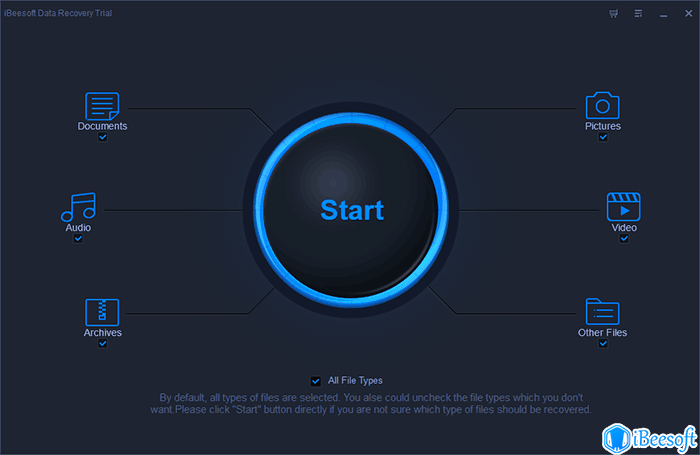 Step2. Select your USB flash drive to scan lost files
This interface will list your USB flash drive. Please select it and click "Scan" button to scan your USB drive files.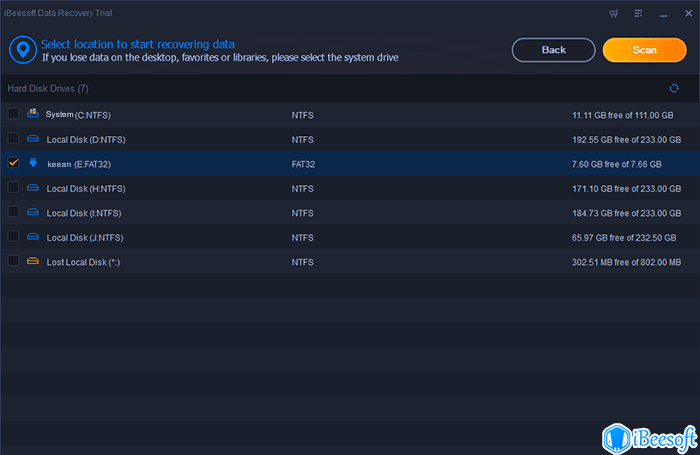 Step3. Preview and USB file recovery
When the USB drive file recovery scan completed, you can view your missing files in the list. Select them and click "Recover" button to save.
If some lost files are not found or cannot be correctly opened, please click "Deep Scan" at the upper part of windows to find more files. Deep Scan will scan every sector, so it will some time to complete the scanning.