How to Undelete Files in Windows 10

Have you accidentally deleted important files from your computer system? Are you looking for ways to retrieve deleted files on Windows 10? To answer these important questions, we have put together a guide on how you can undelete files in Windows 10 to prevent you from having to put up with the stress of lost data.
How Does Undeleting Work?
Before we move on to how to undelete files, let us address a common issue regarding data recovery first – how does undeleting actually work? When you delete a file from your hard drive, it does not get destroyed/deleted from the drive itself but instead it becomes unreferenced i.e. no address/location points to the data anymore. Because of this, the delete files become invisible and appear to be 'deleted' from the computer system. This means that the data that you delete is still physically present on the hard drive until it is overwritten by new data.
This is why it is essential that you stop using your computer system, especially saving new data, after you have accidentally deleted files from it to prevent it from overwriting the data. If you have deleted files and wish to recover them, the first thing you need to do is to stop doing anything on the system and then follow the steps that are given below – this will maximize the chances of recovering all your data in its original form.
iBeesoft Data Recovery:
One of the most reliable methods for retrieving deleted files in Windows 10 is to make use of the powerful and renowned software, iBeesoft Data Recovery. It is an intuitive and easy-to-use tool that you can use for recovering data from a number of storage devices – even after you have permanently deleted (Shift + Delete) the files!
Here are the key features of iBeesoft Data Recovery:
Beautiful Interface: A simple and clean layout designed in a beautiful and intuitive manner is what describes the user interface on this software. It is very easy to use, navigate through, and understand which makes it suitable for novice users, as well.
Supports Various Storage Devices: Whether you have deleted the files from your hard drive, memory card, external hard drive, USB drive, or digital camera, iBeesoft Data Recovery can help you in recovering data from all of these.
Supports All File Types: Unlike other tools that are dedicated to a single file type only, iBeesoft Data Recovery is an all-in-one tool that you can use for recovering graphic, video, audio, document, email, and other files that you have deleted from your computer system.
Dual Scanning Mode: There are two modes of scanning in this software – Quick Scan (that scans device at a fast speed but has lesser data recovery success) and Deep Scan (that scans the device thoroughly to ensure near perfect data recovery).
Preview Before Recovering: To make sure that you undelete the right files, the tool will display you all the deleted/recoverable files once the scan is complete so that you can choose which files to undelete for your convenience.
Step-By-Step Guide On Undeleting Files With iBeesoft Data Recovery:
Now that you understand why iBeesoft Data Recovery is the best choice for undeleting files, let us take a look at the step-by-step process of recovering files with the tool:
1.Download and install iBeesoft Data Recovery. For installation, follow the on-screen instructions.
2.Launch iBeesoft Data Recovery on your computer system.
3.Select the files that you want to recover – all file types will be selected by default but if you wish to undelete files of a specific type then you can check just those options. For convenience, there is an "All File Types" checkbox that you can use to select all file types for scanning. Once you have chosen the file types, click on the "Start" button to begin the data recovery process.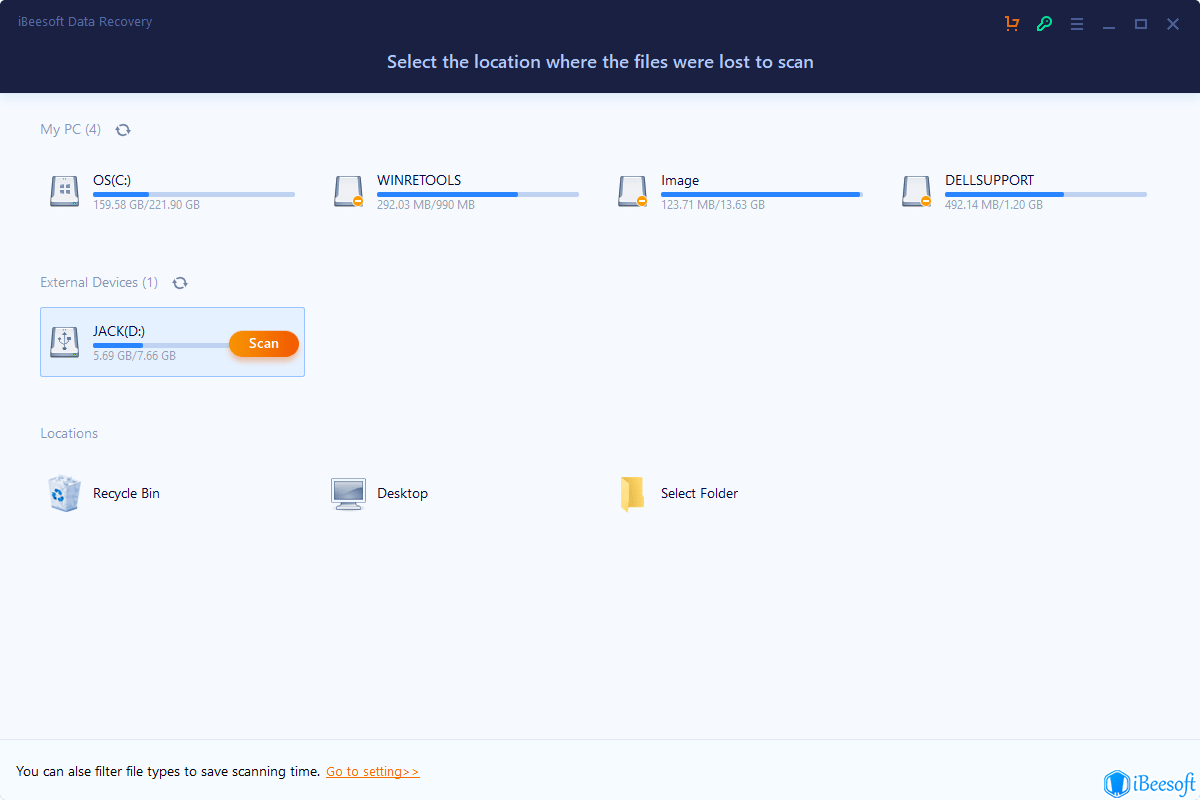 4.You will now be able to preview the partitions available on your computer system – choose the partition that you wish to recover the deleted file from and then click on "Scan" on the top right corner of the window.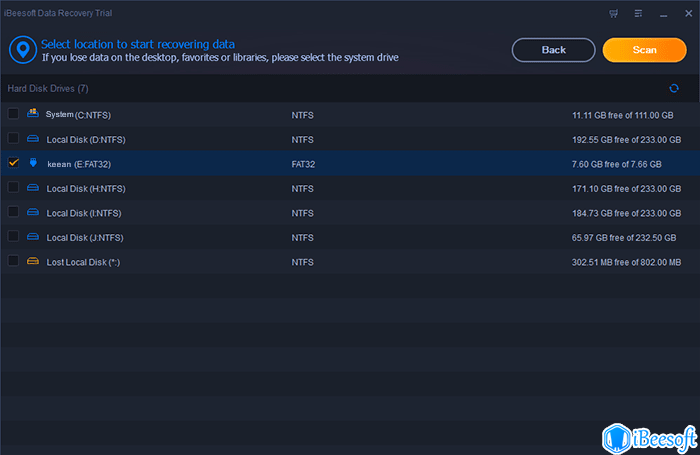 5.This will perform a Quick Scan of the partition and preview all of the deleted files from the partition that you can recover. All the files will be sorted according to their file type in a tree-directory that you can manage in the left-hand panel of the window. From here, you can choose which files you wish to recover and which ones you want to remain deleted. Once you have chosen the files, click on the "Recover" button on the top right corner of the window.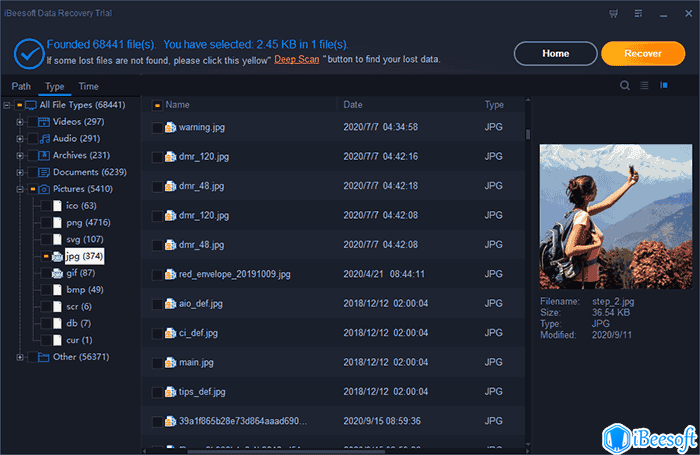 Tip: If some files is not find, then you will need to perform a Deep Scan of the partition.. For performing a deep scan, click on the "Deep Scan" option on the top of your window. Once the Deep Scan is complete, you will again be shown the preview of all recoverable files from the partition as above – you can choose the files you wish to undelete and then click on "Recover" on the top right of your window.
Recovery Partition:
A recovery partition is a portion of the hard drive that is designated for restoring a system to its default state that it was in before it was shipped. It is most usually a partition that is created by the manufacturer but it can be created by a system administrator, as well. The recovery partition holds the system backup image and the default system settings and information that include your OEM operating system, license, anti-virus software (if any), and drivers for your systems. If your system comes with Windows 10 installed, then the recovery partition will also contain WinRE – the recovery environment for Windows 10 used to restore Windows to a previous working state.
What Is Recovery Partition Used For?
Here are all the things that the recovery partition on a system is used for:
Recovering Windows: If you are experiencing problems with Windows 10 such as viruses, errors, and unwanted bugs then you can use the recovery partition to either install a fresh copy of Windows, or restore it to a previous state when it was working fine (such as before a system update).
Boot Failure: In some cases, Windows 10 might fail to start at all i.e. boot failure might occur – in such cases, the best way for restoring your system without losing your data and files is to recover Windows using a system backup that you have using WinRE which is found on the Recovery Partition.
Last Resort: Sometimes a system can have certain faults such as a damaged master boot record or faulty drivers that might prevent it from getting past the BIOS or POST at all (i.e. fails to reach boot state). In such cases, the only option you have is to 'factory reset' your system i.e. restore it to the state that the manufacturer shipped it in. This is where the Recovery Partition comes in most handy since it contains all the manufacturer's drivers and software that will help you restore the laptop to ia fresh state.
Reasons That Leads To Partition Loss In Windows 10:
There are a number of reasons that can lead to partition loss (such as the loss of the Recovery Partition) in Windows 10 that include:
Virus and malware attacks.
Accidental deletion/formatting of partition.
Bad sector or track on the hard drive.
Addition of a new disk/partition to hard drive.
Partition resizing and fragmentation (if not done using the right tools).
Damaged partition table or master boot record.
Loss of partition name, volume label, or drive label.
Recovering Lost Partitions With iBeesoft Data Recovery:
The loss of a partition can lead to the deletion of important files from your computer system which can be very inconvenient. Fortunately though, you can even recover or 'undelete' lost partitions on your hard drive with the help of the powerful and reliable tool iBeesoft Data Recovery. Whether it is the system partition, the recovery partition, or a user partition that you use for storing data – all of these can be easily and quickly retrieved through the use of the iBeesoft Data Recovery software. The feature-rich software has options that allow you to search for lost partition on your hard drive, preview the data available in them, and recover the partition/data on it!