3 Ways for how to fix user profile cannot be loaded are covered: restart the computer, boot the computer in safe mode and correct the registry value, & create a new user profile. If you counter the problem "user profile cannot be loaded", you can follow the 3 useful ways to solve it, restarting the computer, booting the computer in safe mode and correcting the registry value, & creating a new user profile. Before getting down to any risk task on a computer, do the backup of important files or folders with iBeesoft Dbackup.
Logging in to your PC should be a seamless process without any glitch. Therefore, if your PC is not loading your profile and you get an error message on a blue screen that says 'Windows 8 user profile cannot be loaded', then there is an issue. It may mean that your user profile is corrupted or there are other fundamental issues with some services powering your user profile. In this post, we'll share three ways to fix this issue.
Solution 1: Restart Computer
The first step to troubleshooting the problem of 'my Windows 7 user profile cannot be loaded' is to restart your computer. If the reason why you are experiencing the issue is because of a startup error, shutting down and restarting the computer will most likely resolve the problem. Since you cannot do anything on your PC in the first place, restarting the system is the best way to try to fix the issue. However, if after restarting the system, you are still experiencing the issue, you can move to the second solution.
Solution 2: Boot Computer in Safe Mode and Correct its Registry Value
This is in two-in-one solution. Booting your PC in safe mode will ensure that minimum software, service, and drivers are loaded. From the Safe Mode, you can troubleshoot the issue and resolve it. Here are the steps.
Step 1. Before you start, make sure your computer is off. With your PC off, long press on the 'Power' button to turn on and shut down the system automatically. Do this like three times or more until you can see the message 'Preparing Automatic Repair'.
Step 2. Wait for Windows to diagnose the computer and click on 'Advanced Options'.
Step 3. Click on 'Troubleshoot' and then 'Advanced Options' again.
Step 4. Click on the 'Startup Settings' menu to continue and click on 'Restart'.
Step 5. Press '4' on the keyboard to get into the Safe Mode without a network. If you click on '5', this will give you access to internet access when you enter 'Safe Mode'.
The next step in this solution is to try to fix the corrupt user profile. The best way to do this is to correct its registry value. To do this, follow the steps below:
Step 1.Still in Safe Mode, press 'Windows + R' simultaneously to open the 'Run' dialog box. Type in 'Regedit' in the dialog box and click 'Enter'. When prompted to confirm the User Account Control, click on the 'Yes' button.
Step 2. The Registry Editor window will pop up. Use the following command-line to continue – HKEY_LOCAL_MACHINE > SOFTWARE > Microsoft > Windows NT > CurrentVersion > ProfileList.
Step 3. Next, click on each 'S-1-5' folder and then double-click on the 'ProfileImagePath' entry. This is where you will find the user account that it relates to. You should rename the folder name according to the instructions of Microsoft if it ends with .ba or .back.
Step 4. When you have found the user profile without the .bak or .ba ending, proceed to double-click on the entry 'State' and then change the 'Value Data' to 0. Next, click 'OK'.
Step 5. Double-click on the entry 'RefCount' to start a popup Windows choose the value of 0 and if this is unavailable, you should manually create it.
Step 6. Click on any part of the blank space in the right pane and click on New > DWORD (32 bit) > type RefCount > and then click 'Enter'.
Step 7. Close the Registry Editor and proceed to restart your computer.
This should handle Windows 10 user profile cannot be loaded registry fix without much stress.
Solution 3: Create a New User Account and Replace the Old User Files
If the first two solutions do not solve the problem of the 'Windows 7 user profile cannot be loaded' error, it means that your user profile is very corrupt. The best thing is to create a new user profile and then transfer the data from the old profile to the newly created one. To do this, follow the steps below:
Step 1. Create a new fully-functional user profile and name it an administrator. The first thing to do to achieve this is to activate the hidden admin account using the command (net user administrator /active: yes) in the Command Prompt and click 'Enter'.
Step 2. Press 'Windows + 1' to open the 'Settings' app. Click 'Accounts; in the Settings panel.
Step 3. Click 'Family & Other People' to create a local user profile. Next, select the 'Add Someone else to this PC' option.
Step 4. You will be prompted to provide details to sign in. Click the link at the bottom of the window that says 'I don't have this person's sign-in information'.
Step 5. You will get a confirmation prompt to create a new account. You should ignore this and click the link that says 'Add a User without a Microsoft Account'.
tep 6. You will see the Windows account creation screen. Enter a new username and password to create a new user account. Click on 'Next' to continue. Restart your PC and sign in with the new account.
You can replace the old user files and copy some files that are important to you, like your image file and transfer it to the new user profile. To do this, follow the steps below:
1. Click to open 'This PC' and navigate to 'C Drive'.
2. Go to the 'Users' folder and locate the older user profile folder. When you have found it, double-click on it to open it.
3. Open different folders, such as Document, Desktop, Library, etc. in the old profile and move your important data from there to the new user profile.
4. When this is done, log out of the 'Admin User ID' and log in with your new ID. Check to see that you have all your important files intact in your new user profile.
Bonus Tips: Backup Important Files and Folder on your Computer
It is important to back up important files to avoid data loss when there is a computer error like 'user profile cannot be loaded on Windows 10'. To do this, we recommend iBeesoft Dbackup as the best software to backup files on your computer.
iBeesoft Dbackup is an advanced technology designed to help users backup files, drives, systems, flash drives, external hard drives, and USB, among others. It does this in a secure and protected manner to prevent data loss due to system crash, accidental deletion, and error lie 'user profile cannot be loaded Windows 10 after update'.
How to Backup Files, Folders, and Drive with iBeesoft DBackup
Step 1: Download and install the software from the official website. When installed, click 'File Backup' in the iBeesoft DBackup main window.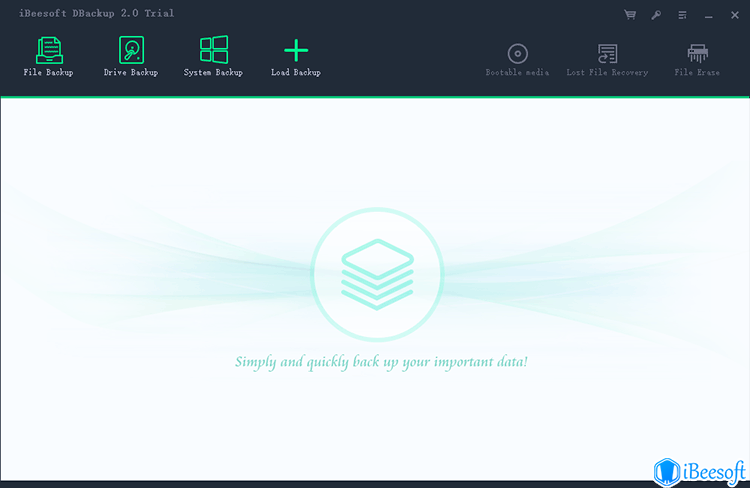 Step 2: Select the files that you want to backup from the directory of all the hard drives on your PC and click 'Start'. This will back up all files and put them in a compressed file package.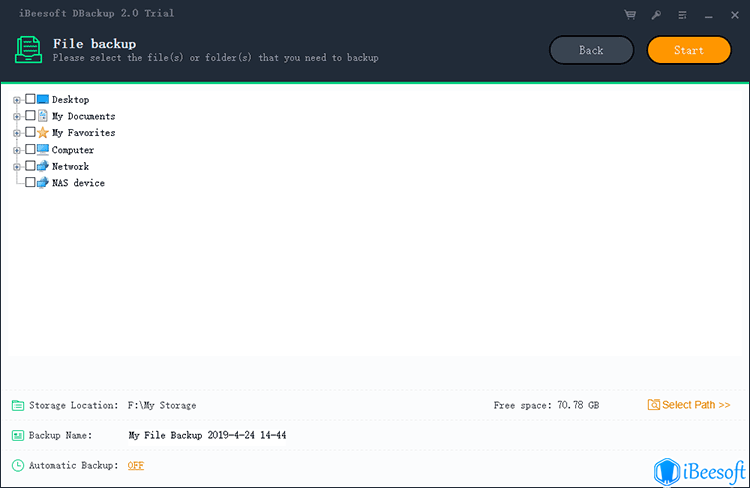 Step 3: When the backup completes, you will see something like the window below.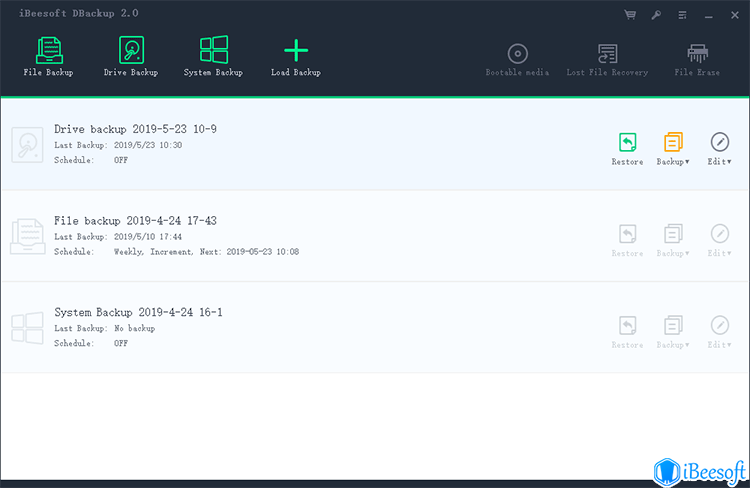 Resolving the issue of the 'user profile cannot be loaded 2021' is very easy. The three methods highlighted above will do the magic. To avoid data loss, remember to always back up your data with professional software like iBeesoft DBackup.