Top 5 Image Backup Software for Windows10/7/XP
It is necessary to back up your crucial business documents and family photos before you lost them since you never when the unhappy things will happen to your hard drive and computer. Most backup software is an image backup program, with Windows image backup software, you could make a copy of the file, partition, system, even entire hard disk. Then transfer the image files to another hard drive, another computer, finally recover these data, partition, windows system to new locations.
Part 1: Top 5 Best Windows Image Backup Software
Part 2. How to Backup Windows System as Image File in Windows 10/8/7/XP
Part 1: Top 5 Best Windows Image Backup Software
We have gathered up a list Windows image backup tool which can create an image file of the system backup. Take a look at our top picks.
1: iBeesoft DBackup
This best Windows disk image backup software is one of the best choices for the users to create a system backup. With easy backup, restore, and cloning features, it gives a smart choice to copy the system in an image file to save space on your backup drive.
Your Safe & Reliable Windows Image Backup Software
(257)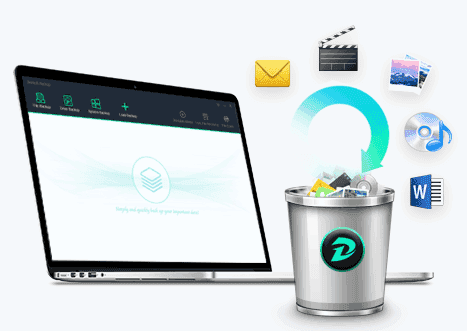 The Win disk imager can perform a complete backup of files, drives, and system.
Block-level disk imaging of the best image backup software for windows 10, 8, 7 and more can set a schedule and multiple backup modes to backup your entire disk, volume, HDD or SSD or other external devices automatically.
Clone hard drive in Windows 10, Windows 8, Windows 7, Windows XP and Migration feature along with Standalone backup.
Pros:
Safe and secure cloning solution for the users.
Easy to learn guide and no technical knowledge required.
Cons:
The minimum requirement for the image backup software must be met.
2: R-Drive Image
R-Drive Image is a simple and high-quality disk imaging tool. This Windows image backup tool can create an exact copy of the hard disk or partition with different degree of compression. This tool has most of the functionalities and capabilities that Windows users need from image backup software.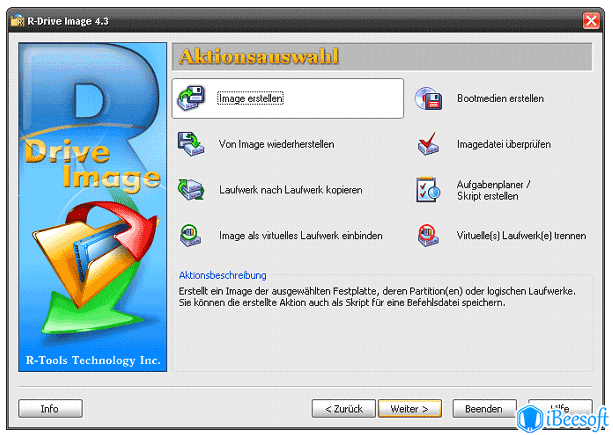 Features:
Disk image and cloning
Schedule cloning and backup
Create a bootable disk with a space control feature
Pros:
Wide range of compression option
Have a wide array of file format support
Cons:
Rather low speed of backup
Don't have an encryption feature
3: Paragon Hard Disk Manager
Paragon can serve as best Windows image backup software. This hard disk manager allows the users to control your disk space and change it. You will be able to create a disk image and system backups easily. In addition, the program allows the users to adjust the amount of memory and create new partitions too. Both these features can be very helpful if you are facing problems with free disk space.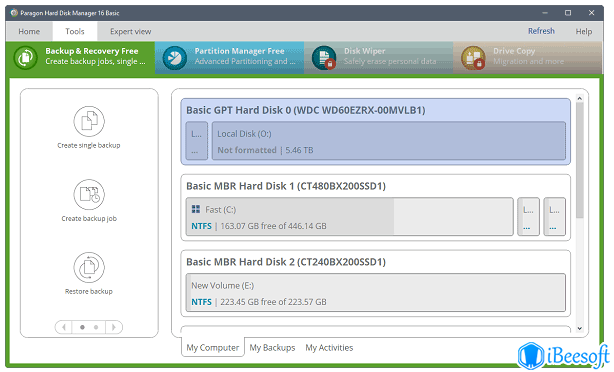 Features:
Redistribute free space and change cluster size
Backup files with compact and defragment MFT
Image backup space control
Convert and edit sectors
Pros:
Simple and smart interface which is easy to understand
Advanced set of functions
Cons:
No advanced version is available
It can only be used by one person at a time
4: Acronis True Image
It is a very popular Windows image backup software in the market. This software is very well-known for its disk image creation and disk cloning features. The Windows 10 backup software is regularly upgraded to stay updated with the latest technology. With the help of this software, you will be able to create copies or disk images without overloading your system.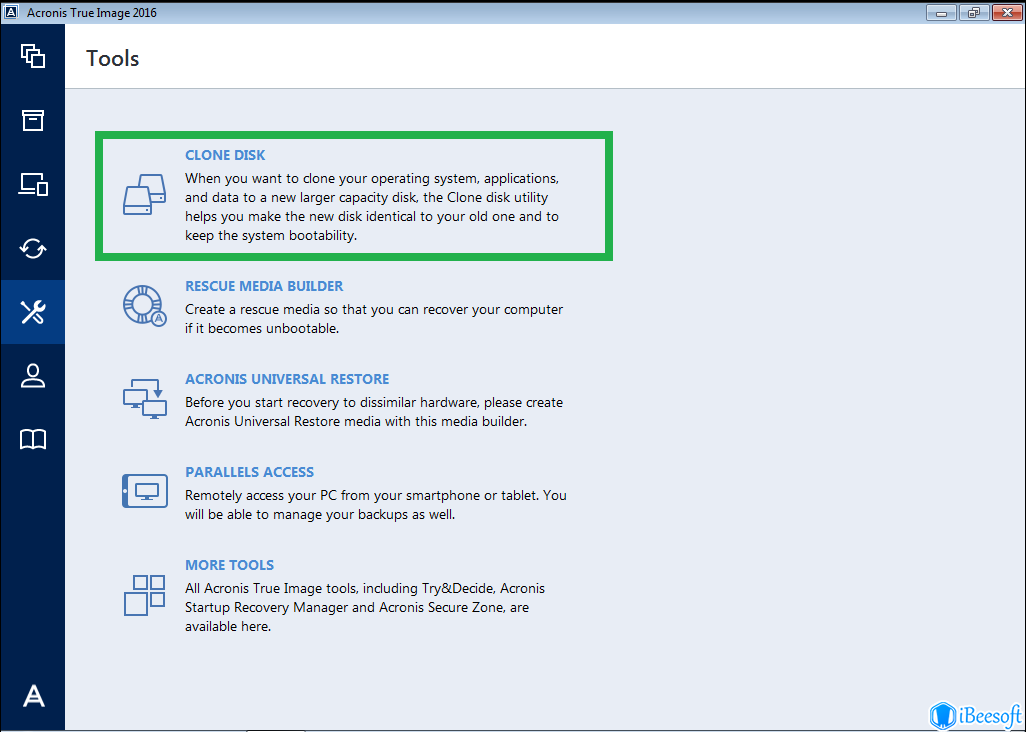 Features:
Full image backup and active disk cloning feature
Visual control of the backup files
Flexible management for file and folder backups
Universal restore of lost and deleted files
Convert and edit sectors
Pros:
Available for Windows, Mac, Android, and iOS
In-built Ransomware and Cryptomining blocker
Cons:
Complex interface which can be difficult for beginners
No cloud backup option in free version
5: Active @ Disk Image
This Windows image backup software gives an option to create disk images and save them to keep your data safe. It is a stable and quick tool which can compress a considerable amount of data to save hard disk space.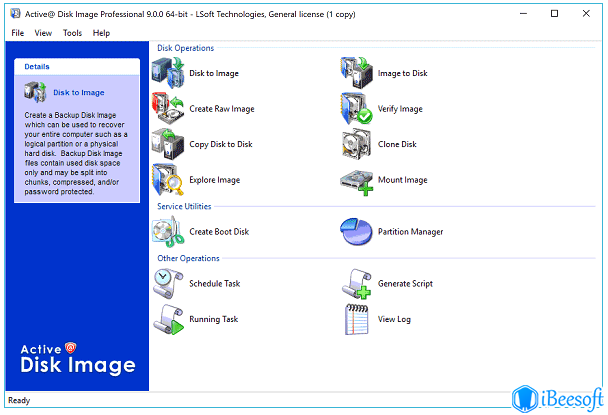 Features:
Image Backup and image compression with high-quality
Rescue bootable media creation
Wide support for image encryption
Schedule backups
Pros:
The software has a strong compression feature with average speed
Incremental backup feature is also available
Cons:
Very expensive and no encryption feature available
Part 2. How to Backup Windows System as Image File in Windows 10/8/7/XP
By looking at the above section, you can see that using iBeesoft DBackup for Windows image backup is the best choice. You have to begin with the downloading process. Install the Windows image backup software on your computer and you can use the Windows disk image tool by following the guide given below:
Step 1: Launch the hard drive duplicator and choose the System Backup option from the main screen. This will display the existing drives on your system. If you want to back up an external device, then you need to connect it to the system first and then run the program.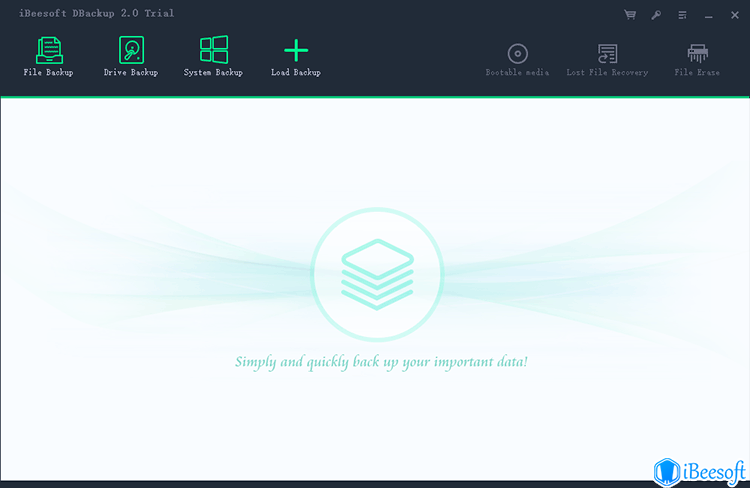 Step 2: When the drives pop up on the screen, you can select the drive you want to back up and hit the Start button on the top right side of the screen.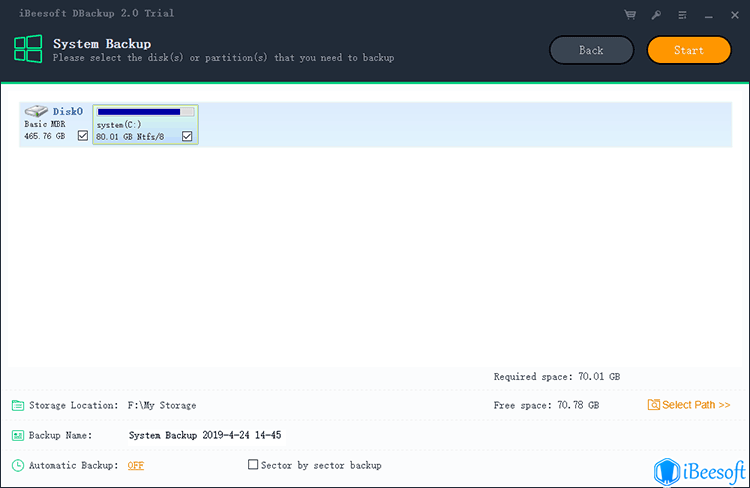 You can make three kinds of backup with the help of this tool, i.e. full backup, incremental backup, and differential backup. So, before you perform the backup, pick the right option according to your requirements.
Conclusion:
Now, you have access to various Windows Image Backup software. They can help you create a backup of your Windows system without any hassle and save the space too. So, the next time you want to update your system or reinstall Windows, make sure that you have a copy of the system back up to restore the important files.