Windows Photo Viewer is used for viewing image files in different ways. Users can attach pictures to emails, print, burn; order a print on the PC. For Windows 10, the Photos app is the default app that opens image files. This means Window Photo Viewer is not available in the list of "Open with" on Windows 10. If you're used to the Windows Photo Viewer, you don't have to worry. This post shares how you can restore Windows Photo Viewer in Windows 10.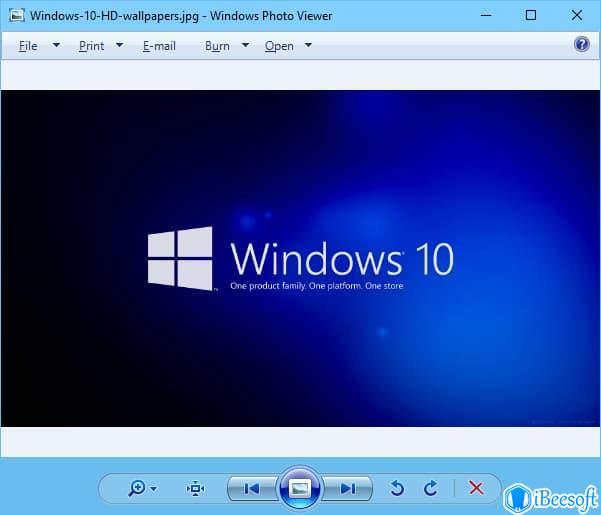 Why Windows Photo Viewer is missing in Windows 10
By default, Windows 10 uses the Photos application to view images and not the Windows Photo Viewer. Of course, you can download and install 3rd-party apps on your PC to enjoy more feature-rich programs. However, if you've used the Photos Viewer in previous versions of Windows before, you'll likely prefer it on some levels. It's possible to restore missing Windows Photo Viewer in Windows 10 because the program is still available on the system. The only thing is that its accessibility would depend on the way you have installed the Windows 10 update on your device.
Possible Reasons why Windows Photo Viewer is missing in Windows 10
The device has been upgraded from an earlier Windows Version
Photo Viewer will not be functional on Windows 10 if your device has been upgraded from a previous version of Windows, like Windows 7 or 8. Now, it's not that Windows Photo Viewer is not available on the device as an option. However, you would have to reactivate it to be able to use it on the device.
Windows 10 is installed from the Scratch
Sometimes, a user may return their device to the default setting and install Windows 10 from scratch instead of upgrading. If you do this, your system will have the complete settings of Windows 10 and you'll only find the Photos app to open image files on the PC. Sure, Windows Photo Viewer is still available on Windows 10 but it's difficult to find. To find Windows Photo Viewer, you'll need to edit the Windows Registry. This involves some technicalities and you will need to download a Registry file to restore it.
How to Restore Windows Photo Viewer in Windows 10
To start with, why would you prefer to use Windows Photo Viewer instead of the default Photos app? The reason for this is simple. Photos app utilizes larger memory than what Windows Photo Viewer requires to display photo files. If you try to use both programs to view the same photo, you'll find out that the Photos app utilizes about three times the size of RAM that Windows Photo Viewer uses. This is the major reason why many prefer to use Windows Photo Viewer rather than the Photos app. However, Windows 10 default photo viewer is missing. So, how can you restore Windows Photo Viewer Windows 10?
If you've upgraded your Windows from an earlier version to Windows 10, Windows Photo Viewer will still be available on your device. To restore missing Windows Photo Viewer in Windows 10, follow the simple steps below:
Step 1: Right-click on an image on your Windows 10 device and select "Open With". You'll see a list of options, including the "Photo app".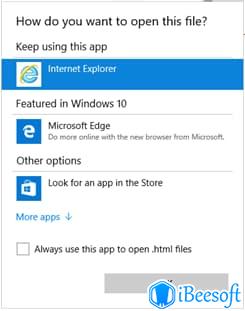 Step 2: Select "More Apps" and you'll see a dropdown menu. Check to see if the Windows Photo Viewer is listed. If it is, Windows Photo Viewer is already installed and you can select it as your default viewer.
If the Windows Photo Viewer is not listed on the program list, you have to make some changes to the Windows Registry to restore it. You'll need to add some codes for the Windows Registry to restore the program. The steps to achieve this are listed below:
Step One: Download the Windows 10 Windows Photo Viewer Registry file on your system. You can find this from a reputable website.
Step Two: After the download, extract the Registry file and run the file to add its information to the Registry.
Step Three: Restart your PC. When turned on, open right-click on any image on your device and click the "Open with" option. You'll find the Windows Photo Viewer option on the list. 
How to Perform Photo Recovery when Photos are Lost/Deleted in Windows 10
It's one thing to desire to use Windows Photo Viewer in Windows 10 instead of the Photos app. What if the photos you want to open has been lost or deleted? These two programs will be useless because there won't be any photos to open. The great news is that you can recover deleted lost or deleted photos in Windows 10 with iBeesoft Data Recovery software.
What is the iBeesoft Data Recovery Software?
iBeesoft Data Recovery tool is an effective and 100% safe file recovery software designed to help users recover files completely from their Windows 10 hard disk, partition, external hard drive, USB drive, RAW drive, SD card, and more. Whether you have deleted photos by mistake or formatted the RAW disk or drive, It will help you scan and recover the lost/deleted files within minutes.
Your Safe & Effective Windows 10 File Recovery Software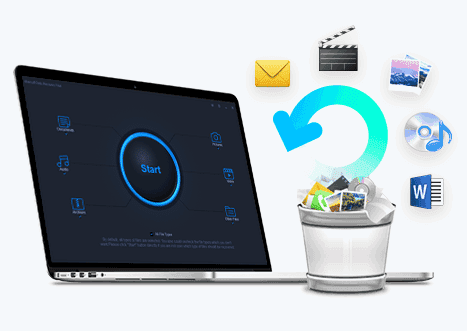 Recovers different types of photos, pictures, screenshot, etc. from various storage drives in Windows 10.
Uses two scan modes (Quick Scan and Deep Scan) for better results. 
Supports different file types, including pictures, archives, videos, audio, documents, and others.
Guide for how to Recover Lost/Deleted Photos with iBeesoft Data Recovery Software
The first thing is to download the latest version of the iBeesoft program and install it on your Windows 10 system. After this, launch the best photo recovery software to start the restore windows photo viewer in Windows 10 process. The steps below will guide you through the process.
Step One: Select the file type to recover. In this case, select Pictures. Note that all supported files will be selected when you launch the app. Unselect everything and select only Pictures. Click "Start" to begin.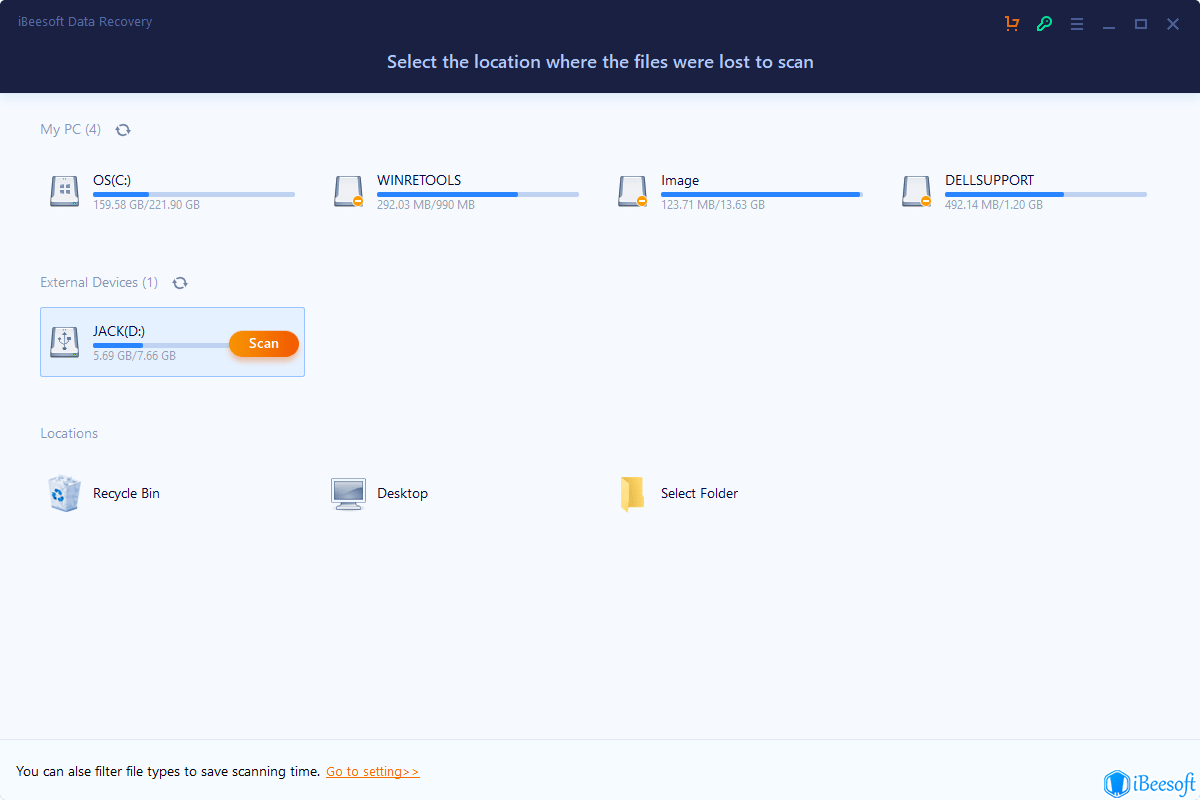 Step Two: Select the Drive or Partition to scan. All drives will be selected and you can unselect all and select the drive/partition where you once saved the lost/deleted pictures. Click "Scan" to start the recovery process.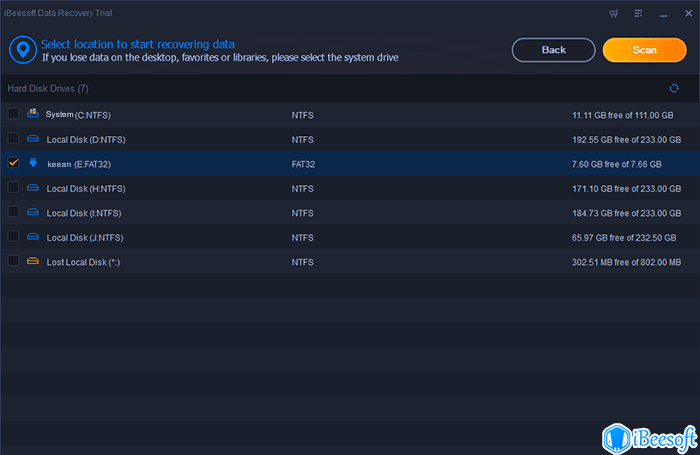 Step Three: Preview the pictures and recover. Within minutes, iBeesoft data recovery software will scan the whole drive and list the found images on the list panel. Preview and select the specific pictures you want to recover. Click "Recover" to save them on the PC. You can use the "Deep Scan" mode if you want further search.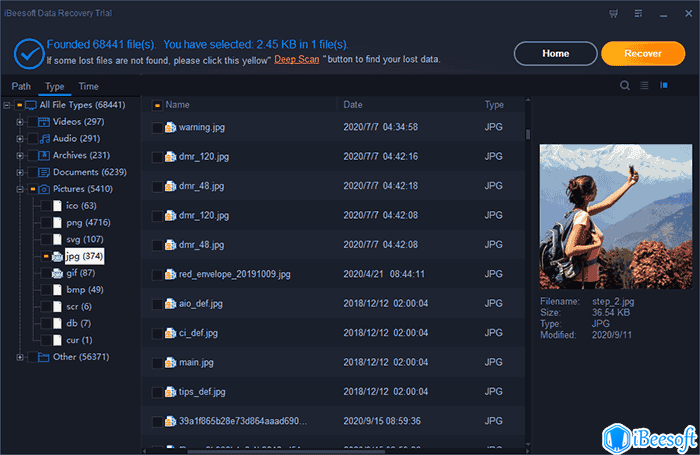 There you have it! You can restore Windows Photo Viewer in your Windows 10 and enjoy all it has to offer. The iBeesoft Data Recovery software also does a great job of restoring lost/deleted photos, so you don't have to lose any photo file again. You can also see the feature "Deep Scan" in the result window. It is a great feature to scan the computer again to look for more pictures. If you like, you can try it as well.