With the continuous and rapid changes in the mobile phone industry, messaging has become a fast and reliable communication technique. In older iPhone versions, messaging was through texts only. However, later versions like the iPhone 6 have improved message applications that allow sending of multimedia messages. In addition to SMS and MMS, iPhones have iMessages which use cellular networks and Wi-Fi. These messages are encrypted, contrary to SMS and MMS which can be intercepted.
Information passed through messaging may be important and required for reference later. This and other numerous reasons make us keep this messages. However, these texts can be deleted by accident, by viruses and system crushes. This is very frustrating as trying to rewrite or asking others to resend the messages is time consuming and hectic. Recovery of deleted data is therefore very important.
iBeesoft iPhone Data recovery is the best option when you want to recover deleted text messages on iPhone 6. It has incorporated various methods to enable data retrieval from iPhones, IPads and iPods. It has several features that enable ease of use. These include:
Your Effective & Safe Messages Recovery iPhone Tool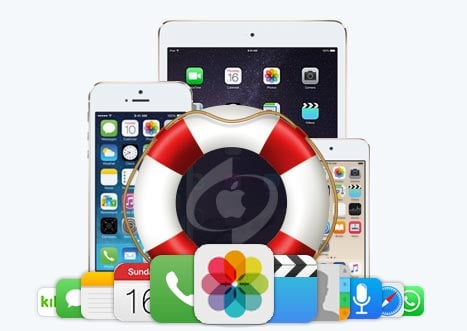 It supports retrieval of all types of data, including messages, videos, photos, contacts and documents. These can be recovered from different iOS devices such as iPhone, iPad and iPod touch.
All these can be retrieved regardless of the cause of loss.
It has a user guide that provides a step by step procedure on how to retrieve your data. This makes it user friendly and fast to use. The software has three methods of retrieving data.
Below, I will focus on how to retrieve deleted messages on iPhone 6 using these three methods.
Recover Deleted Texts Messages from iPhones 6.
This is the easiest message retrieval process. It works on a principle that deleted data is not completely erased from the phone. The space it occupied is merely declared free in order to accommodate more data. Once you lose your messages, do not use your iPhone as new texts will overwrite the old data and prevent recovery.
1. iBeesoft Data Recovery Software Installation.
Get the standalone iBeesoft software from a reliable and virus free source. The most preferable source is the iBeesoft website. Download the package and install the software for use.
2. Connect your iPhone 6 to computer
Connect your iPhone to the computer using a cable. The computer will detect your phone automatically. Look for a prompt on your phone and click the "Trust" option. In case a password is required, type it in to enable your computer detect the phone.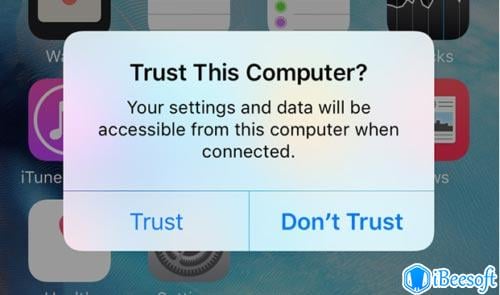 3. Scan your Device to Recover Deleted Text Messages on iPhone 6.
Click "Scan" botton to allow the software to scan your phone 6 for the lost messages. This may take a while. Ensure the cable connection remains uninterrupted throughout the recovery process.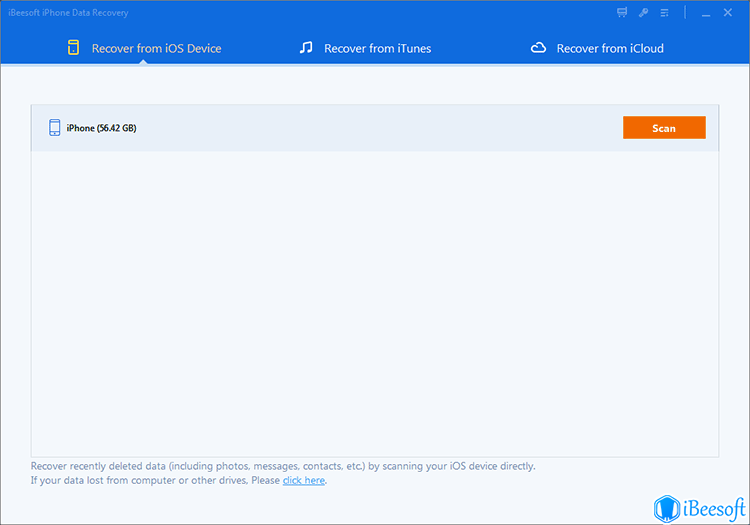 4. Retrieve Deleted Messages on iPhone 6
Once the scanning is complete, the software will categorically list all the lost files. Here, your target file is one that contains your messages. Select it and click "Recover" to recover deleted text messages on iPhone 6. Choose a suitable storage location on your computer and all the retrieved texts will be saved there. You can then refer to them here or send them to your phone for easier use.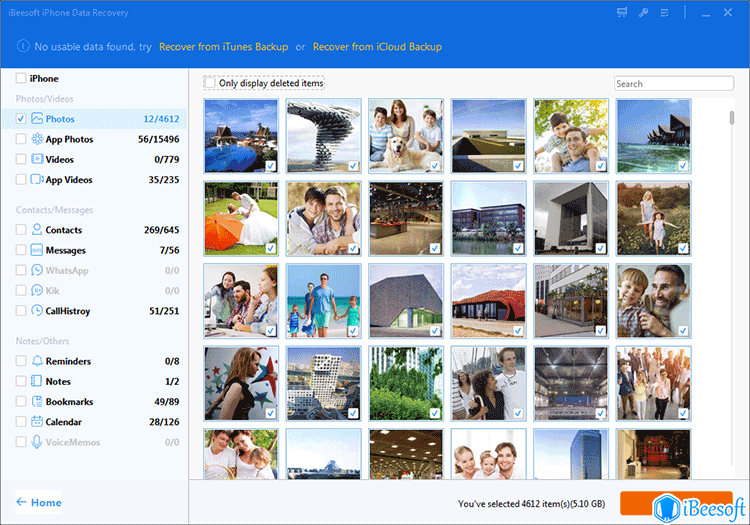 If your deleted text messages is not found. You can try "Recover from iTunes" and "Recover from iCloud" option to retrieve deleted messages on iphone 6
Recover iPhone 6 Texts from iTunes Backup Files
If your phone is regularly connected to your computer for data transfer, there is a high possibility that you automatically have iTunes backup files. Your lost texts can be extracted from these files. This is a life saver for those without iCloud accounts and cannot use the first step.
1. Choose the Appropriate iTunes Backup Files.
Select the "Recover from iTunes" option. iBeesoft will find all your iTunes backup files on the computer. From the display, select the files that contain your messages and click on "Scan".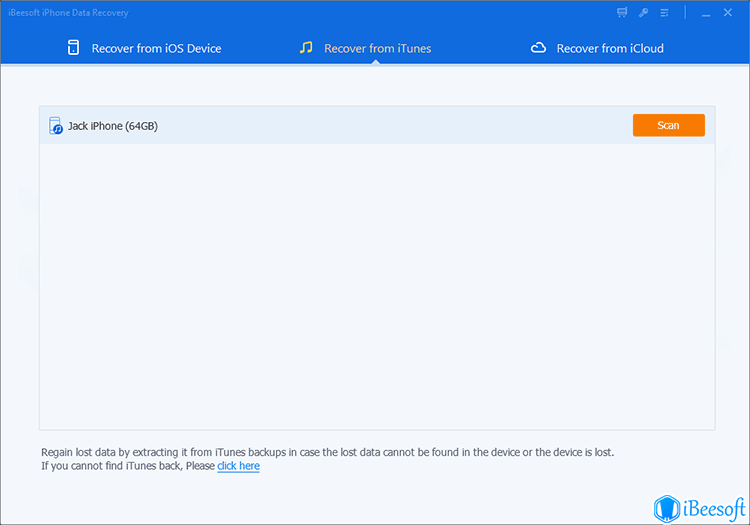 2. Recover iPhone 6 Deleted Messages from iTunes Backup Files
Once the scan is complete, the recovered files will be grouped and listed on the computer. Select messages and click "Recover". The files are saved on the computer.
iTunes backup accounts can easily be lost accidentally when you are deleting items to save on space. To ensure your backup is kept safe, protect is using a passcode. This can be done by selecting the encrypt iPhone backup' option in your iPhone settings.
Recover iPhone 6 Messages from iCloud Backup Files.
This is your last option if the two methods above do not work. All iPhone have a Backup iCloud' option in the backup settings. It must have been enabled and the backup refreshed regularly. This enables phone data to be copied and stored in the iCloud. Without this, there will be no data in the iCloud to be retrieved and this process will not work.
1.Sign in with your iCloud Account
Select the "Recover from iCloud" option in the iBeesoft iPhone Data Recovery. Enter your username and password to sign in your iCloud account. This information is private and not stored by the recovery software.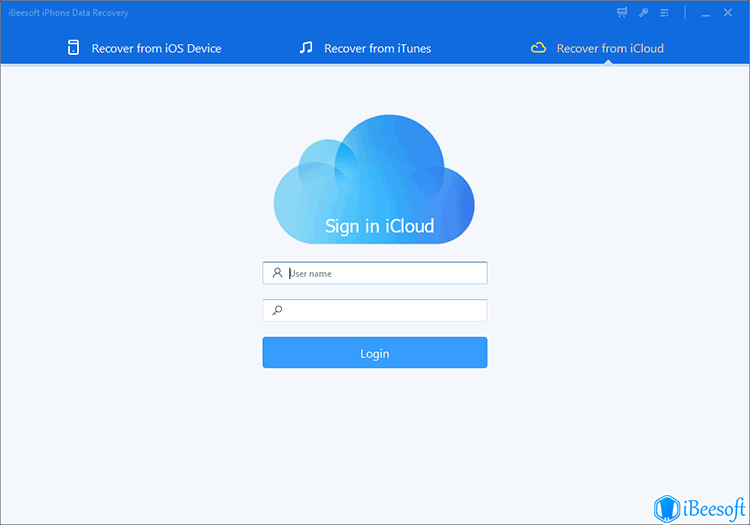 2. Scanning to Find Deleted Messages on iPhone 6
The software will organize and list all the files backed up in your account. Select the most recent file as it contains updated data. Click "Scan" to extract backup files automatically to recover deleted text messages on iphone 6.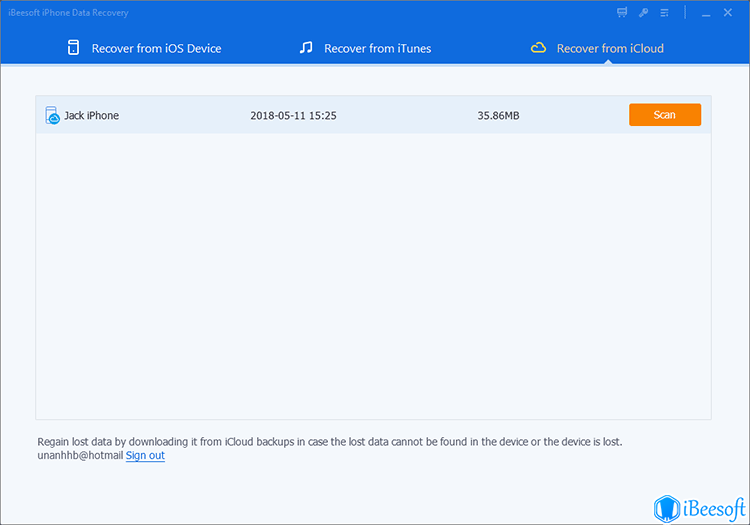 3. Recover your iPhone 6 Messages
After data scanning, iBeesoft will display all deleted messages. You can select "Messages" option to preview your lost messages and click "Recover" to save them on the computer.
These steps make it easy to recover deleted text messages iPhone 6. The software does not alter or delete information. The data retrieved is therefore complete and in its original form. With this, your iPhone can remain a trusted storage for all your messages as their loss is no longer irreversible.
Summary
iBeesoft data recovery software is your ideal choice to recover deleted text messages from an iPhone 6. As accidental text deletion is a common problem, get the iBeesoft software from its official website and use its user-friendly guide to learn how it works with your iPhone. Its three elaborate and easy methods are convenient for a fast retrieval process. You will get your texts back in no time.