How to Recover Photos from SD Memory Card on Mac

Are you looking for a way to recover photos from memory card on Mac? Don't worry. It is a problem that many people encounter regularly. Due to all kinds of issues, like the following ones, that people will lost photos from memory card:
Unintentional deletion. When you check out the photos in the memory card on your phone or camera, delete a photo by swiping over the screen accidentally. And without any conscience, you emptied the "Recent delete" album or just forgot to restore it from there, the phone emptied the folder automatically.
Intentional deletion. If there isn't much storage for the memory card, you might try to empty it by deleting existing files. While deleting files, you don't realize you need the photo until you need it.
Accidentally formatted the memory card, resulting in the loss of the photo.
Virus attack. It is infected with virus, and your computer asking you to delete the virus attacked files or format the memory card.
Memory card errors. Due to some errors, you can't access to the memory card. When you fixed it by setting it up to the factory settings, everything gone.
Physical damage. It is physically damaged, you can't open it to get your photos there.
Whenever you encounter the above problem, you can still have a way to recover the photos in the memory card. The prerequisite condition is that you try to recover deleted or lost photos in memory card as soon as possible, of course, with a professional tool.
Why need to recover photos from memory card on Mac as soon as possible?
All lost photos in the memory card are still there, but marked as useless data. They are waiting to be replaced by new data. If you can't recover them as quickly as possible, they will disappear permanently when erased by new data.
Why need a professional Mac memory card photo recovery tool for help?
You just have the experience in deleting files in memory card. Whenever you delete the photos in memory card on Mac, they are not put into the trash bin, but disappear right away. You can't see them, how can you recover them? In this case, a professional Mac memory card photo recovery tool is helpful. It will scan for the deleted photos in memory card for you, listing them and letting you save them to your Mac. iBeesoft Data Recovery for Mac is such a professional tool you can depend on:
Your Professional SD Memory Card Photo Recovery Tool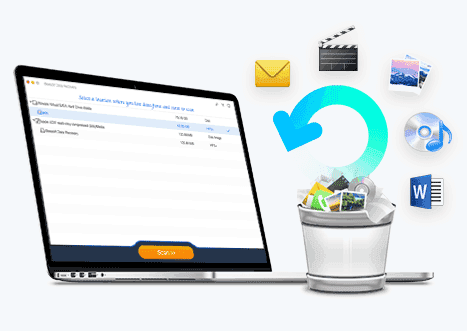 Supported almost all photo formats, such as JPG/JPEG, TIFF/TIF, PNG, BMP, GIF, SVG, DWG and more.
Supports photo preview and can check quality before restore.
It is easy to use, requires no computer techniques
Security Verified, 3,655,358 people have downloaded it

Step-by-step Guide to recover photos from sd memory card on Mac
Step 1. Connect memory card with Mac
Whether the memory card you want to recover photos from are in your Android phone, tablets, cameras, etc, you need to keep it in there and connect your device with your Mac via a USB cable. Don't undo it until you successfully recovered the photos from the memory card on Mac.

Step 2. Install iBeesoft Data Recovery for Mac
Download the installation package of Mac SD memory card photo recovery tool, the .dmg file. Install it like the way you install other software on your computer.
Step 3. Select photos to scan
Launch iBeesoft Data Recovery for Mac and select "Pictures" in the main window to scan. By default, it is selected. To save your time for scanning only for the photos in memory card, please uncheck the other types of files. After then, click "Start".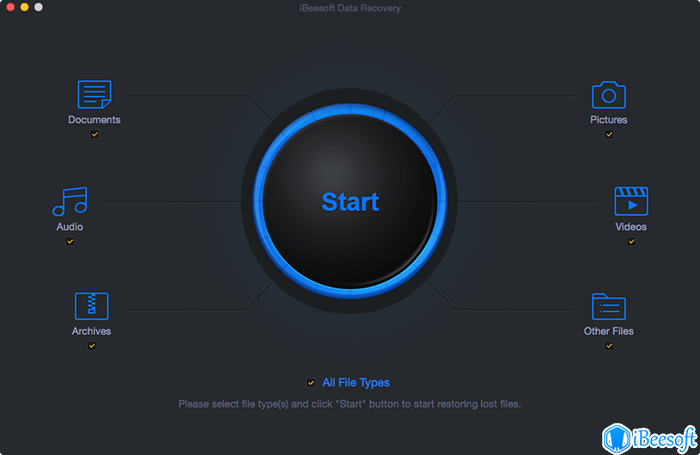 Step 4. Select memory card to scan
In the next window, all partition on your Mac and all external hard drive, including memory card will be detect. You need to select the memory card, and click "Scan".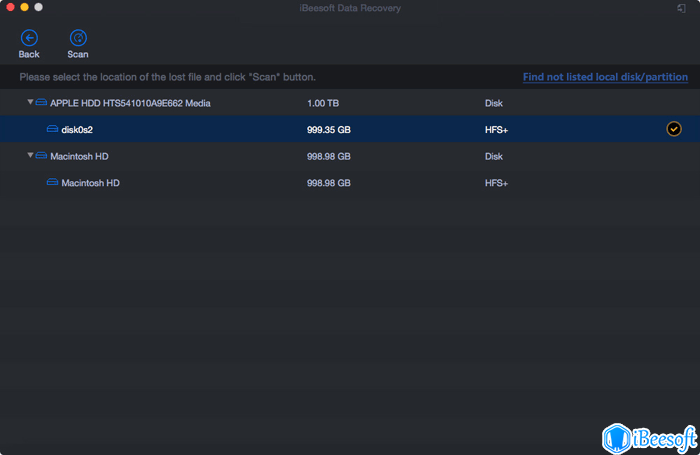 Step 5. Recover photos from memory card on Mac
It only take a few minutes for the software to finish the scanning process. After please click the "Type" on the left and select "Pictures", then check the target photo extension, say, .jpg, then you can see all photos in png on the right side. Choose the one you need and click "Recover" to save them on your Mac.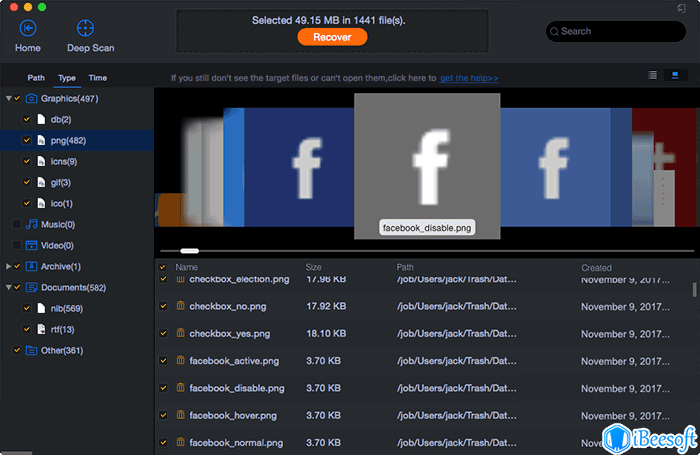 Tip: if you haven't found the lost photos or opened the error, please click "deep scan". It will scan your memory card in depth, which will help you retrieve all the lost photos, but the scan will be longer. please wait...