When Do You Need RAW File Recovery?

Have you ever met the situation you cannot access the hard drive and a popup reminds you like "You need to format disk in drive D: before you can use it."? Once this case occurs, it indicates that your hard drive becomes RAW probably. Unlike other file systems, such as FAT and NTFS, RAW is an uncommon file system, which represents there are something wrong with your hard drive and makes files in it are inaccessible.
Upon this occasion, you may get perplexed. How could this happen and will the data get lost since the hard drive cannot be visited? Any solutions to rescue or recover files from RAW drive or RAW partitions?
An Effective Way to Recover Data from RAW Drive
Note: When coming across the popup of reminding you to format the drive, please do not follow it. Actually, the aim of the popup is that only format the drive can you reuse it to save data. However, if the drive is formatted, risk of data loss exists.
Here is a wonderful recovery tool to deal with RAW Drive recovery issue - iBeesoft Data Recovery, which enables you to recover lost data from memory card, hard drive, USB flash drive, Camera and other storage devices. Let's see some key features of iBeesoft Data Recovery.
RAW Drive recovery - iBeesoft Data Recovery supports most file types, like document, image, music, video, PDF, etc. Furthermore, deep scan can be chosen to detect all lost data.
Great compatibility: All Windows OS (such as Windows 10, Windows 8, Windows 7, Windows XP and Windows Vista) are supported by this program. At the same time, it is compatible with FAT16, FAT32 and NTFS file systems.
With another merit of preview after scan, you can check and evaluate the found RAW files in advance to determine which ones need to be recovered.
Simple three steps to easily reciver files frin RAW drive
Step1. Launching the RAW drive Recovery, select the file type of you want to restore and click "Start" button ro recover your RAW files.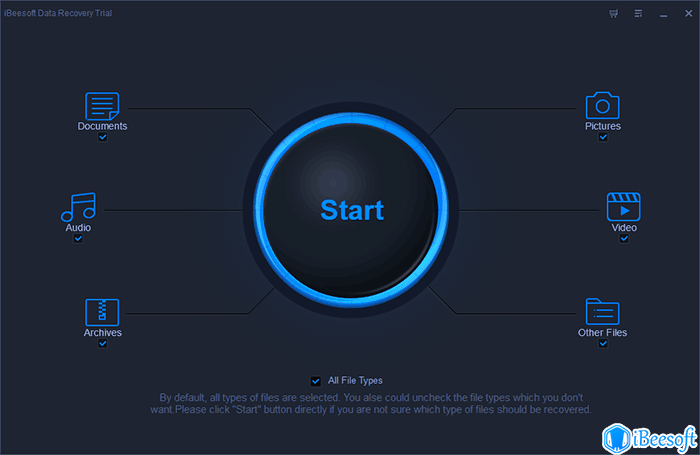 Step2. Select the RAW drive and click "Scan" button to scan your RAW files.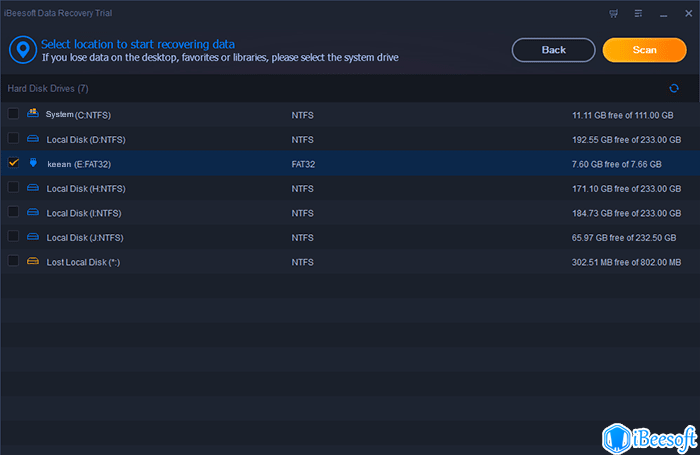 Step3. When the scan is complete, you can view your RAW files in the list. If you need to recover, select them and click "Recover" button to save.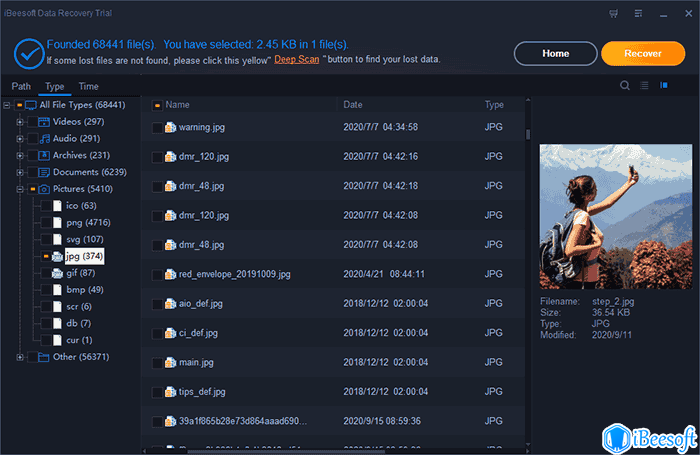 With the assist if this recovery application, we believe it is easy to accomplish RAW file recovery on your own. To gain more detailed information about restoring RAW data, please keep an eye on our latest news.
How to Protect Your Hard Drive from Turning RAW
Generally speaking, RAW hard drive issue consists of two cases: the entire hard drive becomes RAW; only one partition (or more) gets RAW. Two situations are likely to share the similar causes: sudden power failure, file system damage, partition table damage, virus infection, and so on. Except for resorting to third-party software to conduct RAW data recovery, you should set about guarding hard drive data from these aspects in usual:
1.Operate your computer or hard drive cautiously.
2.nstall antivirus software.
3.Make a copy of the vital data and save it to another safe place.