What is a RAW drive? Have you ever met this case before? In this post, we will make a brief introduction to RAW drive and how to recover data from RAW drive. Please read the following parts to acquire the method of RAW data recovery.
RAW Hard Drive Issue
Hard drive, USB drive, memory card or other removable drive with the vast capacity, is used to save data. One day, if you find the drive cannot be visited and a message asks you to format it, your drive may get RAW. Likewise, partition may get RAW mode if the same situation happens.
In fact, RAW is the default file system of CD-ROM. RAW drive can store nothing before it is formatted by NTFS or FAT, commonly used in Windows OS. However, when a healthy drive becomes RAW, you cannot access the data saved in it, unless you format it. As a result, data loss problem will occur. Thus, how to recover data from RAW drive before formatting? The professional raw drive software may help you.
Recover Data from RAW Drive Easily with iBeesoft Data Recovery
iBeesoft Data Recovery, a powerful data recovery application, enables you to recover all kinds of data from computer hard drive or external storage device (such as memory card, USB flash drive and external hard drive). Just download and install the RAW data recovery on computer, and then, you can scan the RAW hard drive and save the detected data to another healthy drive. Obviously, it is easy to recover files from raw hard drive. This solution also applies to RAW partition issue.
After recovering RAW hard drive data, you need to format it so that you can store data on it again. You can just activate "Format" from right-click menu, or perform it in the Windows built-in tool – Disk Management.
There is no difficulty to recover data from RAW hard diver or partition by using iBeesoft Raw Data Recovery, even though you are not skilled in data recovery matters.
Possible Reasons for RAW Hard Drive or RAW Partition
1.Virus attack. It is regarded as the primary threat to computer security. Virus invasion may lead to not only system corruption or data loss, but also RAW hard drive/partition.
2.File system damage.
3.Re-install or upgrade operating system.
Except for the main causes above, other reasons can also bring about hard drive RAW issue. Therefore, some necessary precautions should be taken to protect the whole computer from getting damaged.
During the computer usage, it is inevitable to come across various unexpected cases, which may result in data loss. Hard drive/partition RAW is just one kind of them. Don't be frustrated when accident happens. Just try iBeesoft Raw Data Recovery to retrieve lost data from raw disk and partitions, and it will not let you down.
How to recover data from RAW drive?
Step1. Launching the RAW Data Recovery Software, you can see the following interface and click "Start" button.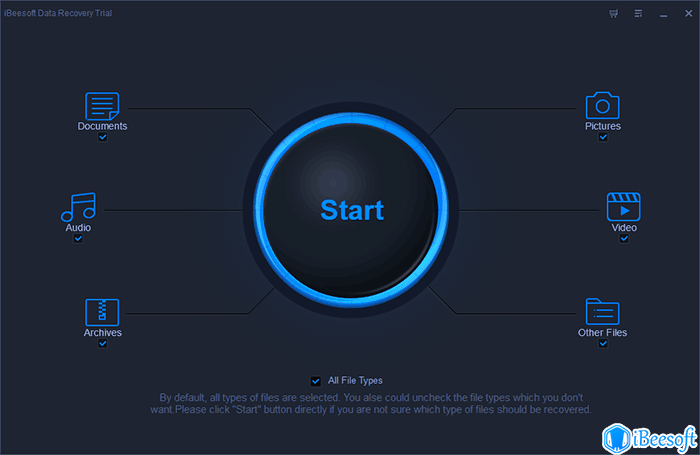 Step2. Select your RAW drive and click "Scan" button to scan your lost data.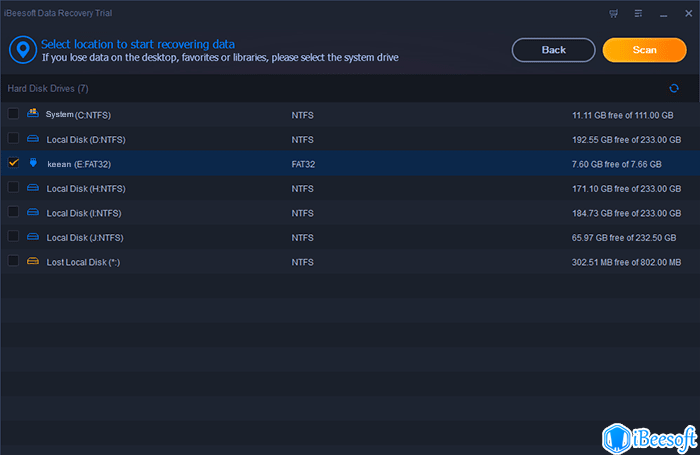 Step3. When the scan is complete, you can view your lost data in the list. If you need to recover, select them and click "Recover" button to save.
tips: If some lost data are not found or cannot be correctly opened, please click "Deep Scan" at the upper part of windows to find more data. The deep scan will scan every sector, so it will some time to complete the scanning.