People often ask on forums how do you free up RAM. If you are among those users and want to figure out ways that can help you to improve Mac performance, then this guide will be useful. When the RAM is running out, you won't be able to carry out the simplest operations and face many other problems as well. So, we have collected a list of methods that will allow you to clear RAM on Mac and free up enough space. We are also providing a tool that will be a savior for you.
What happened when you need to clean up RAM on Mac?
As soon as your Mac runs out of RAM, it is apparent that you will run into some problems. There are some clear signs that you need to pay attention to identify the cause of the problem. At last, you will need to clean up the RAM on Mac. You will notice the following signs in your system when enough RAM is not free:
The macOS performance will decline.
Applications and software will restart or crash abruptly.
The MacBook will prompt you to restart the device without any particular reason.
Files and folders might get corrupted.
There will be some boot issues on the Mac.
If you don't clear up RAM frequently, then eventually, your system won't be of any use. Keep this in mind, and it will be easy for you to maintain Mac's performance.
Best RAM Cleaner for Mac - iBeesoft iCleaner
We are recommending the best RAM cleaner for Mac, which is iBeesoft iCleaner. The software is designed specifically to clean up Mac hard drive and speed up the performance. Instead of wasting hours to dig through the system and delete useless and temporary files, it will be better to use iCleaner for Mac. It is one of the most potent cleaners available on the internet. So, we suggest that you rely on a professional tool for the job.
Your Safe & Best RAW Cleaner for Mac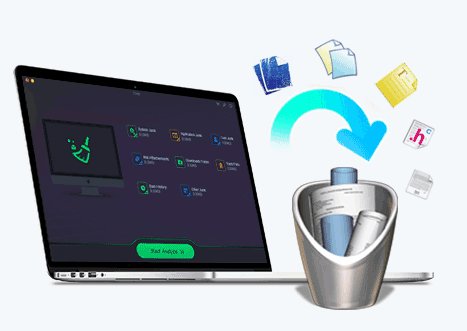 Clean all the junk in your system, including system junk, application junk, indexing files, mail attachments, trash files, bash history, and everything else.
Reduce the clutter and tidy up the system to boost Mac performance.
This clear RAW Mac software can also free up space startup disk on Mac.
Here is a step-by-step guide for how to clean RAM on Mac with iBeesoft iCleaner:
Step 1: Run iBeesoft RAM Cleaner for Mac
Launch the program, and in the home interface, you will see the supported files that can be cleaned up using the software. Click on the "Start Analyze" button to initiate the process.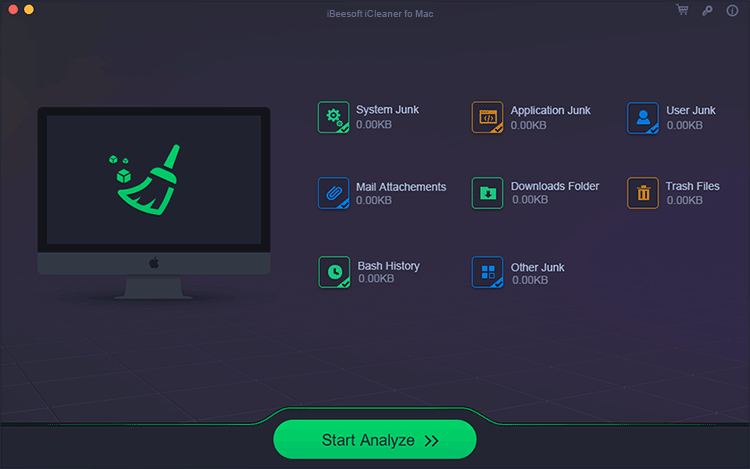 Step 2: Find Mac Junk
The software will start looking for junk files inside the system and display the amount of data you can to free up RAW and clean temporary files on Mac.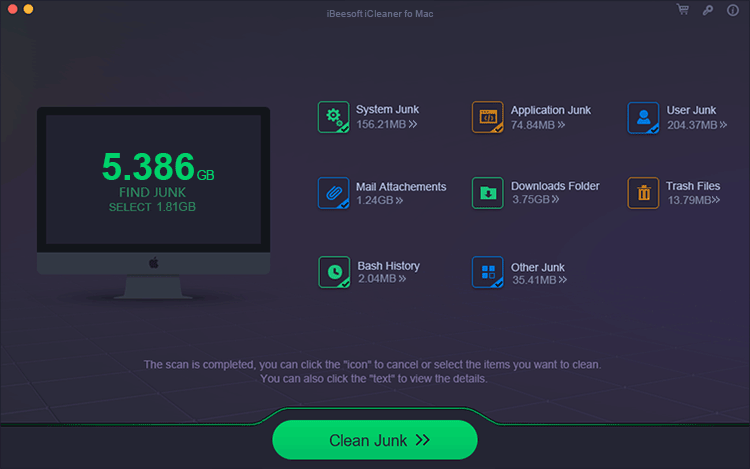 Step 3: Clean up RAW on Mac
Hit the "Clean Junk" button and wait as the cleanup finishes. Once the Mac is cleared, you can rescan the drive to ensure that there are no junk files left on the system.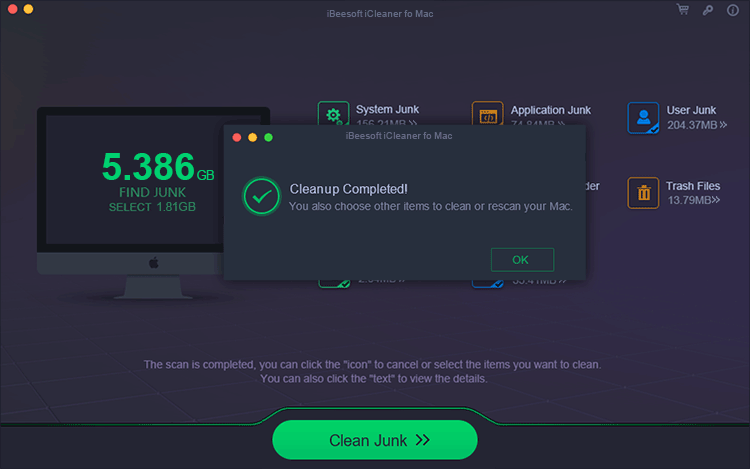 Useful Tips: Other Possible Ways to Clean up RAM on Mac
There are many other ways to free up ram on your Mac. Use one of more ways to clean up the RAM, and the system will perform better.
Way 1: Use Activity Monitor
To clear RAM in Mac, you can use Activity Monitor. This will allow you to release some space that is acquired by apps. Follow the steps below:
Step 1: Open Activity Monitor > Memory > sort out Memory Usage, and you will see the apps that acquire maximum RAM space on the drive.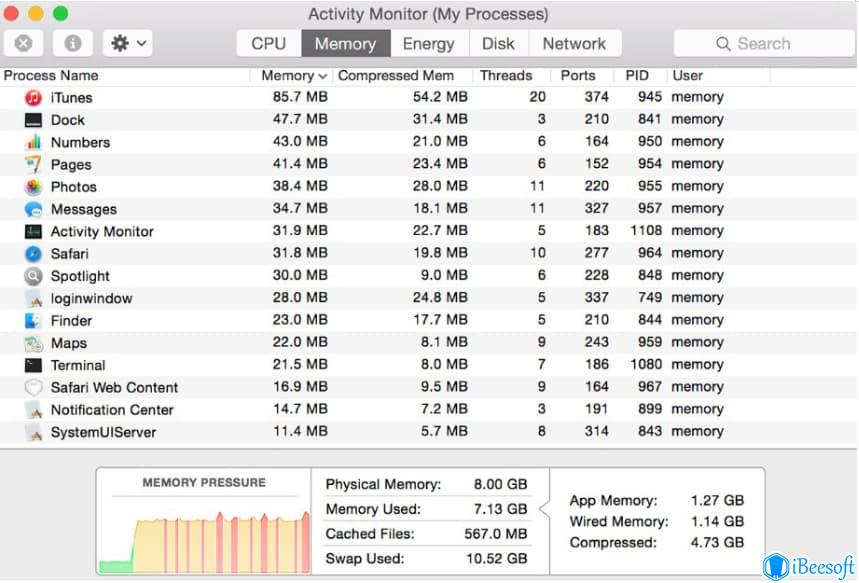 Step 2: Close the apps running in the background by selecting them and clicking on the cross "X" icon on the top-right side.
This will shut down the app, and RAM will free up.
Way 2: Clean Up Desktop
When you ask someone "how do you free up RAM", everybody would recommend you to keep desktop clean. And this tip is beneficial. Inside the drive, the files are stored in a sorted manner to avoid data redundancy and clutter. But when you place more than necessary files on the desktop, the files and folders will be scattered, making the system slow.
This happens because different files need different operating system resources to run. The system considers all those files as a separate program, and a specific amount of RAM is allocated to those files. Hence, ultimately the system performance decline. So, remove the files from the desktop and move them to another location.
Way 3: Use Terminal
For Mac users, clearing RAM on Mac using terminal is one of the easiest ways. A simple command can help you get rid of all those junk files stored inside the system. Just follow the steps as:
Launch Terminal app and type the command "sudo purge". Hit the Enter key, and you will be asked to provide the system password.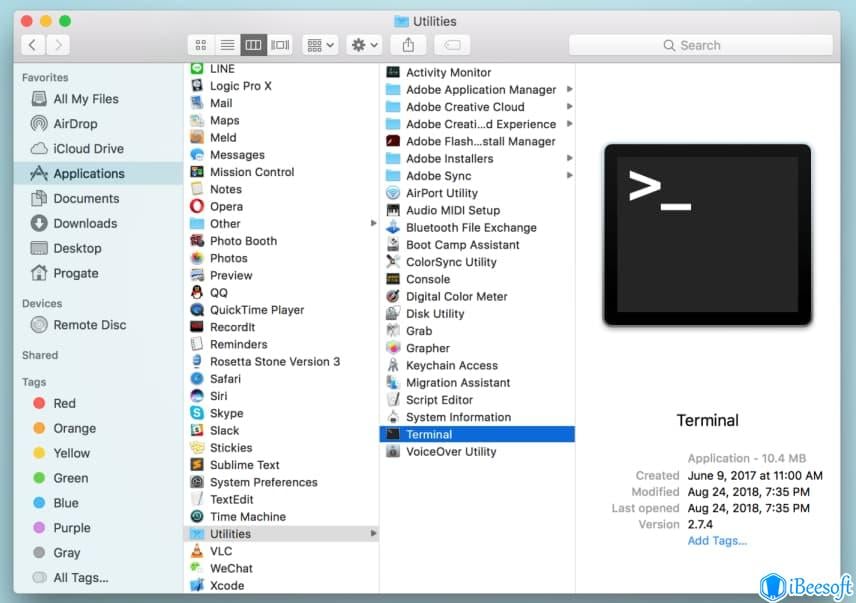 As soon as you enter the password, the inactive RAM on the system will be released, and the performance will significantly improve.
Way 4: Delete Cache Files
Another brilliant way to free up RAM on Mac is to erase the Cache files. Every application that runs on your system stores temporary data in the form of a cache. It is the browsers and application cache that are massive and need to be erased. You can delete the cache files following these steps:
Step 1: Open Finder window and select the Go > Go to Folder. In the search field, type "~/Library/Caches/" and hit enter.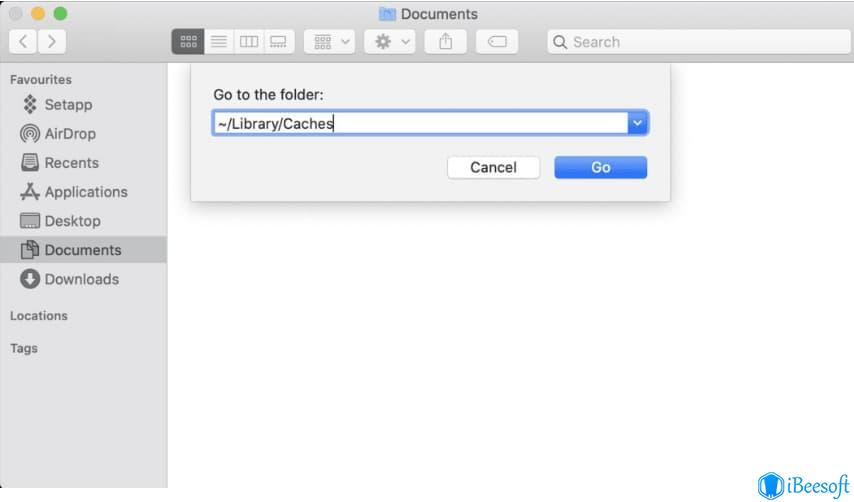 Step 2: The Cache folder will be displayed. Now, enter the folder and erase all files by dragging them to the Trash icon.
All files will be moved to the Trash, and you will save up some space.
Way 5: Empty The Trash
In order to free up enough RAM on your Mac, don't forget about the trash. When the Trash storage reaches its limit, the system will start malfunctioning. Hence, you need to empty trash right away.
Click on the Trash icon in the Dock and hold it for a while. The Empty Trash popup will appear on the screen, and every trace of the files will be erased from the system.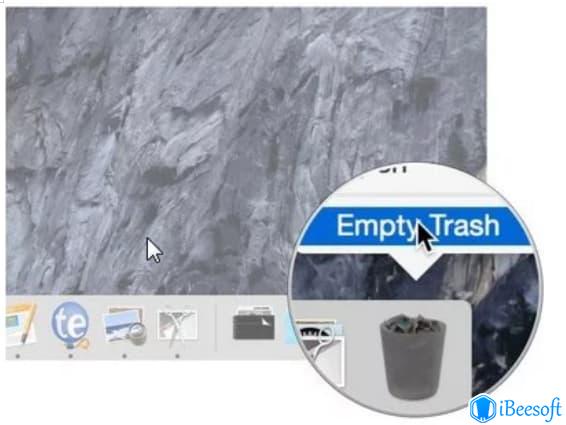 From now on, when someone asks you tips on "how do you free up RAM on Mac", you can tell them about iBeesoft iCleaner. Otherwise, there are various other ways you can consider to clean RAM and free up some space. To ease up everything, we suggest everyone using iBeeosft iCleaner to keep their Mac in optimal condition.