Emptied Trash Recovery - How to Recover Deleted Files from Emptied Mac Trash

If you are having a similar problem, please don't worry. For users who don't know how to perform trash recovery on Mac or how to recover deleted files from emptied Mac trash, it can be a real disaster! but it doesn't matter! On this page, we will introduce you to the work of the trash on Mac and how to perform emptied trash recovery mac solution.
How to Perform Emptied Trash Data Recovery on macOS?
The Mac trash is actually one of the system folders in the macOS system, mainly used to store the user temporarily deleted files. It is a special folder and is hidden. When you delete files or folder, they will remove in the trash bin, but still takes up space on the hard drive. Only emptying the Mac trash can actually delete the files or folder and get more disk space for the Mac.
However, the data have not been completely purged, because of the macOS system is change the tags of these files in the file table, so that the data entry won't display in your Mac. They are still on Mac disk waiting to be overwritten by new data. For the average user, they will disappear completely. But don't worry, we can use the Mac trash recovery tool to help you restore Mac deleted files from emptied trash bin. For a better data recovery from Mac trash bin, please perform a Mac trash recovery as soon as possible. If these files are overwritten by new data, then we will never find them.
How to Recover Deleted Files from Emptied Trash on Mac with Emptied Trash Recovery Mac Tool?
Want to Undo Empty Mac Trash to recover deleted files from emptied trash Mac? First, you need a suitable emptied recycle recovery Mac tool to help you. The iBeesoft data recovery for Mac is a good choice for you to quickly and completely the emptied trash data recovery job with a few simple clicks. With it has a powerful file recovery capacity, the best data recovery software can effectively recover files from emptied Mac trash, Mac notebook/desktop, SSD, memory cards, external hard drive, USB drives or other drives.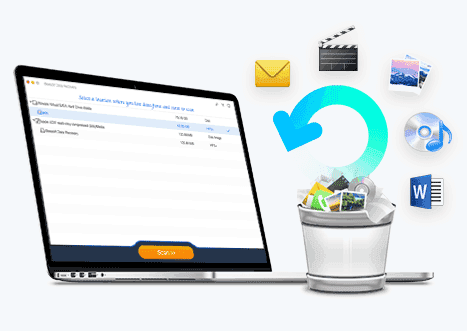 It supports 1000+ file types, like document, photos, videos, music, audio, emails, archives, and other files.
It can recover deleted or lost files on Mac and Windows due to emptied Mac trash, accidentally deleted files or folder, formatted hard disk/volume or other drives etc.
It can fully compatible Mac trash data recovery under macOS 10.14, 10.13, 10.12 and Mac OS X 10.11, 10.10, 10.9, 10.8, 10.7, 10.6.

Guide to Recover Deleted Files on Mac after Emptied Trash
This professional Mac trash recovery program can easily recover deleted files on Mac after emptied trash. You can download it and free try the guide below to recover emptied trash data in macOS with simple steps.
Method #1 - Video Guide to Recover Deleted Files from Emptied Mac Trash
Method #2 - Text tutorial for Emptied Trash Data Recovery
Step 1: Download and Launch iBeesoft emptied trash recovery Mac tool. And then, please select file type(s) of you want to restore and click "Start to search for all emptied Mac trash data.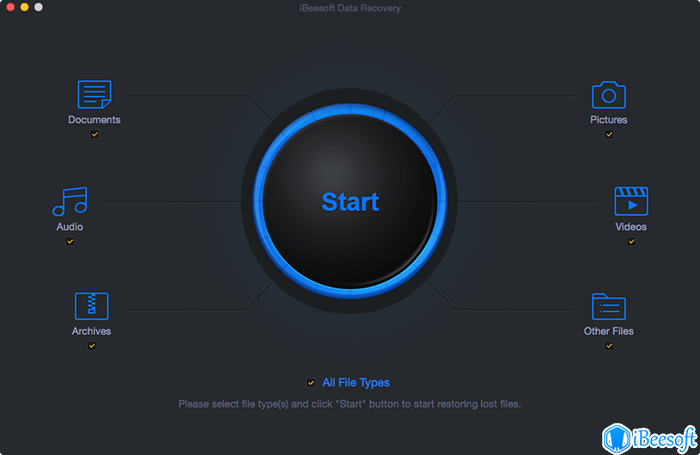 Step 2: Select your macOS disk or volume and and click the "Scan" button to recover deleted files from the emptied trash on Mac.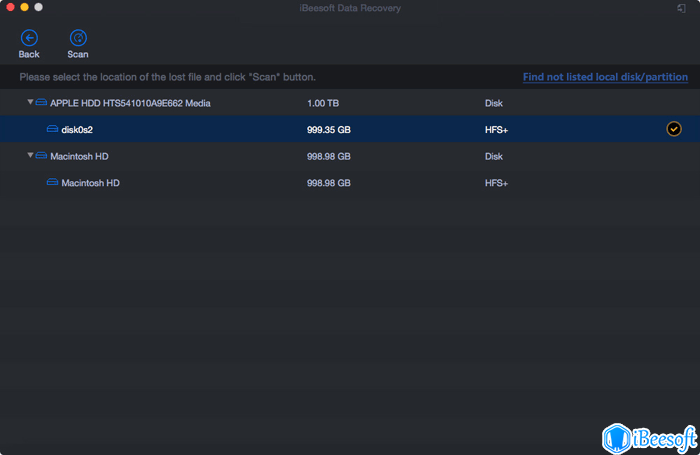 Step 3: After the scan completed, all the find Mac trash files will be listed. You can filter what you need from the scanning results according to the file type. Then, click "Recover" button to undo empty Mac trash.