Canon CF Card Recovery - How to Recover Photos/Videos
People may think that it's impossible to recover photos or videos from canon cameras once they are deleted or lost. It is not true at all. With the help of professional Windows or Mac data recovery tool, you will be able to recover deleted data from Canon CF card easily and effectively. Before getting down to the Canon CF card recovery, let's learn the scenarios of data loss.
Reasons for losing your data on Canon CF card
You may delete your photos and videos from Canon CF card by mistake.
A virus attacked the CF card and you had to format it.
You clicked on the DELETE ALL button by accident.
You formatted your CF card and forgot your precious photos are still there.
The CF card has been corrupted by itself.
The pictures have been corrupted and you cannot view them.
Losing our precious photos and videos is a devastating thing especially when we start thinking that we will no longer be able to get them back. Here is some good news, regardless of the reason why you lost your data you will always be able to recover everything from your Canon CF card with Canon CF card recovery tool.
Recover Data from Canon CF Card with Canon CF Card Recovery Tool
The theory of Canon CF card recovery:
Though files deleted or lost from Canon CF card, they are still there marked as useless data and invisible. You can't see them. They're like the garbage in the dustbin, waiting to be gotten rid of completely. if you continue to use the camera and take some photos or videos, they will be lost from the CF card permanently, because new data will erase them. Before you lose them, you need the help of data recovery tool to do Canon CF card recovery. Here, I recommend iBeesoft data recovery for you. You can free try it to scanning and recover data from Canon CF card.
iBeesoft data recovery gives you the ability to restore photos and videos deleted, formatted or lost due to any reason on the canon CF card. It will guarantee you a perfect recovery of lost data whether by Quick Scan or Deep Scan on the CF card. The Canon CF card recovery tool offers you 2 scanning modes to retrieve deleted or lost data on Canon CF card.
What is Quick Scan?
The default mode in iBeesoft Data Recovery is quick scan. It allows to quickly scan the canon CF card and finds that Photos or videos recently lost.
What is Deep Scan?
If you haven't found all the lost data after using the quick scan, you will need to use the deep scan. Deep scanning scans the entire canon CF card to assure full recovery for you.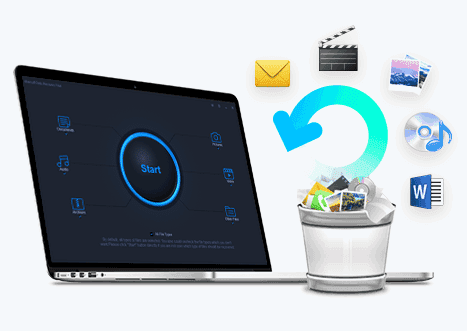 Supports recover all Canon CF card files including photos, videos, documents and other files
Supports recover data from Canon cf card, SD card, USB flash drive, digital camera, hard disk/partition and other removable devices.
It fully compatible Canon CF Card Recovery on Windows 10/7/8/XP/Vista and Mac OS X 10.6 and later.

How to recover lost photos and videos on Canon CF card?
Step 1. Download the Canon CF card recovery tool
Click the download button below to download the installation file. After then, install the software on your computer. There are 2 versions of iBeesoft data recovery, for Windows PC or Mac. Choose the one that's right for your computer.
Step 2. Connect your Canon CF card to the computer
First, you would need to connect your canon CF card to the computer and make sure that the computer is able to read it or you can connect the Canon camera directly to the computer. Either way the computer must first read the Canon CF card. Once it's done you can now open Canon CF card recovery to start the recovering process.
Step 3. Select the file types you need to recover.
When you open iBeesoft data recovery you will find all types of files checked already. You can uncheck them all and leave the wanted type of files, for example, you want to Canon photo recovery only then you choose "Pictures" from the program and uncheck the rest. After choosing the preferred file type whether its photos or videos you can now press on "Start" button for the program.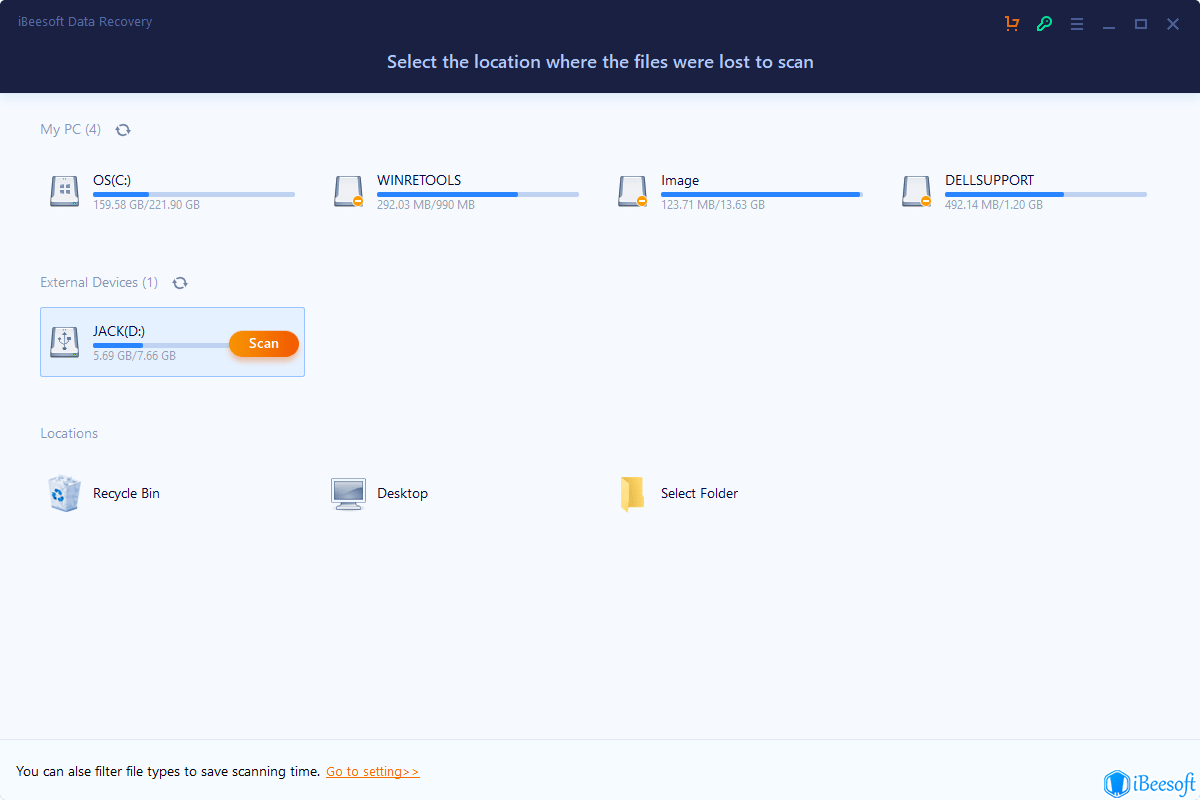 Step 4. Select a location
After pressing on the "Start" button you will need to specify a location for the program to scan. Choose the external hard drive from the computer that stands for the Canon CF card. And then click "Scan".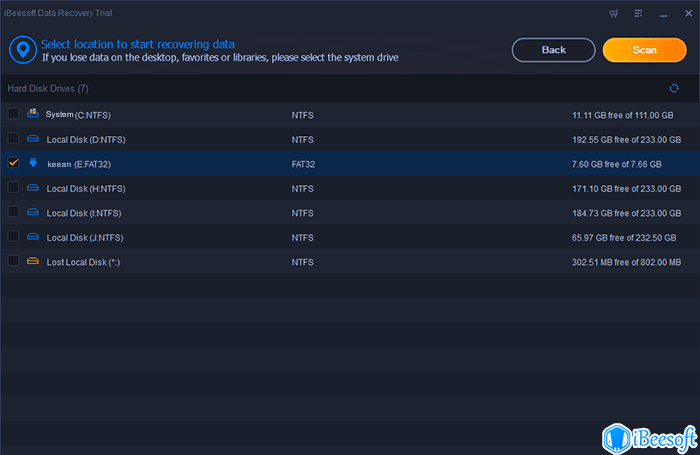 Step 5. Canon CF card recovery
After choosing the specific location and the program starts searching all recently lost data. It might take a little longer if you have hundreds of photos or videos there. When it finished, you can preview the results in the result window. To ease the recovery process, you can filter out the files by selecting file format extension on the left side, preview the result on the right side. If find the target files, select them and click "Recover" to save them on your computer.