To be honest, there is no Apple official data recovery software available for you to download at Apple App Store because Apple officially regards data recovery software as insecure software since to recover the data on Mac, it needs to access your hard drive. However, we have to face the fact, everybody makes mistakes. No one can ensure she or he never deleted important files accidentally. And due to other software crash or macOS crash, files are lost. That's why an Apple data recovery software for macOS is needed, in order to prevent data loss which will bring you pain or hours work down the drain.
Though there is no official Apple Mac data recovery software, developers have designed and developed an Apple data recovery tool for you to perform Apple MacBook Pro Data Recovery, Apple MacBook Air Data Recovery, and iMac data recovery. After all, people are painful when they lost their precious photos, videos, documents, essays, emails, and other types of important data on Mac. Among them, iBeesoft Data Recovery is one of the best software for Apple MacBook Pro, MacBook Air, and iMac.
The best Apple MacBook Pro/Air/iMac Data Recovery Software - iBeesoft Data Recovery for Mac
For sure, you can search the "Apple Data Recovery tool" in Google and get a number of options. What makes iBeesoft Data Recovery outstanding?
1. Fully Compatible with macOS
No matter which version of macOS your Mac is running, the best Apple Mac data recovery software is workable on it. It's fully compatible with the latest macOS 10.15, Catalina and former macOS 10.14, Mojave.
2. Supports over 800+ file types
Ranging from videos to audio files, photos to all kinds of pictures exported from software, documents from Microsoft as well as iWork, emails and other types of files, iBeesoft Apple recovery software can help you recover them on Mac when you lost or deleted them.
3. Data Recovery on Apple Mac in different scenarios
Generally, data lost due to deletion, virus attack, system crash, files unsaved, file transfer interruption, factory reset, hard drive damaged/inaccessible, etc. The Apple Mac data recovery enables you to recover files lost due to above mentioned reasons.
4. Recover files from various drives
Besides recover data directly from hard drives on MacBook Pro, MacBook Air, iMac, the software allows you to recover lost/deleted data from USB flash drive, external hard drive, TF cards, SD card, cameras, camcorders, and more.
How to Do Data Recovery on Apple MacBook Pro/MacBook Air/iMac
The best Mac data recovery software tool is extremely easy to use. It is designed with a simple interface, guides people to go through the whole data recovery process on Mac with simple 4 steps. By default, the scanning mode is Quick Scan mode. And another one is Deep Scan mode. Here let's learn how to make full use of the two scan modes to recover data on Mac.
Step 1. Install the Apple MacBook Pro/MacBook Air/iMac Data Recovery
Click the DOWNLOAD button to get the latest version of the software. After then, install it on your Mac. If you can't install it on your Mac, please set it up in System Preferences as "install apps from App Store and Identified developers". If you're going to recover data from external hard drive on Mac, please connect the external hard drive with your Mac first.
Step 2. Select File Types to Scan on Mac
Launch the Apple data recovery tool. From the start-up window, you can see all supported file types are selected. You can keep them selected and click "Start", or deselect the unwanted ones first. By doing it, it will save you the scanning time.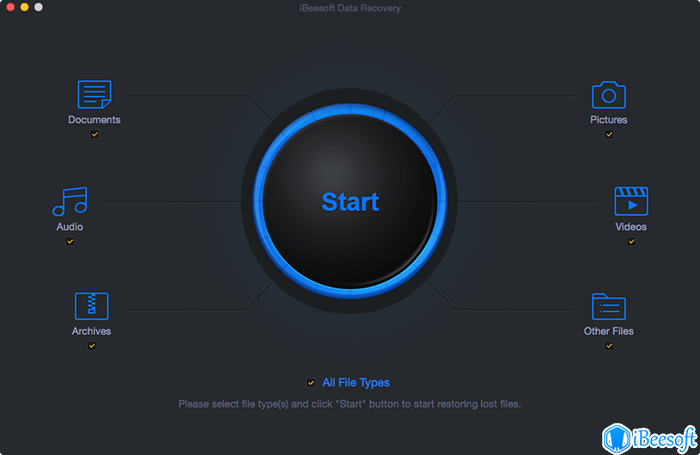 Step 3. Select Drive to Scan
After then, you've navigated to the hard drive list window. From there, please select the hard drive where your files were before they were lost. Then, click "Scan", letting the software scan the selected hard drive for you.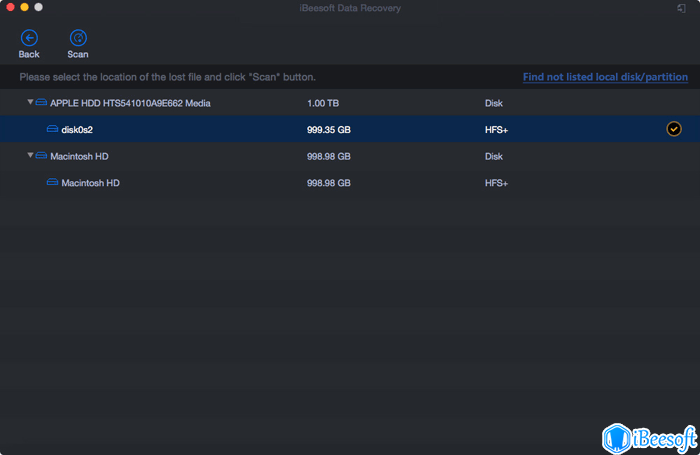 Step 4. Data Recovery on Mac
When the scanning process is finished, you can see the Apple data recovery software tool has sorted all the found files into categories. You can filter files with file types and file extensions, speeding up the process to preview target files. When finding the target files, select them and click "Recover" to save them on your Mac.