How to View Deleted Messages on iPhone
Deleted contacts, messages, texts, or any data are unimportant in 95% of cases. But the other 5% is significant to us. We would do anything to recover data even the portion is 0.01%.
Here, we'll get to know how to view deleted messages on iPhone or directly view deleted text messages on iPhone. Before we start, let's read a story and see if we can relate.
Can You Relate?
As a customer relations officer, my iPhone stays flooded with messages all the time. Sometimes, I get so angry as I can't find important ones in this sea of messages. So, I keep deleting unimportant messages all the time.
One day, I accidentally deleted an important message with the details of a client meeting. I didn't realize it until I needed that particular message. Finding out that it's no longer there, suddenly my hands got frozen. I felt a void which stopped me from thinking clearly.
I know that almost all of you can relate yourself to this situation of mine. But, our days of being worried sick are over. Next, let's see some other scenario of losing precious data from your Apple device.
Accidental deletion messages, contacts or other files from iPhone
Doing factory reset without having a full backup
Having a system crash or damaged hardware/software
Data lost while iOS update
Jailbreaking the device with a possible virus attack
Those are some case scenario that we know of. Feel free to share your story with us, and we'll help you to view deleted texts on iPhone.
Preview and Recover Deleted Messages from iPhone
If your iPhone messages lost or deleted due to the above problem. Don't worry, now we'll use iPhone data recovery software to help you view deleted messages on iPhone and recover them. Here, we highly recommend a powerful data recovery software for iPhone - iBeesoft iPhone Data Recovery. As you've got your hands on iBeesoft iPhone Data Recovery software, you've nothing to worry about now.
Losing valuable and vital data is one of the biggest fears in our everyday life. iBeesoft is working day and night to make your life free of that fear. Let's check out the updated main features of iBeesoft Data Recovery Software.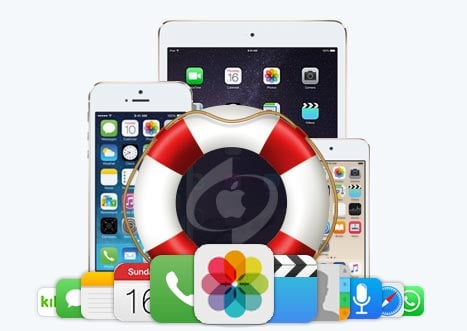 It can recover almost any iPhone/iPad/iPod touch files types and supports any device with iOS.
It can recover data directly from iPhone or from iTunes/iCloud to ensure complete data recovery.
The deleted message recovery tool will not overwrite the existing data of your phone. You can safely use it.

Starting the software's journey in 2015, it has come a long way in 3 years having users in 120 countries. The users of different operating system platforms can't thank enough iBeesoft. Check our customer feedback, and you'll know that we're not bluffing.
Along with many platforms, we also support iPhones to recover data in various methods. Here, we'll cover how recover deleted messages directly from iPhone or iTunes/iCloud backup file using iBeesoft with step by step guide.
Now, let's see the step by step guide on how to view and restore deleted text messages on iPhone using iBeesoft iPhone Data Recovery.
How to view deleted messages directly from iPhone with iBeesoft iPhone Data Recovery
Step 1. Download and Install the iPhone data recovery software on your PC.
Step 2. Using a USB cable, connect the iPhone to the PC and tap on the option "Trust this computer" on your iPhone.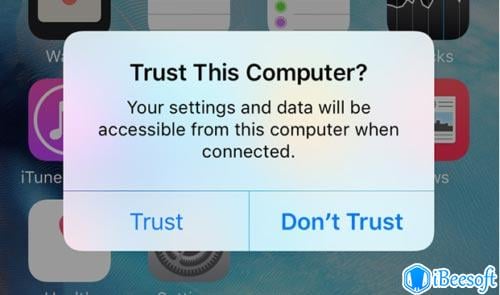 Step 3. Launch the application iBeesoft iPhone Data Recovery on your PC and click the "Scan" button to scan and view deleted text messages on iPhone.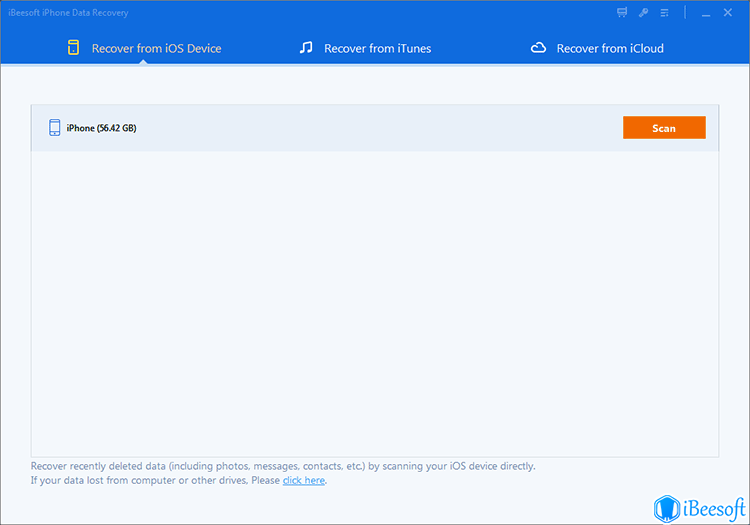 Step 4. After scanning, you'll see the scanned files from your iPhone which are lost somehow. On the left side of the application window, you'll see the file types. Click on "Recover" button after you've selected the messages you need to recover.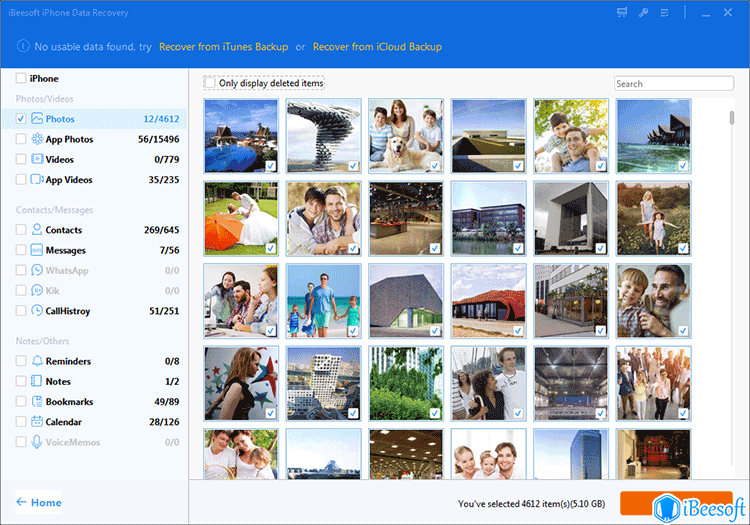 Important: if your deleted messages can be not find. You can try to recover them from "Recover from iTunes" or "Recover from iCloud". If you use the iTunes/iCloud to backup your iPhone data.
There you go. You've got the text messages if the messages are not overwritten in the phone memory. We suggest you recover as soon as you realize that the deleted message is essential.
Final Words
Do you know why top-level employees have assistants? It's to manage and organize little things of their work. They spend their full potential in analyzing and decision making.
Having a data recovery software for iPhone is like having an assistant who protects your valuable information. Being worried about managing and losing data all the time, the creativity in you gets hurt.
So, iBeesoft iPhone Data Recovery software intends to let you work with your full potential. It's effortless and quick to use and recover data. Install and try the software today. Being able to regenerate something from past that is lost, is no less than a Superpower.