Do you ever wonder how to get contacts on new iPhone? Well, me too. New iPhone contacts coming from scratch can be tedious and even frustrating at some point more so if you do need to copy them manually then save them one-by-one to your new device. Good thing that there is a way for you to transfer contacts to new iPhone without that long and tiring method. Let me show you two ways on how to sync contacts to new iPhone.
How to Transfer Contacts from iCloud to New iPhone.
How to Transfer Contacts from iTunes to New iPhone
How to Recover Your Lost Contacts from iPhone
How to Transfer Contacts from iCloud to New iPhone.
This is one way on how to move contacts to new iPhone. If you are mostly connected over WiFi on your old iPhone and use iCloud as a backup method. This is the perfect way for you to transfer contacts to new iPhone.
If you have not done an iCloud backup on your old iPhone, you should do it now before you sync contacts to new iPhone.
1. Go to Settings then Apple ID. Look for iCloud then iCloud backup, enable iCloud backup (it should be green). Your make sure that your WiFi is connected during the whole process and make sure to have your SIM Card placed on your new iPhone.
2. Once you have a successful iCloud backup you can now transfer contacts to new iPhone. Power on your new iPhone. You should be given a welcome screen with "Hello". This will prompt you to setup your new device. If already done with the setup you are required to reset your new iPhone in order to follow these procedures. Complete the setup process until you reach the screen asking to join a WiFi network. Continue with the steps until you reach the Apps & Data screen. Once you do, tap the Restore from iCloud backup option.
3. Sign in with your iCloud account which is your Apple ID and password.
4. You will be prompted to select an iCloud backup. Be sure to choose the most recent date of backup by comparing the date, time, and size of each.
TIP: Make sure you are connected to a secure and stable WiFI network during the process and also plug in your device to a power source, just in case your new iPhone is on a low battery to prevent any interruption on the sync process.
How to Transfer Contacts from iTunes to New iPhone.
You now know how to sync contacts to new iPhone via iCloud. I'll now show you a way on how do I transfer my contacts to my new iPhone via iTunes.In this method, you'll be needing your computer where you can perform iTunes backup.
1. Connect your old iPhone to your computer. Choose the old device and start by creating an iTunes backup of your old device.
2. On the Summary page click on the Back Up Now button. You will then be prompted with an option to Encrypt your device backup. You can set a password for your backup with this option and is required if you want to also save your Health and Activity data from your iPhone or Apple Watch. If you don't want to have a backup password set though, you can just leave this unchecked.
3. After a successful backup of your device, you can view in Device Preferences under the Devices tab the Device Backups that you created.
4. Move your SIM card to your new iPhone and power on your new devices. If not yet setup, you will see a "Hello" screen but if you already set it up beforehand, you need to erase your phone for you to use this method.
5. Continue with the setup process until you reach the Apps & Data portion then select iTunes Backup then tap on Next.
6. Connect your new iPhone to the computer that you used to backup your old device. And then open iTunes then select your new device.
7. Choose Restore Backup then select choose a backup. If you have multiple backups made, please make sure you verify the backup your need by its date and size. You may be prompted with a password if your backup is encrypted, type in your password to continue.
8. Wait until the process is completed then continue with the device setup. Make sure that you are connected to WiFi for the whole duration to avoid unnecessary interruption.
So this is how to sync contacts to new iPhone using these two methods. Make sure that you backup your iPhone regularly so you always have that sense of security that whatever happens to your phone you always have a way to retrieve it.
If you're the type of person who is always connected to a stable WiFi connection, I suggest that you utilize iCloud for your backup. Just be reminded that iCloud only has a free 5GB of backup storage but you can always increase this space for a small price. On the other hand, if you connect your phone to your computer most of the time, iTunes backup is best for you.
How to Recover Your Lost Contacts from iPhone
If you lose your contacts due to these scenarios: lost phone, damaged phone, jailbreak, system crash, accidentally delete files, virus attack, stolen phone, virus intrusion, stuck at Apple logo, iOS update, locked out, unable to sync, and more.
You can always take advantage of iBeesoft iPhone Data Recovery tool. It supports the wide range of iOS versions and recovers over 20 plus file types on your iPhone which includes your contacts and messages. It even lets you preview and select the files you need before recovery. All these are done in three simple recovery modes "Recover from iTunes Backup", "Recover from iCloud Backup", and "Recover from iOS Device" to recover deleted contacts, imessages, photos etc from iPhone.
Your Effective & Safe Contacts Recovery Tool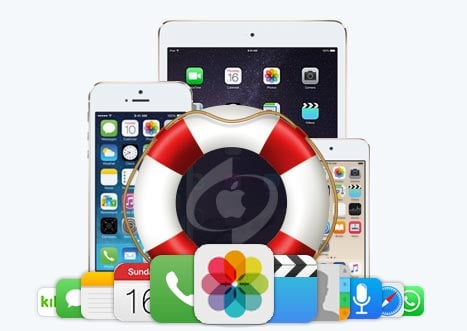 It supports iPhone contacts preview to ensure their correctness.
the best iPhone data recovery software supports recover lost contacts on iPhone 8 Plus/8, iPhone X, iPhone XR, iPhone XS, iPhone 11, iPhone 12 and latest version.
It can recover your lost contact, message, call history, photo, music, video and more files.
Step 1. Connect your iOS device to computer and click "Trust" on your iPhone.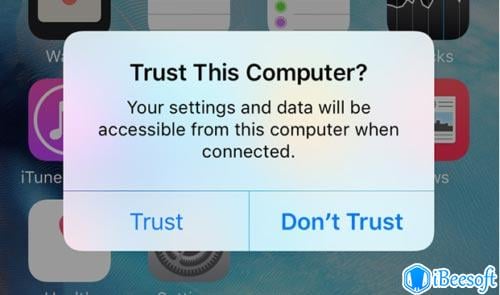 Step 2. On this page, you can see your iPhone. Click the "Scan" button at the back of your device to start restoring the lost contacts.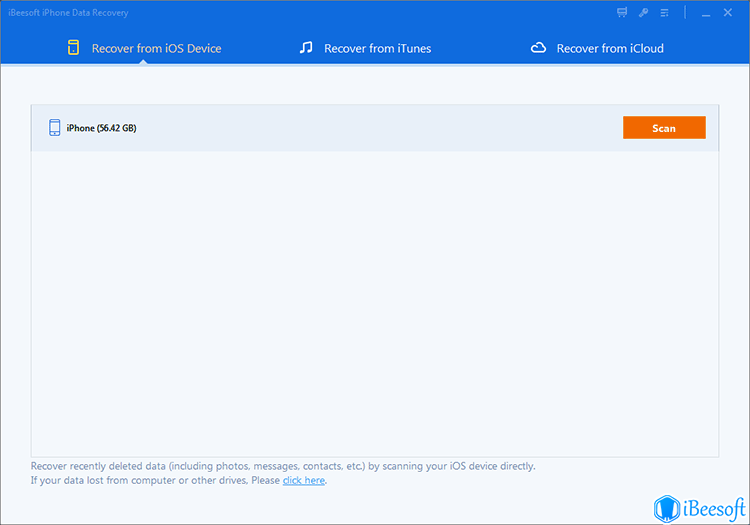 Step 3. When the scan is complete, you can click "Contacts" options on the left, to view found the lost contacts.If you have what you need, click the "Recover" button to save the contact on your computer.