Due to the perceived importance of our contacts to most of us and the increasing relevance of our contact list as an essential part of our iPhones, there is a growing concern for the best way to back them up. Apps on our phones can be downloaded over and over again and we may just have to tweak some settings to restore them to the way they used to be, but a long list of many contact names, email addresses may be difficult to recover when lost. Due to this, you may decide to improve the backup options for your contacts and you may decide to ensure certainty that all your contacts are kept safe in case of any unsavoury events. This is another feature iBeesoft iPhone Data Recovery tool can be helpful with.
For some time, saving contact from iPhone has never been as easy as this. A lot of times, iPhone users are faced with the struggle of trying to save different files from their Apple device to another storage space or device. Save your contact from your iPhone to your computer making use of a very secure and easy method via reliable iPhone data recovery software. This is a very fantastic way to secure all your contacts without going through the stress of copying and pasting contact information.
How to Save Contacts from iPhone
The saving of iPhone contacts is the place where iBeesoft iPhone Data Recovery software does best. It is perfect to help iPhone users recover all lost data, export contacts from iPhone and more importantly allow users to save contacts from iPhone. Basically, it is the best software to use for this purpose. It offers you these important features for just an affordable price. This software is quite simple to understand and use due to the fact that it possesses a user-friendly interface.
The iPhone data recovery Mac or Windows tool is able to scan your iPhone to get all the contacts, this will include all the different types and classes of contacts on your iPhone. The good thing about this software is that it not just allows you scan your iPhone for messages, it also allows you select the specific contacts to save. This feature is very useful due to the fact that you may not have the intention of saving all the contact on your phone.
This article will show you the different methods which can be used to save contact on your iPhone. The different methods to do this are via iCloud backup, iTunes backup, or directly from your iPhone. To save your contacts with this software, kindly follow the steps below:
Save your contacts directly from your iPhone
Step 1: You are to simply connect your iPhone to your PC and download the latest version of iTunes and iBeesoft Data Recovery Software. Start up the iPhone data recovery tool.
Note: If your iPhone is not detected immediately by the software ensure that there is a prompt displayed on your device to Trust this computer, click on Trust to make it detectable. If it is still not detected, you may have to consider the USB cable and port. If any situation other than this occurs, contact Apple for support.
Step 2: Click on recover from iOS device. As soon as your device is detected, select the "scan" button to start scanning your device. This will allow the recovery tool locate all the contacts to save.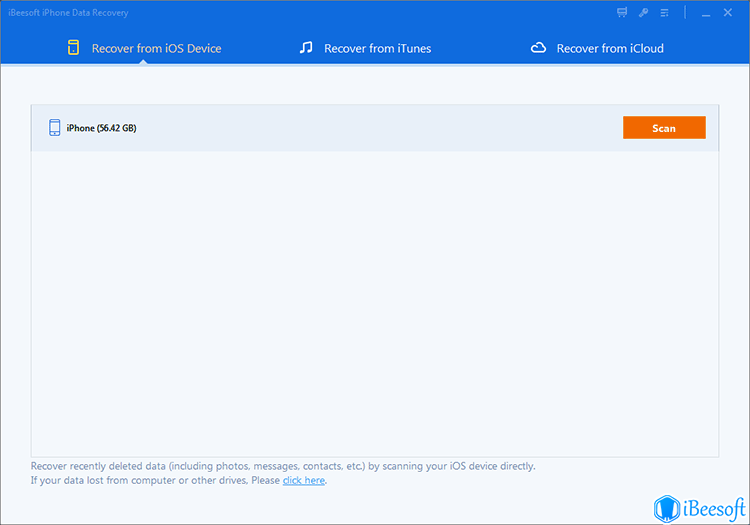 Step 3: After a complete scan of your device, it will display all the files found on your iPhone including your contact. Since all your files are already grouped, you will find it much easier to locate the contacts that you need to save. Navigate to the Contacts category. This will display all your contacts in form of a list. You can now select the contacts you desire to save from your iPhone. After selecting all desired contact, kindly click on the "Recover" button.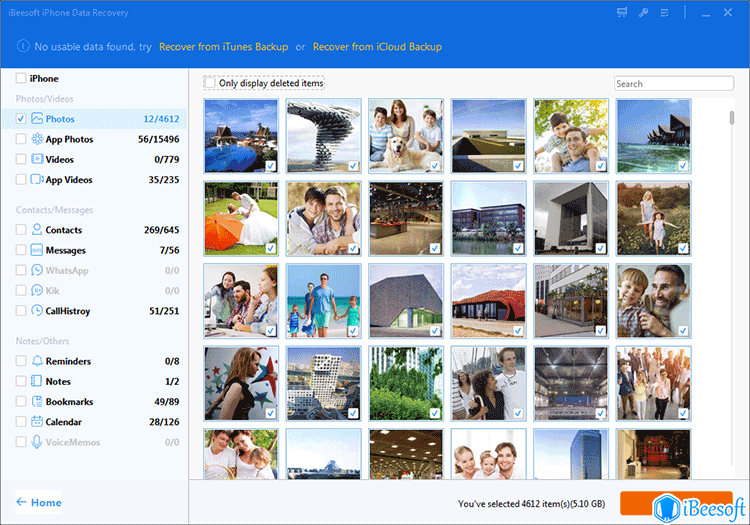 Save your contacts from your iPhone via iTunes
It is a default setting for iTunes to backup all contacts on your iPhone unless any settings relating to this has been disabled. You need to follow the following steps to ensure your contacts are backed:
Connect your iPhone to the computer and startup the iTunes application
Select the device of choice from the options on the left-side list, and then click on the "info" tab. Make necessary adjustments to any necessary settings
Right-click on the iPhone name in the device list and select "backup"
By completing this final step, your contacts are manually backed up using the iTunes app and a backup file is then stored on the computer.
Save your contacts from iPhone via iCloud
iCloud should be the first choice of any iPhone user to backup contacts. If iCloud is your back up choice, there will be an automatic synchronization of your contacts to the iCloud. This feature is activated by just simply using the iCloud, you may however decide to confirm if such settings are configured and then force a backup by going through the following steps.
Navigate to "settings" on your iPhone and tap on "iCloud"
Ensure that you have already setup an iCloud account and that "contact" is selected.
Enable the backup of your contacts to the iCloud
Navigate to "storage and backup" and tap on it.
Click on "backup now"
By completing this process, you have successfully initiated a manual backup to the iCloud and this backup file will contain your iPhone contacts and other data you have decided to save. This method is sometimes preferred to using the iTunes for backup due to the fact that any form of data backed up on the iCloud can be accessed virtually from any location which is connected to the internet and without making use of a computer.
You should note all contacts can be shared from your iPhone to another iPhone quite easily. This transfer comes in form of a vCard. This will grant you access to your contacts at any location.