Losing your iPhone contacts is such a great inconvenience, it's actually a disaster to lose them especially if you really need to find that specific contact number or any details perse that is saved on your iPhone. Good thing there are three ways to restore iPhone contacts from backup.
With iBeesoft iPhone Data Recovery software, your worries will be gone as fast as your contacts were lost. This tool will allow you to extract contacts from iPhone backup or recover deleted text messages from iPhone without backup. These are taken from your own backup with iTunes or iCloud.
TIP: So if you are thinking of the possibilities of any form of data loss that can happen on your iPhone, I highly advise to backup your iPhone in any of the ways that I have mentioned above.
There are many ways this software can help you and not only in retrieving contacts but other files that you have on your phone. Plus, it also supports a wide range of data loss scenarios like jailbreak, broken phone, factory reset, and more.
It's very simple to recover contacts from iPhone backup. Just go through the steps below for each method and you are all set!
Method #1. Restore Selected Contacts to iPhone from Backup via iBeesoft iPhone Data Recovery.
iBeesoft iPhone Data Recovery tool is an efficient way of recovering your iPhone contacts without overwriting your current data by having an option to either save it on your computer, iCloud, or to your device. It gives a preview of your data which is a great way to make sure that you are saving the contacts that you really need.
1.Download and install iBeesoft iPhone Data Recovery - simply follow the installation wizard to get this done. You can try this for free and have a preview of your lost contact list.
2.Launch the tool and select recovery method - once successfully installed, open the software. Choose between "Recover from iTunes" or "Recover from iCloud".
3.Choose backup file and scan - the backup file from iTunes is saved on your computer where you initially performed the backup of your iPhone while iCloud backups are retrieved from your iCloud account. Click on "Scan" once the backup file has been selected.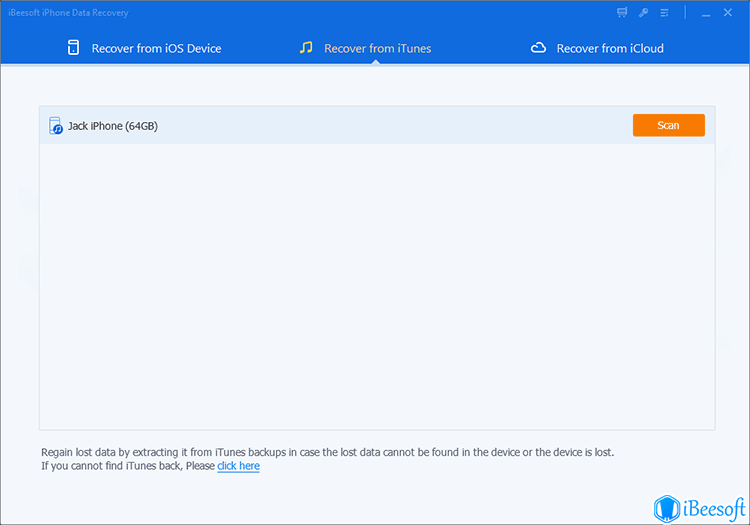 4.Select and recover contacts - After the scan has completed, it will display a categorized list of your backup files. On the left side of the screen, under Contacts/Messages. Click on Contacts to narrow down your files. You can always preview your contacts prior to recovery. Choose the contacts that you need then click on "Recover" button.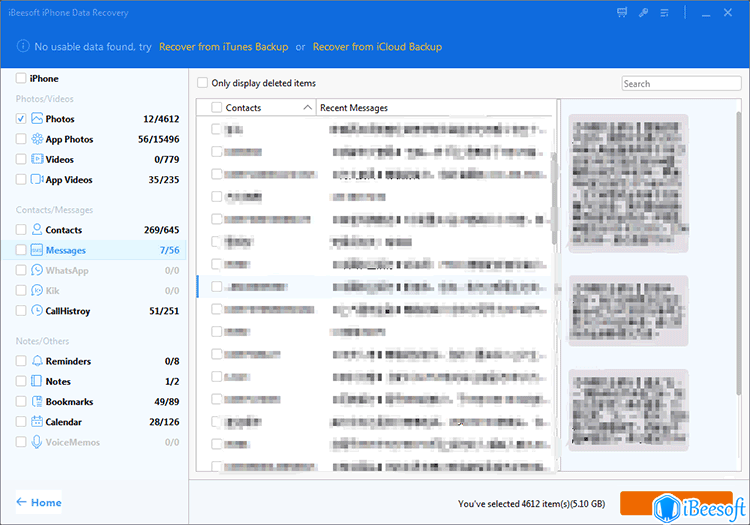 5.Save on computer, export contacts to iCloud, or Sync to iPhone - depending on your preference, you have different ways to retrieve your contacts. You have the choice to save it on your computer, export them to iCloud, or to Sync them back to your iPhone.
Method #2. How to Restore iPhone Contacts from iCloud Backup File
Restoring your iPhone contacts from an existing iCloud backup is another easy way to retrieve your files. This is done within the device itself as it will sync your current iPhone contacts to your most recent iCloud backup.
1. Access Settings then select iCloud from your iPhone
2.Switch OFF Contacts
3. A notification will appear, select Keep on My iPhone
4.Switch ON Contacts
5. Select Merge from the options – this will allow your existing contacts on your iPhone to be kept in your iCloud.
6. After successfully syncing your current iPhone contacts to your iCloud you will be able to see your iCloud contacts on your iPhone after a while.
Method #3. How to Restore iPhone Contacts from iTunes Backup File.
Restoring your iPhone contacts from your most recent iTunes backup is done through your trusted computer where you usually save your iTunes backup files. If you usually use a computer and plug in your iPhone to it, it is most likely backed up.
1. Open iTunes on your computer and then connect your iPhone.
2. Under the list of devices, right click on your iPhone and then click on Restore Backup
3. Choose the most recent iTunes backup file and then click on Restore
Note: Restoring your iPhone contacts from your iTunes backup file will delete all existing media tracks on your device and will be replaced by the contents coming from the iOS backup data.
Always remember that having a backup either through iTunes or through iCloud is a good practice because you'll never know what may happen to your iOS device. If your device is not readily accessible, at least you still have some option to retrieve your important files and data.