Part 1. Why is a PNY SD card data recovery a must?
There must be some very important files on your PNY SD card. And generally speaking, people do not have the habit to back up data in the SD card. Whenever there is an accident or error on your PNY SD card, you face the problem of losing important files on the PNY SD card. That's why a PNY SD card recovery tool is needed. It will help you recover data from PNY SD card due to the following reasons.
Intentional or unintentional deletion.
Formatting the PNY SD card to fix issues.
Security software quarantined or deleted files infected with a virus.
PNY SD card can't be recognized by the computer.
PNY errors result in inaccessible.
Part 2. The best PNY SD card recovery tool you must know
You must want to know how to choose a PNY SD card recovery tool since there are a few options on the internet. You should choose the one that can work on your computer, support various file types, and recover data with a high success rate. Among the data recovery software tools, you can try iBeesoft Data Recovery. It is one of the best PNY SD card recovery software. Here are some of its key features for recovering data from PNY SD card.
Your Safe & Effective PNY SD Card Recovery Software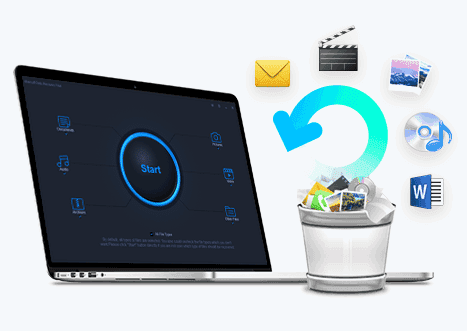 Separate version for Windows PC and Mac. Standalone and not need any other software.
Fully compatible with all kinds of PNY SD cards, helping users do PNY SD card recovery.
Fully supports all the most widely used files, including pictures, videos, audio files, emails, documents, and more.
Simple interface with built-in navigation, making PNY SD card recovery simple and easy.
Download the PNY SD Card data recovery to have a try now!!!
Part 3. How to Recover Deleted Data from PNY SD card
As the best PNY SD card recovery tool, iBeesoft Data Recovery help users recover deleted or lost data on the PNY SD card easily. In the following, let's learn how to recover files from PNY SD Card.
Important: no matter when you find you have deleted or lost data in the PNY SD card, please stop using your SD card right away. Any further operation on your SD card will result in data loss permanently. And next, you should follow the steps to do PNY SD card recovery as soon as possible.
Step 1. Install the PNY SD card recovery tool
Click the DOWNLOAD button to get the PNY SD card recovery software for your computer. You can either choose the Windows version or Mac version. It fully depends on the operating system of your computer. Install it on your computer. Then, you can unformat SD card or recover deleted files from SD on Mac or Windows.
Step 2. Connect PNY SD card with the computer
You need to connect the PNY SD card with your computer, letting your computer recognize it as an external hard drive. After then, launch the PNY SD card data recovery. From the start-up window, please select the file type you want to recover from the PNY SD card. By default, all supported files are supported. Please deselect the unwanted ones and click "Start".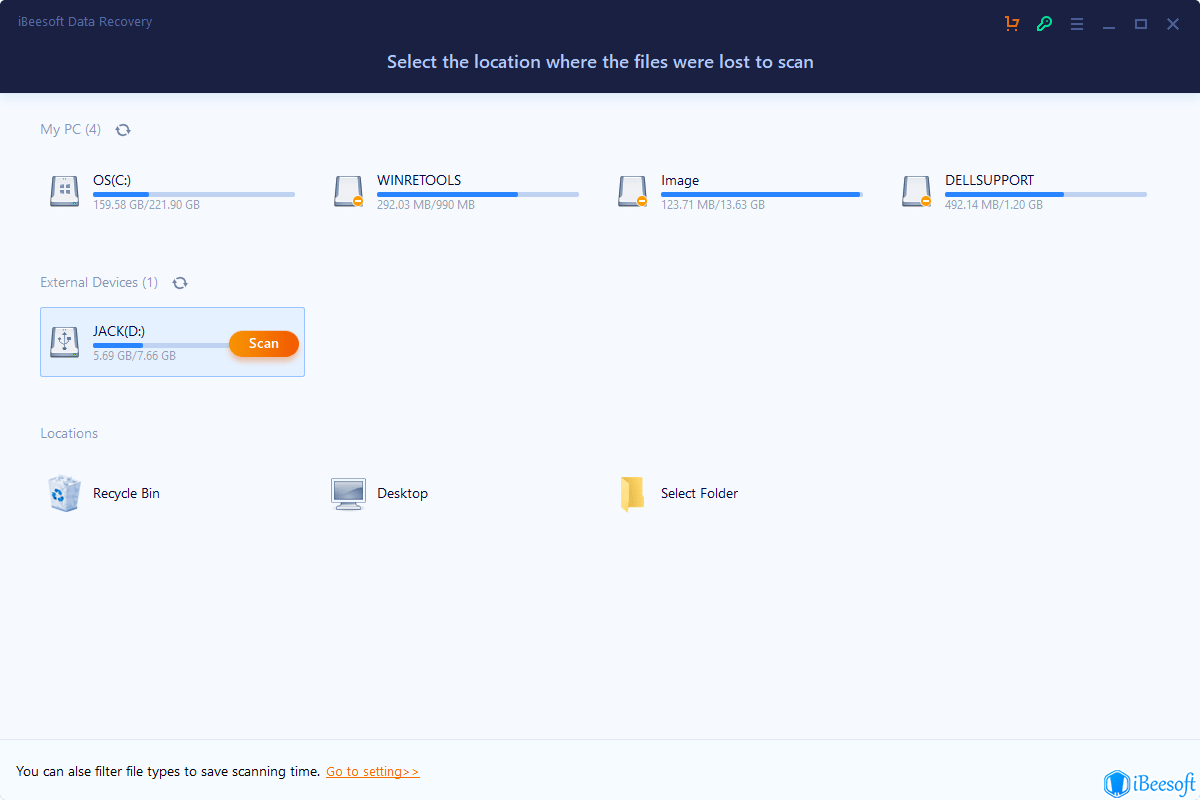 Step 3. Scan PNY SD card for lost files
Next, please select the PNY SD card from the hard drive list to scan. Since the PNY SD card recovery is able to recover data from other hard drives on the computer, so you can see the available hard drive. Click "Scan", letting the software scan your PNY SD card, looking for the deleted or lost data.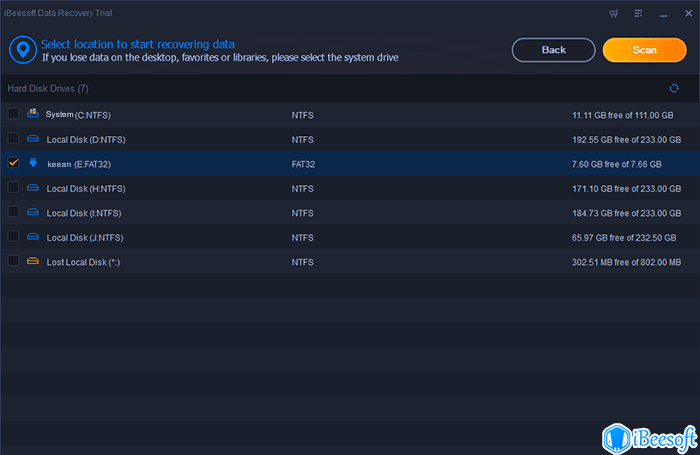 Step 4. PNY SD card data recovery
Wait a few minutes for the scanning process to finish. If there are many files deleted or lost in your PNY SD card, it will take longer for the scanning process. When it finished, you can see all found files are sorted into categories and putting in the left panel. Please select the file category and filter file extension to check out the found files. Preview the files on the right side. When find the target files, select them and click "Recover" to save them on your computer.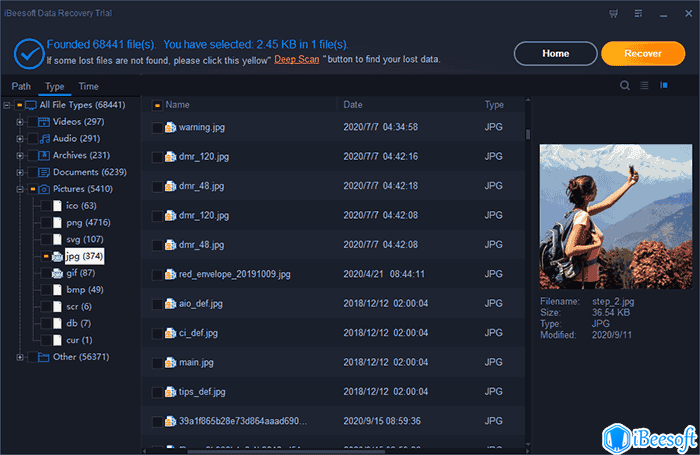 The PNY SD card data recovery software has two scanning modes: Quick Scan & Deep Scan. By default, the previous steps are for the Quick Scan, looking for files with complete file properties. If you failed to recover PNY SD card data with the Quick Scan, try the Deep Scan. It will find more files for you.
Though it takes time to backup the PNY SD card and sometimes it seems it's trouble to do the backup, you still need to back up important data on it. To make it easier for you to back up the PNY SD card, you can make use of iBeesoft Dbackup to schedule the backup.