How to recover data from a formatted or dead hard drive?

Question: The hard drive that stores lots of valuable data was formatted mistakenly, and I didn't make any backup before. The lost data are very important. Is it possible to get them back? Please tell me how to realize hard drive recovery effectively.
Answer: Don't worry. You are likely to recover data from hard disk. But it depends on what you have done after disk formatting. If you take the proper action and have a great recovery tool, you have high possibility to recover data from the formatted drive
With the continuous development of technology, hard drive capacity becomes so large that vast data (documents, digital files, apps, and so on) can be saved. This serves users better indeed, but meanwhile, trouble also exists. Hard drive data loss takes place and bothers users every now and then.
What You Should Do after Hard Drive Formatting
When you realize the hard drive has been formatted, you'd better stop operating your computer immediately, especially not writing anything to the formatted drive. Once the data in the formatted drive are covered, it's impossible to recover them.
How to Recover Formatted Hard Drive Successfully in a Safe Way
Formatting hard drive is a kind of logical failure, and you can perform hard drive recovery independently actually. Make sure the formatted drive is not used to save new data, and then you can find a piece of data recovery software to help you complete the task.
Here is the good news. iBeesoft Data Recovery, a trusted recovery program, is very popular among users. Like most of these products, you need to install it on the computer at first, and then scan the formatted drive and save the found data to another drive. (This drive capacity should be larger than that of the failed drive.) Maybe you will spend several hours waiting for the full scan as the capacity is huge.
What if the formatted hard drive is reused to save data unluckily? In this circumstance, it is very likely that a part of data has been occupied by newly restored one. Still, you can download hard drive data recovery software to take a chance. Probably, some of the rest can be detected and recovered.
How do use hard drive data recovery software to restore formatting and deleting data from hard drive
Step1. Select file types that you want to recover
When launching iBeesoft Data Recovery, "All File Types" are checked by default. Generally speaking, the hard drive stores many types of files. So, we recommend do not cancel "All File Types" and click "Start" button.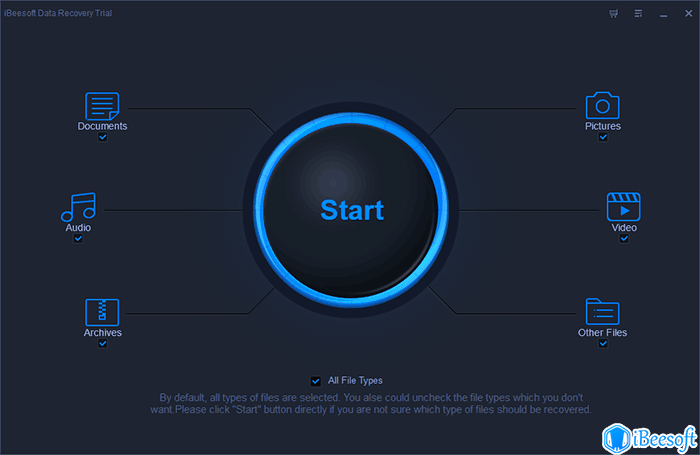 Step2. Select your formatted or dead hard drive hard drive to scan lost data
This interface will list your hard drive/partition. you just select formatted or dead hard drive/partition and click "Scan" button to scan your lost data.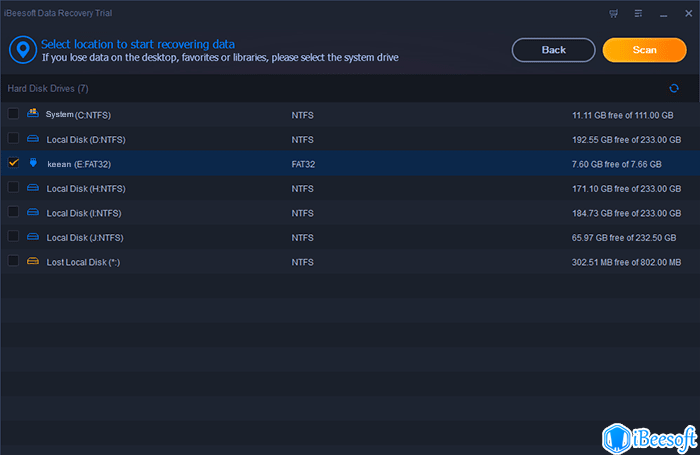 Step3. Preview and save missing files from formatted or dead hard drive
When the scan is complete, you can view your missing files in the list. If you need to recover, select them and click "Recover" button to save.
If some lost files are not found or cannot be correctly opened, please click "Deep Scan" at the upper part of windows to find more data.Deep Scan will scan every sector, so it will some time to complete the scanning.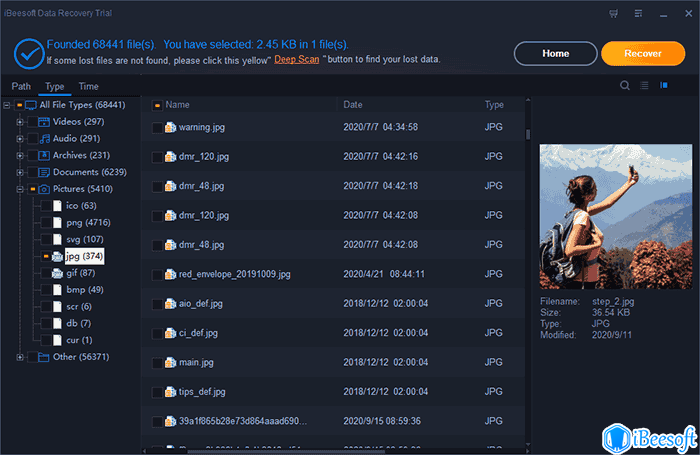 Tips on Hard Drive Usage
Hard drive data loss may happen caused by wrong operations, virus attack or physical damage. You can conduct recovery work by yourself if the former two reasons lead to the accident. However, if a hard drive is physically failed, you have to pay more money to resort to the professionals.
Some preparations you need to do:
Be cautious when operating on the hard drive.
Install antivirus software to protect the drive from being virus invaded.
3.Remember back up the vital data regularly.