File Recovery - Smart Way to Recover Deleted Files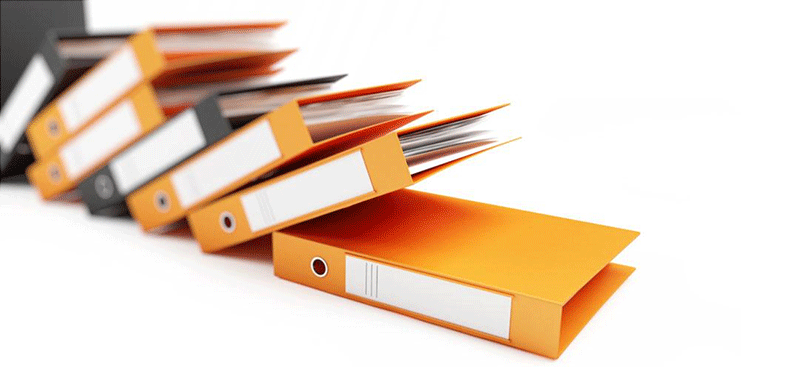 It must be a distressing matter when you realize some valuable file get lost from computers. For instance, the important files were deleted unexpectedly, and recycle bin was emptied soon afterwards. Or even, you don't know for what reason the file was missing. Does it mean the lost data cannot be found any more? Is there any solution to bring back the lost files?
Common Lost Files Situations
1.Careless deletion and emptying recycle bin soon just as mentioned in the first paragraph.
2.Formatting drive or partition unconsciously.
3.Files deletion by using "Shift + Delete".
4.Some malware invasion and causing data loss.
5.Sudden power outage or system corruption during data transmission.
6.Logical and physical error of hard drive.
File Recovery - 3 Solutions to Recover Deleted File
Solution one - Recover deleted file from recycle bin
This is the most common circumstance you meet probably. Considering releasing space or data confidentiality, you may delete data by using "Delete" or dragging them to recycle bin directly. Usually, deleted data in recycle bin can be stored for a long time. So, just open recycle bin to find and recover them without effort.
Solution two – recover deleted file with data recovery software
This solution applies to data loss generated by hard drive logical error and human fault. (Including drive logical damage, mistaken formatting and deletion, virus attack, and so on) we are pleasure to recommend the best file recovery software – iBeesoft Data Recovery. This is a specialized recovery program, with which you can recover most kinds of lost data from not only hard drive, but also memory card, USB drive or external hard drive.
What's more, iBeesoft Data Recovery is a piece of easy-to-use software. It means even though you have rare related experience, you can also succeed in file recovery easily and independently.
Solution three – check whether you have made any backup before. Backing up your data regularly is a good way to file recovery. Once accident takes place, you will not be afraid of vital data loss.
You Can Achieve File Recovery Most of the Time
In general, it is near impossible to recover lost data upon these two occasions:
1.Data coverage. In fact, the deleted data will not be removed from hard drive immediately. They are just kept invisible, but recoverable until new data overwrite them by taking the place of the deleted data.
2.Physical damage of hard drive. If your hard drive is physically damaged, like scratch or bad track, it is unlikely to recover data from drive by using any recovery tool. Under this circumstance, you can resort to a professional recovery company to have a try.
Thus, you have a chance to finish file recovery in most cases, you could follow the guide in Part 2 to complete file recovery.
We hope these practical ways will be helpful. Download iBeesoft Data Recovery if you are suffering from data loss. Good luck!
How to Use File Recovery Software to recover deleted files?
Step1: launching iBeesoft Data Recovery, you can see the following interface. Please select file types of the you want to restore and click "Start" button.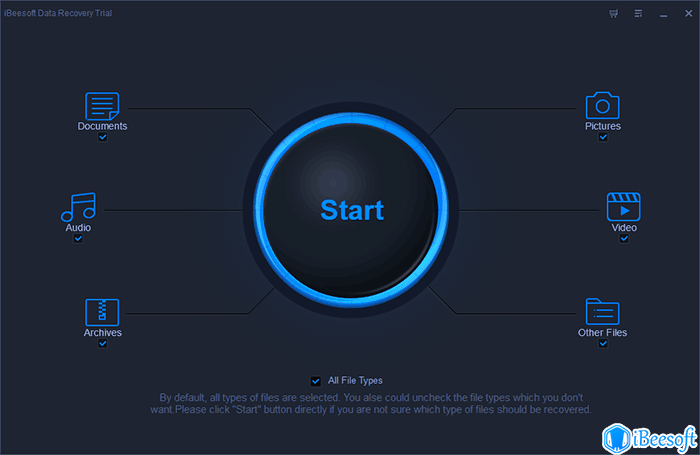 Step2: Select location where you lost files and click "Scan" button to scan your lost data.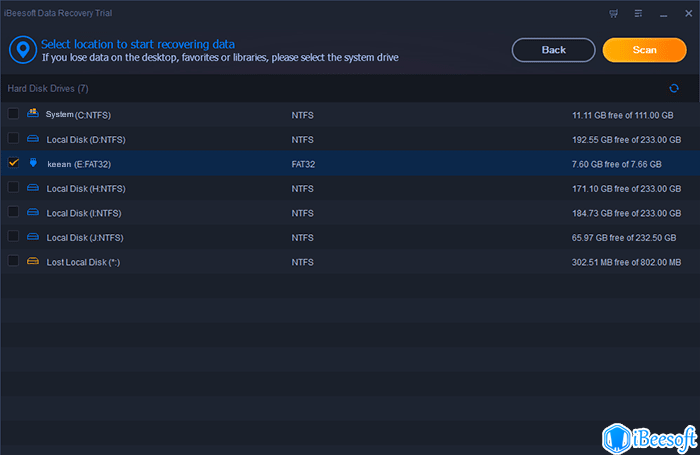 Step3: When the scan is complete, you can view the lsot files in the list. You can quickly view the files of the you need by type. If you need to recover, select them and click "Recover" button to save.
If some lost files are not found or can't open properly , please click yellow "Deep Scan". This scanning mode will take more time, but can found more files can.