Airdrop is one of the most useful features of an iPhone. It supports the wireless transfer of files from one iOS device to another. Sometimes, the Airdrop may be unable to detect nearby devices, making it difficult to share files. If you experience this issue, rest assure that it can be fixed. This post shares five solutions to fix Airdrop not working on iPhone.
5 Possible Reasons and Solutions to why Airdrop is not working
In this section, we'll look at the solutions to resolve the possible issues why 'Airdrop on iPhone not working'. Let's look at this one after the other.
Solution #1: Network Setting
Airdrop requires that the Bluetooth and Wi-Fi on the device are turned on before it can work. If the Wi-Fi is not on or there's a connection problem on your device, this may be the reason why the "iPhone X Airdrop not working" issue is occurring. You don't have to despair. You can fix this problem by resetting the network settings on your iPhone. To do this, follow the easy steps below:
1. Open the "Settings" menu on your device and click on "General".
2. Select "Reset" and click on "Reset Network Settings". You will need to provide your verification to proceed.
3. You'll see a pop-up requesting your confirmation. Click "Reset Network Settings" to continue. This will return your network settings to factory defaults. You can then turn on the Bluetooth and Wi-Fi. If the network setting is the reason why you have "Airdrop now working iPhone 8" problem, this should resolve it.
Solution #2: Airdrop Adjustment
Airdrop has three connection points. You must identify and verify the specific one that you want to use. The three different connection points are Receiving Off, Contacts Only, and Everyone. The one that is on depends on your preference. If "Receiving Off" is checked, it means you won't be able to receive files from other devices. If "Contact only" is checked, only people in your contact can share files with you. Everyone means you can send and receive from everyone. You should check this and adjust accordingly if you have the issue of "Airdrop not finding iPhone". Follow the steps to adjust:
1. Open the "Setting" menu on your iPhone and select "General".
2. Click on "Airdrop" to open the three options.
3. Click on your preferred Airdrop option and change it to what you want. If you want to be able to receive and send files to anyone, click on the "Everyone" option.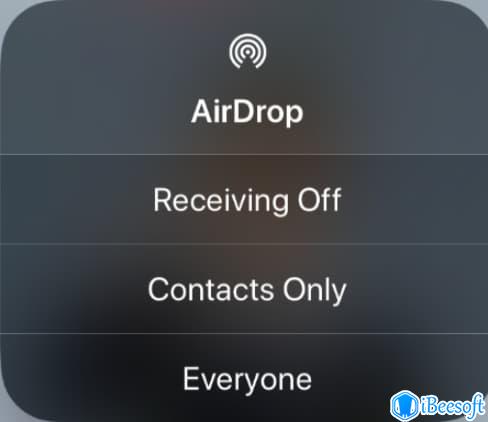 This should resolve the issue if it has to do with Airdrop adjustment. If it doesn't, you can proceed to the next solution.
Solution #3: Toggle the Wireless Connections on your Device
As stated, the Wi-Fi and Bluetooth on your device must be turned on before you can use the Airdrop feature. Sometimes, the connections may be on and the issue of Airdrop is not working on iPhone will persist. If you experience this, the next thing is to toggle the wireless connections to refresh it. To do this, follow the simple steps below:
1. On the home screen, open the setting menu by clicking on the gear icon.
2. Open the Wi-Fi menu and turn it off and then on again. You can do this a few times.
3. Do the same for Bluetooth and check to see if the connection has been established.
This should solve the issue in most cases. However, if it doesn't, you can move on to the fourth solution to resolve the issue.
Solution #4: Do a Hard Reset
Sometimes, all the above solutions may not fix the issue. If this happens, the next thing is to do a hard reset of the iPhone. Performing a hard reset will return the device to the default setting and when this is complete, you can use any of the three solutions to complete the process. The method of performing hard reset is different for different iPhone models.
iPhone 8 and the Latest Versions
Step #1: Press on the "Volume Up" button and release it. Also, click on the "Volume Down" and release it.
Step #2: Press and hold the "Sleep/Wake" button as well as the side button.
Step #3: Wait for the display to turn black and turn it on again. When you do this, the Apple logo will come up. The issue should be resolved with this step.
For iPhone 7, hold down the "On/Off" and "Volume Down" button. Wait for the phone's display to go black and turn it on again. If you use an iPhone 6 or 6s, press down the "On/Off" button and wait until the phone's display turns black. Turn on the device again to have your Airdrop working.
Solution #5: Update your iOS to the Latest Version
You must understand that not all iPhone is compatible with Airdrop. The feature is compatible with only iOS devices with iOS 7 and later versions. This means if your iPhone or the device you want to share a file with doesn't have the minimum iOS version, you will experience the 'Airdrop not showing up on iPhone' issue. If this is the case, you will need to update your iOS. To do this, follow the steps:
Step #1: Go to "Setting" and click on "Software Update".
Step #2: If your software is not up to date, you will see the notification of the latest software. Click "Update software now". You must be connected to a Wi-Fi connection to be able to update your software.
After the update, you should be able to use the Airdrop feature on your device. One of these five solutions should solve the problem of Airdrop not working iPhone X.
To avoid iPhone XR Airport not working or any issue while transferring files, it's better to back up your iPhone regularly. This will help to keep your data safe. Let's look at two ways you can back up an iPhone through iTunes and iCloud.
Step-by-step Guide to Back up iPhone with iTunes
Step #1: Connect your iPhone to your computer and open iTunes. Then, click "Trust This Computer" on your device.
Step #2: iTunes will display your iPhone, click on it. Follow the on-screen prompting to launch the data backup.
Step-by-step Guide to Back up iPhone with iCloud
Step #1: Connect your iPhone to a Wi-Fi network. Click on "Setting" and then your name. 
Step #2: Click on "iCloud" and then "iCloud Backup". Then, tap on "Back Up Now" to complete the backup process.
To ensure your data is always backed up, you should set your device to automatically back up using the iCloud Backup feature. You must have adequate storage space in iCloud to do this.