How to Clone HDD to SSD with Free Hard Drive Clone Software
HDD is one of the most important parts of your computer because it's the permanent storage that you use to store everything. From your operating system to all the important files, documents, music, pictures, software, apps and games, everything is stored in the HDD. But HDD is not as stable and smooth as SSD. So now a lot of people have started to use SSD due to its higher performance and greater results. The question is, can you clone an HDD to SSD? Well, if you don't know how to clone HDD to SSD, then you need to read this article. This article will help you to learn how easily you can use a great tool to clone HDD to SSD is Windows 10 and other Windows operating systems. So don't panic and follow the guideline from here to get successful hard drive clone results.
Part 1: Reasons for Why We Need to Clone HDD to SSD
Part 2: The Best Software to Clone HDD to SSD
Part 3: Guide for How to Clone HDD to SSD
Part 1: Reasons for Why We Need to Clone HDD to SSD
SSD means Solid State Drive and it's a type of storage media that stores various data files using solid-state flash memory. SSD is much more convenient and more effective storage solution for computer. There are various reasons for why you need to clone HDD to SSD. Here are some of the best reasons that will help you realize the potential of cloning HDD to SSD in Windows 10/8/7.
1. Upgrading your old HDD to a new SSD is the wisest choice because your old HDD wears out after a certain amount of time. But SSD is more durable.
2. SSD is quieter and efficiently and has higher reading and writing speed than HDD.
3. It will improve the performance of your computer drastically.
4. SSD is more fast and smoother than HDD.
5. It doesn't have any moving parts that can break or spin up and down.
Part 2: The Best Free Software to Clone HDD to SSD
The best way to copy HDD to SSD is by using a tool that can guarantee you perfect result without losing any data or reinstalling Windows. The only program that can give you this kind of guarantee is iBeesoft Dbackup software. This amazing data backup and drive clone software is the best way to maximize your files, partitions, disks and your computers operating system in no time. It not only can duplicate HDD to SSD but also gives you higher security when any issue occurs in your system. It has wonderful features and advanced performance level that will ease your user experience. It has the most beautiful user-friendly interface and easy step by step process that will help you to free clone HDD to SSD like a pro.
Your Safe & Reliable Clone HDD to SSD Software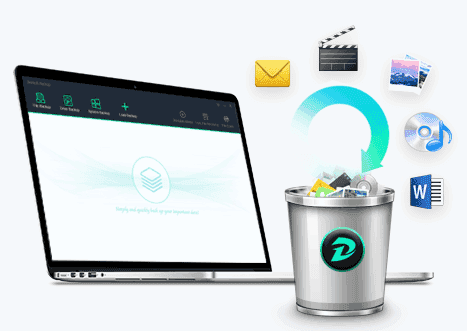 It has the easiest and safest cloning hard drive that will allow you to use the program for cloning HDD to SSD.
It protects your important data by backing up the file, hard drive/partition, system, and even external drives.
It has multiple backup modes that will allow you to customize your backup types, location, and schedules.
It can quickly hard drive recovery when any system/disk issue occurs.
Part 3: Guide for How to Clone HDD to SSD in Windows 10/8/7/XP
If you want to transfer an HDD data to other disk, then the best thing you can do is clone it to an SSD. Cloning a drive is more efficient and less time-consuming. It's really easy to use iBeesoft Dbackup and if you can follow the guideline provided by this part, you will surely succeed. If you are still asking – can I clone my HDD to SSD? Here is how you can do it. First, you need to download and install the program on your computer. It's fully compatible with Windows PC.
Step 1: Choose the Target Hard Drive
Launch the program in your computer and you will get the home page of the clone HDD to SSD free software. From the main home page, you need to click on "Backup Drive" option. Then choose the hard drive that you want to clone. Before creating a disk image, you need to set the software for automatic backup and sector by sector backup. When you have selected the file path and your desired settings, you can click on the "Start" button to start cloning your HDD. You need to keep patience till the process finishes as it totally depends on the amount of files and file size.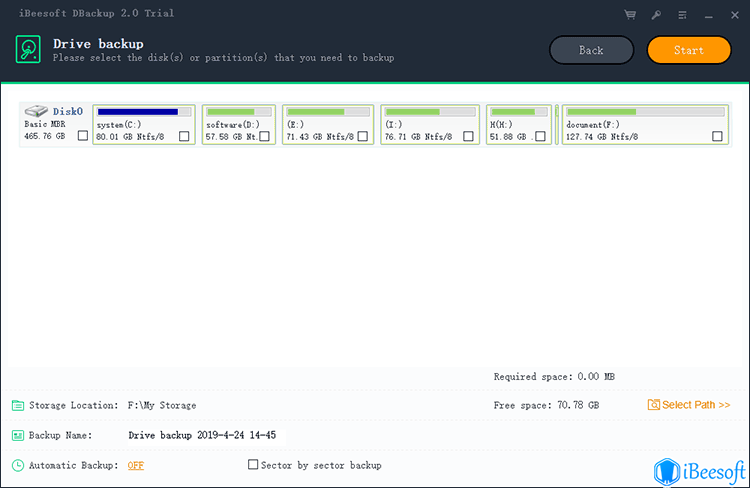 Step 2: Select the SSD to Starting clone Process
On this page, choose the "Driver Backup" task and click the "Restore" button and you will be taken to the next page to clone the hard drive to the SSD.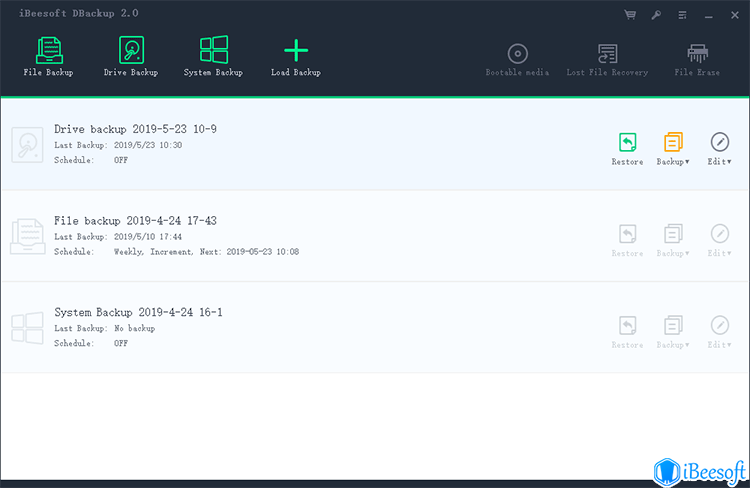 Step 3: Clone HDD to SSD
Before copy the HDD data to SSD, you need to select the source hard drive and click "Next" button. Then select the destination SSD, click on the "Next" button. Finally, check the clone information and click "Start" button to start cloning HDD to SSD.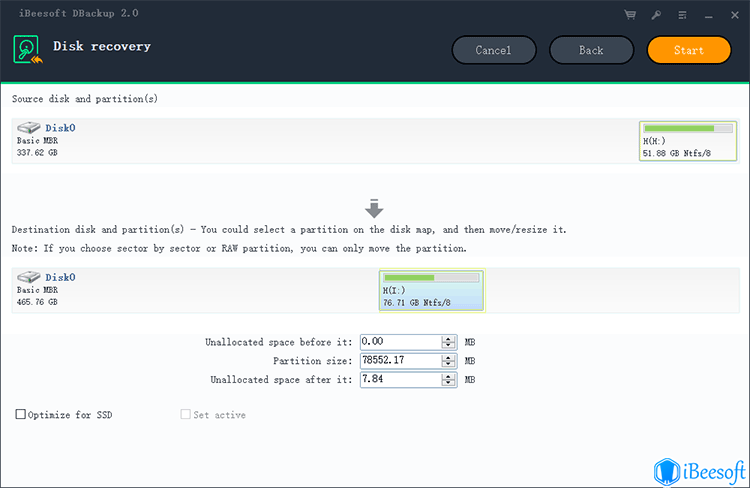 As technology is advancing day by day, people are more getting used to SSD's rather than HDD's. So if you are also thinking about getting a new SSD and clone the HDD to SSD, then this article will be the best solution for you. All you need to do is understand the importance of cloning HDD to SSD and following the step by step guideline from here. With the help of this article, you will realize the potential of the best hard drive clone program to clone HDD to SSD. This software will help you to copy your HDD to SSD in no time with a guaranteed successful result. There is no other tool that can give you 100% no data loss result for cloning your HDD to SSD. So stop wasting your precious time on any other tools or ways and start using the best solution from iBeesoft.