How to Clone HDD to SSD in Windows 7
For Windows 7 users, it's necessary to know how to clone an HDD to an SSD, and there are good reasons you better do such a migration than not, especially when you feel that software programs are slowing down on your computer while you have to get things done quickly. You will also need to clone your HDD to an SSD when you feel that a virus threat is coming, or when migrating from one PC to another, or when you just want to backup your data. So let's get to the point, here are four reasons why you should clone HDD to an SSD in Windows 7:
1. Faster Read and Write
Solid-State Drives operate at a much higher speed compared to Hard Drives. This is due to the fact that it stores data in microchips instead of a conventional storage platter which requires a read/write head to be in motion around the plate to reach the data location. To put it simply, SSD involves less mechanical movement in getting information, which is why it's much faster than HDD in reading and writing data.
2. Your PC Will Boot Up Quickly
There will be no need to wait long anymore for your PC to boot up when you switch to an SSD. Thanks to its non-volatile NAND-based flash memory, everything including booting can be done more quickly.
3. More Responsive Software Programs
SSD's data management process involves no mechanical arm, but it uses an embedded processor to perform read/write operations. This allows applications to become more responsive when installed in the SSD since its fast way of working enables task execution at a higher speed.
4. SSD Outlives HDD
An SSD integrates a simpler work method into a more sophisticated storage system. It comes with components and materials that support storing information for a very long time. It also has the durability that allows it to live for centuries. In fact, with the latest technology, an SSD can last more than 200 years without losing its data integrity. Undoubtedly, this is a very long service life, sparing you from fears of data loss.
Now if you want to clone your HDD to an SSD in Windows 7, you will need a reliable program to handle this task. We recommend you to use iBeesoft DBackup. It's the best drive clone software that comes with all the features you will ever need to migrate the data from your HDD to an SSD. The main features of iBeesoft DBackup are as follows:
1. System Clone
With iBeesoft free disk cloning software, you can backup your system through cloning just in case something undesired happens to your PC in the future, such as a virus attack or a system failure that can cause Windows 7 to stop working.
2. Hard Drive Clone
The software also allows you to clone an entire hard drive to prevent data loss on a larger scale or move all of your data from the HDD to an SSD.
3. Partition Clone
Cloning only a certain partition of the hard drive is also possible with iBeesoft DBackup. The duplicated partition can then be moved to your desired location for backup.
4. Clone Other Drives
iBeesoft DBackup is developed with more than hard drive cloning capabilities. It can also clone other types of drives like USB drives and memory cards. So you can easily backup files in your smartphone's memory card to your PC.
How to Clone HDD to SSD in Windows 7 with iBeesoft Dbackup
Before cloning your HDD to an SSD in Windows 7, you should check first the formats of the two drives. This if you're using an SSD that has been formatted before. But if you're using a brand new one, you can skip this process and go directly to the next steps.
In order to use an already-formatted SSD, you have to make sure that the solid-state drive and the hard drive you're going to clone have the same MBR (Master Boot Record) format. MBR is a drive format that works with Windows 7 and earlier versions of the operating system. So if the SSD previously belonged to a Windows 8 or Windows 10 PC - which uses the GPT (GUID Partition Table) partition style, the cloning won't work until you change the SSD format to MBR. Follow the steps below to check the format of your SSD:
1. Connect the SSD to your PC through USB-SATA-Adapter.
2. Open the Start menu, type "cmd" in the "Search Programs and Files" and press enter to launch Command Prompt.
3. Type "diskpart" in the Command Prompt and press enter, this will take you to the Diskpart app.
4. In the Diskpart, type "list disk" and press enter. Now you will see the list of drives available on the system. Look at the GPT field, if you see this * sign, it's for a GPT drive. But if the sign is not there, it means the drive has an MBR format.
5. If your SSD format is GPT, you have to convert it first to MBR. Go to Command Prompt again, type "diskmgmt" and press enter.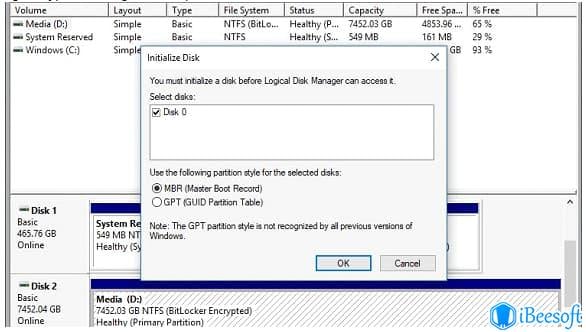 6. In the Disk Management, right-click on each partition from your SSD and then click Delete Volume on each partition until the whole SSD has unallocated space.
7. Right-click on the drive and click Convert to MBR Disk.
Now that your HDD and SSD have the same MBR format, you can begin the cloning process. Follow the steps below to clone the HDD to the SSD in windows 7:
Step 1. Download iBeesoft Dbackup and Install It on Your PC.
The reason to use iBeesoft Dbackup is that it's user-friendly and it can handle the cloning task safely.
Step 2. Select Your HDD as The Target
After you install the program, launch it. On the homepage, click on "Backup Drive" and select the hard drive you will clone. Remember to turn on the "Automatic Backup" and tick the "Sector by Sector Backup" next to it. After selecting the path and the configurations you want, click on "Start" and wait until the process is complete.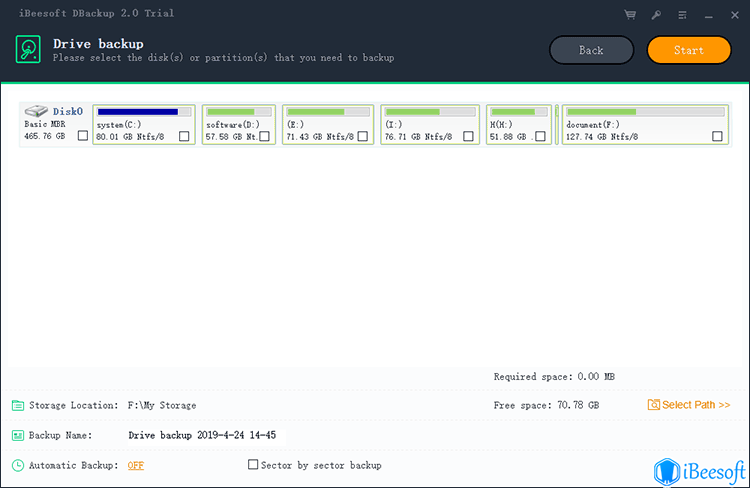 Step 3. Select Your SSD
Select the Solid State Drive you want to clone your HDD too. Click the "Restore" in the "Drive Backup" section and the next page for cloning will appear.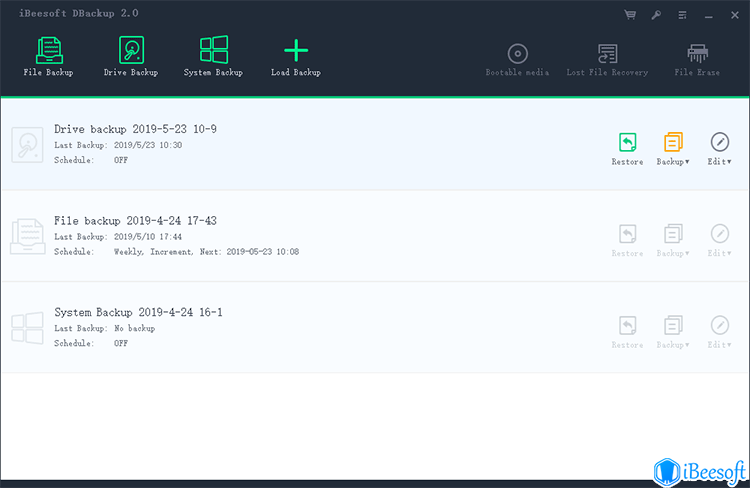 Step 4. Start the Cloning
Now you need to select the source disk and click "Next". After that, select the destination disk (your SSD) and click "Next". Lastly, click "Start" button to start the cloning. Wait until the Windows 7 clone HDD to SSD process finishes.