Some people don't know the importance of system back up until they have to reinstall the computer system or reset it to factory settings which result in all data lost in the letter C partition, of course, including the software tools they had installed. It is very necessary to know how to the backup computer in Windows 10/7/8/Vista/XP in case of emergency. Generally speaking, there are 2 ways to Backup System under Windows PC:
Method #1. Backup Computer with System Backup Software (Recommended)
Method #2. Backup Windows System Manually with the Built-in Feature (Computer Knowledge Required)
Method #1. Backup Computer System with System Backup Software
To backup computer system in Windows 7/10/8/Vista/XP, a backup system software tool is a necessity if you want to make a complete backup and customize it. Compared with the Windows built-in backup feature, it has many advantages:
1. Customize the backup system partition as you wanted, as where to save the backup, how to do the backup( Full Backup, Incremental Backup, Differential Backup)
2. Schedule the system backup in the background every time, saving your time and energy to do it, avoiding that you might forget to back up the system and ensure you that there is always the latest backup. It will secure your computer system whenever there is a crash or any data loss.
3. Image system fully and save to external hard drive. When you need it, it is there.
4. Standalone and never need any extra software
iBeesoft Dbackup is one of the most powerful backup system software which allows you to backup computer system Windows 10, Windows 7, Windows XP and Windows Vista. Besides having the features mentioned above, it is easy to use. Compared with other backup system software over the internet, the Windows system backup software is far easier to use with a simple interface. Not too much jargon, user-friendly interface, and all features you might need to back up your computer besides the system backup, including file backup, drive backup, clone HDD to SSD, recover and restore system, etc. Let's see how it works to the backup computer system in Windows 10/7/8/Vista/XP.
Steps to Backup Your Windows System
First of all, free download the system backup software. After then, install it on your computer. It's fully compatible with all Windows operating system, including Windows 10, Windows 7, Windows 8, Windows Vista and Windows XP. Feel free to install the Win disk image tool on your Windows PC.
Step 1. Select "System Backup"
If you're going to back up the Windows PC system to an external hard drive, please connect it with your computer first, making sure it appears as an external hard drive there. Next, launch the software and click "System Backup" in the main window. It means you're going to backup system of your Windows PC.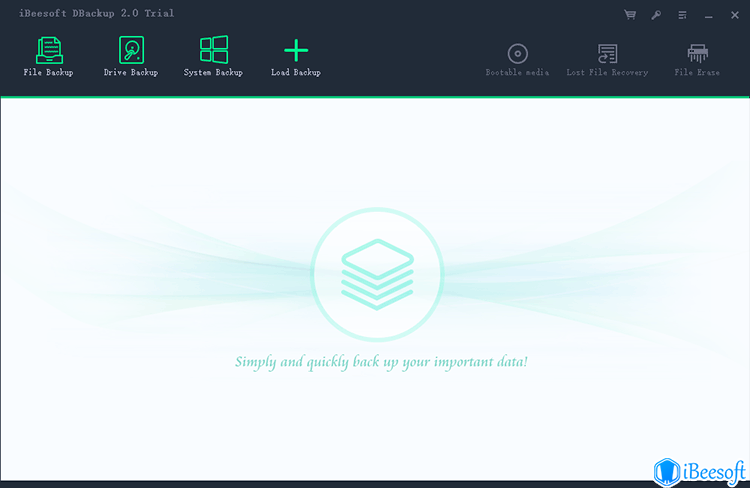 Step 2. Backup System Drive
From the next window, you can customize the system backup, like scheduling, storage location, backup file name, etc. Customize it as you like. My suggestion is backup system partition to an external hard drive, which will be very helpful when your computer cash and you want to get everything back by recover and restore the system.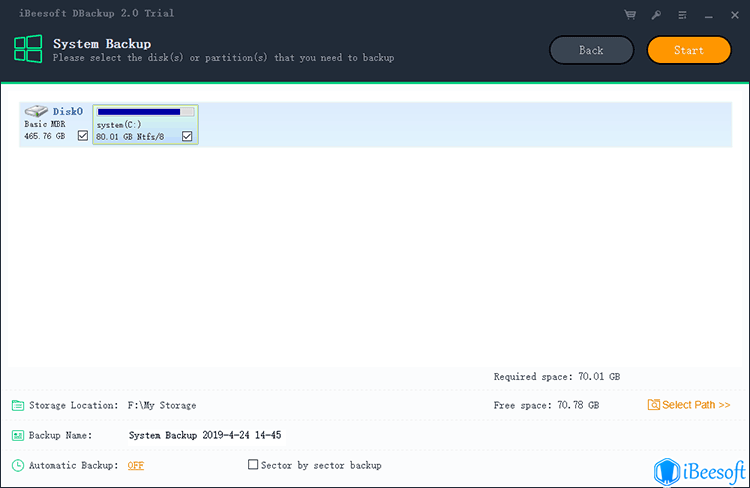 Step 3. Image System
Click "Start" to create an image of your computer operating system. If you've enabled the automatic backup, then it will do the backup in time as you customize it. It will be safer.
Method #2. Backup Windows System Manually with the Built-in Feature
You can also image the system of your computer with the Windows operating system offered way as well, but it needs computer knowledge as what and how to do with the image, where it is. Here are the steps.
1. Right-click the Start button, and then select Control Panel
2. Select System and Maintenance > Backup and Restore.
3. In the left pane, choose to Create a system image, and then follow the steps in the wizard. If you've set up the secure password for your computer, please key in the Administrator permission when it prompts for an administrator password or confirmation.