How to Undelete Files from SD Card?

It seems undo delete files on SD card is impossible, for there is no shortcut to undelete the files on SD card and you can't find the deleted files in the recycle bin, let alone to restore them. However, if you have some knowledge about how computer process data, you should know that all deleted data is not gone right away, but hide somewhere on your computer. The difficult part is that you can't see it result in you can't undelete it. In this case, you need a professional Data Recovery program to undelete files for you. Read on to get the details:
Part 1. In which scenarios you can undelete files from a SD card
Part 2. Must Dos and Mustn't Dos
Part 3. How to Undeleted Files on SD card
Part 1. In which scenarios you can undelete files from a SD card
There are many scenarios caused your data lose on SD card, like SD card damaged, formatted, virus attacked, deleted files on SD card accidently, etc. For the following scenarios, you can undelete files on SD card.
Deleted folders or files on SD card accidently.
Formatted SD card before you realized there are some important files
SD damaged, you want to get the data out to computer
Part 2. Must Dos and Mustn't Dos
Stop using your SD card after you finding you have lost or deleted some files.
Don't use any pre-installed software on your computer to do anything to your SD card.
Don't try to connect your SD card to other computers. It may generate new data or infect with virus.
Install iBeesoft Data Recovery on your computer, ready to perform the SD Card undelete files.
Part 3. How to Undeleted Files on SD card
Based on cutting-edge technology, iBeesoft is stable and professional for users to undo delete files on SD Card. It is able to undelete almost all the commonly used files on SD card for you. Here are its supported images, video and document types. It is enough for you to undelete files from SD card.
| | |
| --- | --- |
| Images/Photos | Such as NEF, CRW, CR2, ORF, SR2, SRF, K25, KDC, DCR, RAF, MRW, PEF, X3F, JPEG, JPG, TIFF, TIF, BMP, GIF, PNG, XCF, PAT, ARW, DNG, PSP, PCT, RAW, MOS, PSD, EPS, INDD, ERF, FH3, FH5, FH7, FH8 FH9, FH11, MCD, VWX, MEF, WP, CDR, CPT, VSD, DWG, PGM, PPM, PCX, MNG, MSP, WMF, WPG, EMF, ANI, NRW, TGA, JP2 etc. |
| Videos | Such as AVI, MOV, MP4, M4V, 3GP, 3G2, WMV, MKV, ASF, FLV, SWF, MPG, RM/RMVB, MPEG etc. |
| Document | Such as MDB, ACCDB, PDF, PS, CWK, FM3, FMT, WK1, WK3, WK4, DOC, DOCX, XLS, XLSX, PPT, PPTX, SDW, QXD, QXP, EPS, QBB, QBW, WPD, DOT, WBK, DOCM, DOTX, DOTM, DOCB, XLT, XLM, XLSM, XLTX, XLTM, XLSB, XLA, XLAM, XLL, XLW, POT, PPS, PPTM, POTX, POTM, PPAM, PPSX, PPSM, SLDX, SLDM, ADE, ADP, MDA, MDN, MDT, MDF, MDE, LDB, AND, ACCDR, ACCDT, ACCDA, MDW, ACCDE, LLACCDB, XPS, ODT, OTT, ODM, ODS, OTS, ODP, OTP, ODB etc. |
Besides supports multiple file types, iBeesoft Data Recovery is quite easy to use even you know little about data recovery theory or techniques. Here are the simple steps for how to undelete SD card files with iBeesoft Data Recovery.
Step 1. Connect SD Card with Your Computer
Use a SD card reader to connect your computer and SD card. Please ensure that it is connected successfully. You can click to open "Computer" to check out whether your SD card is displayed there or not.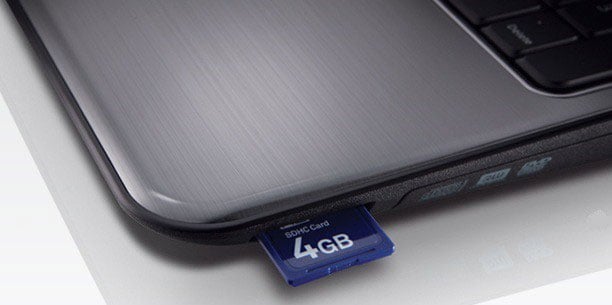 Step 2. Install iBeesoft Data Recovery
Click the download button to get iBeesoft Data Recovery installation file, iBeesoft-Data-Recovery.exe. Double-click it and follow the guideto install it on your computer. Run it and select file types you want to undelete from your SD card. By default, all file types are selected. You can select the ones you need and click "Start".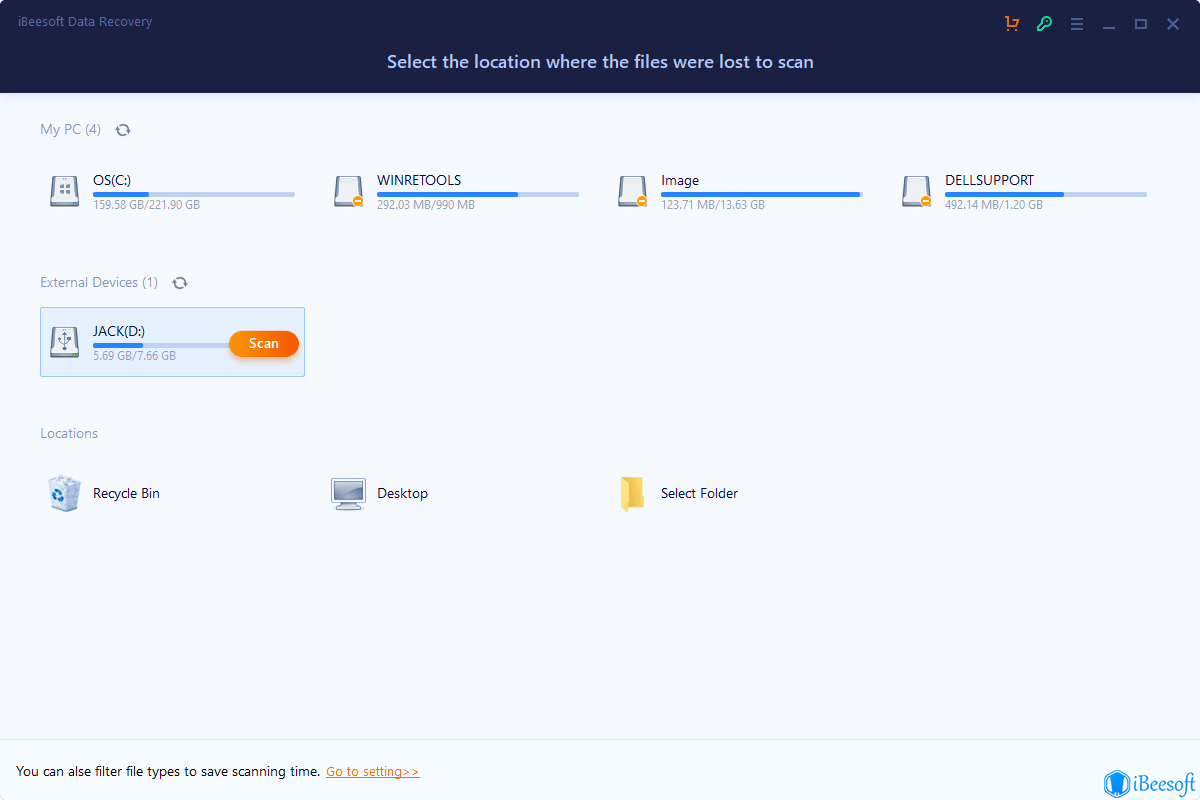 Step 3. Select the SD Card to scan
All your hard drive on your computer are displayed in the next window. To save you time, please select your SD card to scan directly. Generally speaking, it only take a few minutes to finish the scanning process. If there are hundreds or thousands of files on your SD card, it will take longer.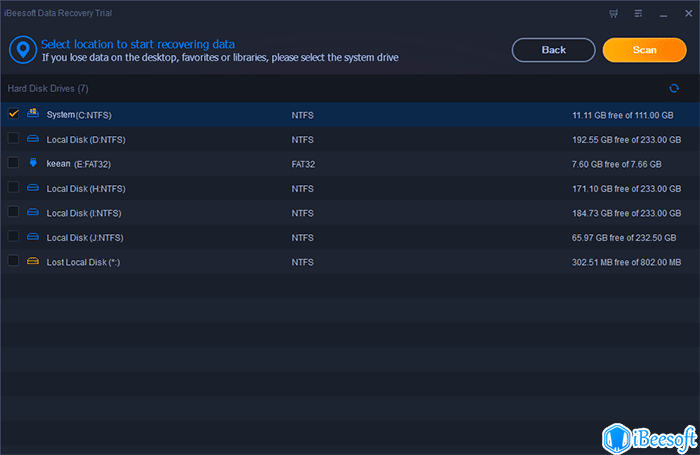 Step 4. Select Files to Undelete
When the scanning process is finished, the result window will display all the files that are available to undelete. Choose the files you need to undelete and click "Recover"to save them to your computer. If you still not see the needed files, then try the "deep scan".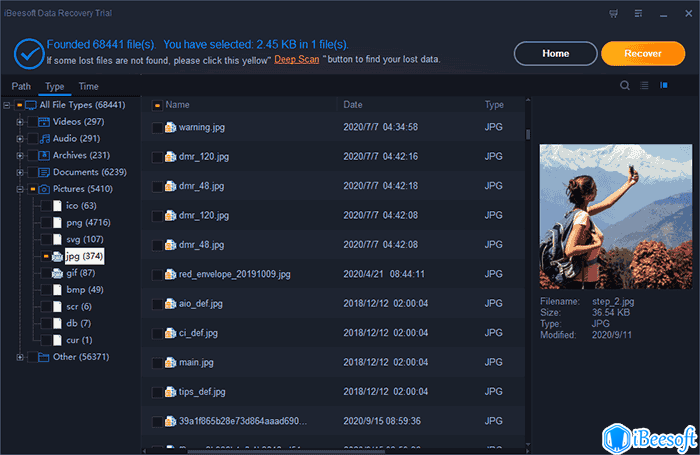 Tips: you can't never be too careful for your data. You know it is better to have 2 backups as least for you data. Who knows when will you lost them, especially on a SD card. It is easy to lose SD card or get your data stuck on a SD card.