How to Recover Deleted Photos from SD Card?

Summary: SD cards and memory cards are widely used in android smart-phones and cameras, however, it is accompanied by photos lost issues on SD card increasing year by year. How to recover lost photos from SD card becomes an urgent need.
Question: What an awful day! I formatted my SD card on Samsung phone by accident. Actually, I wanted to transfer these pictures from SD card to computer, so that there is enough space for the coming holiday. All photos and video were gone, including some precious photos taken long time ago. It's really a huge cost for my careless operation. As the lost photos are very important for me, is it possible to recover photos from SD card?
How Accident of Photo Loss Happen
Unexpected deletion. As SD card capacity is limited, deletion can release space to reuse. However, valuable photos may be deleted by mistake along with the useless ones.
Accidental formatting. Format SD card will lead to all data lost, photos included of course.
Virus infection. It is necessary to install antivirus software to guard data. Besides these main reasons, other causes also can bring about data loss from SD card. Therefore, you can't be too careful when handle SD card.
Pay attention: stop saving new data to SD card after careless photo deletion. You can recover them only when they are not overwritten by new data. Meanwhile, utilize iBeesoft Data Recovery to recover photos from SD card, as soon as possible.
How to Recover Photos from SD Card?
In most photos lost cases, users tried to transfer data to another place (like computer hard drive or a USB flash drive, which is used to save photos only) or delete unnecessary data in SD in order to make room for new data. Besides mistaken deletion, photos lost may caused by format, damaged SD or RAW SD. How to recover photos from SD card is becoming an urgent issue to deal with for people.
Here is the good news that with the help of a photo recovery tool, you can recover photos from memory SD card successfully. This powerful tool is named iBeesoft Data Recovery, which is especially designed for rescuing lost data from not only computer local hard drive, but also external drive, such as SD card and USB drive. It also can support all SD types like SDHC/SDXC/MicroSD AND all types of brands like Samsung, Sandisk.
To avoid data overwritten, you'd better stop using SD card once you found data loss.
Outstanding Features of Photo Recovery Software
Support Windows OS(Windows 10/7/XP/Vista/Server)
Support most kinds of storage devices, such as hard drive, external hard drive, pen drive and SD card.
Multiple image types can be recovered, like JPG/JPEG, TIFF/TIF, PNG, BMP, GIF, PSD, CRW, CR2, NEF, ORF, SR2, MRW, DCR , WMF, RAW, SWF, SVG , RAF, DNG, etc.
"Deep Scan" can be chosen if some lost files are not found after the first scan.
Furthermore, it is easy to use. You can perform lost data recovery by using it without difficult, although you have little related experience. A brief introduction will be shown to guide you to successful SD card photo recovery. Initially, download a trial version and install it on PC. Connect SD card to PC via a card reader. Next, choose "Pictures" file type and then hit the SD card to scan. When the scan is over, pick up the desired photos and click "Recover" to save them to another drive.
Quick recover photos from SD card using ibeesoft data recovery
Step1: launching this photo recovery software and click "Start" button to recover photos from SD card.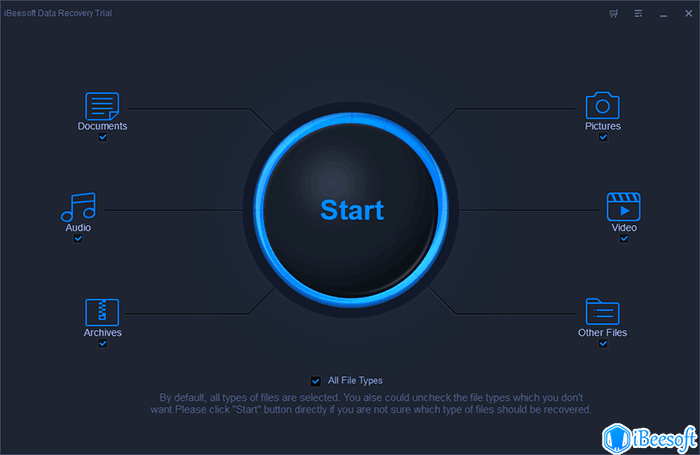 Step2: Select your SD card and click "Scan" button to scan your photos.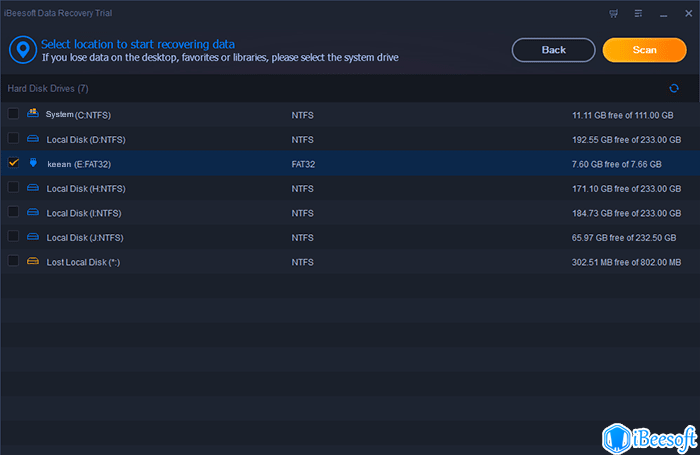 Step3: When the scan is complete, You can view the missing photos by "Path" and "Type". You can preview them on the right of the interface or double click it. If you find the lost photos, select them and click the "Recover" button to save lost photos.