How to Recover Deleted Files from SD Card on Mac

It really drives people crazy when they lost the important files, especially they are the one who tap the "Delete" button. Actually, you don't have to be so depressed after you delete files on SD card or you just format it. There is still a workaround for you to recover the deleted files on SD card.
Please note that you need to recover the deleted files from SD card on Mac as soon as possible. The sooner the better result you'll get. You know, after you format or delete files on SD card, these files were not deleted permanently. They are still somewhere on the SD card, waiting to be replaced by new data. You must be confused to say, why you can't see them. For sure, you can't. They are invisible. Only with a professional SD card recovery software, they can be saved back to SD card or Mac again.
In the following, I'm going to tell you how to recover lost files from SD card on Mac with iBeesoft Data Recovery Mac version. It is designed for people who want to rescue deleted or lost files on SD card. Compared with other tools, it is stable and reliable. It works on the SD card files lost scenarios below:
Recover files deleted intentionally or unintentionally from SD card on Mac.
SD card lost file recovery due to SD card formatting.
Recover files lost after your SD card error, damage, or inaccessible SD card
Recover files from SD card due to due to pull out during a write/read process.
SD card file recovery on Mac due to device initialization, virus attack, FAT/ROOT/BOOT area damage, etc.
The Mac SD card Data recovery software can effectively recover lost, deleted, formatted files from the card. It supports all cards like SD card, microSD, xD/SDHC/MMC/CF card etc. Almost all of the commonly used file formats are supported, including photos, videos, audio files, documents, and so on. Check out the step-by-step guide below for how to recover deleted files from SD card on Mac.
Download iBeesoft Data Recovery for Mac to have a try!
Step 1. Connect SD card with Mac
First thing first, please connect your SD card with your Mac though a card reader. For sure, you can connect the SD card with your Mac via your device as well, but my suggestion is to avoid keep the SD card in the device directly. You know, your device may generate new data, which will overwritten the deleted files in the SD card permanently, making the recovery fail. You can use a card reader or insert the SD card to the SD card slot if there is any.

Step 2. Install The Mac SD card Data recovery software
Download the installation package of iBeesoft Data Recovery for Mac. Double-click the .dmg file to install it on your Mac. It is virus-free and fully compatible with macOS High Sierra.
Step 3. Select files to scan
Launch Mac SD card Data recovery software and select file types in the main window to scan. I have mentioned, it supports more than 200 file types. To shorten the scanning process, I suggest you uncheck the unwanted files, making it find and recover the target files easily and quickly. Next, click the "Start" button.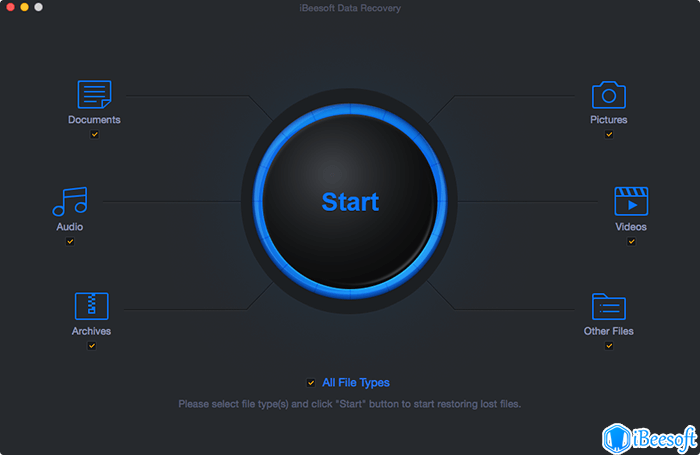 Step 4. Select SD card to scan
All partitions on your Mac as well as external hard drive are listed in the window. Please select the SD card and click "Scan".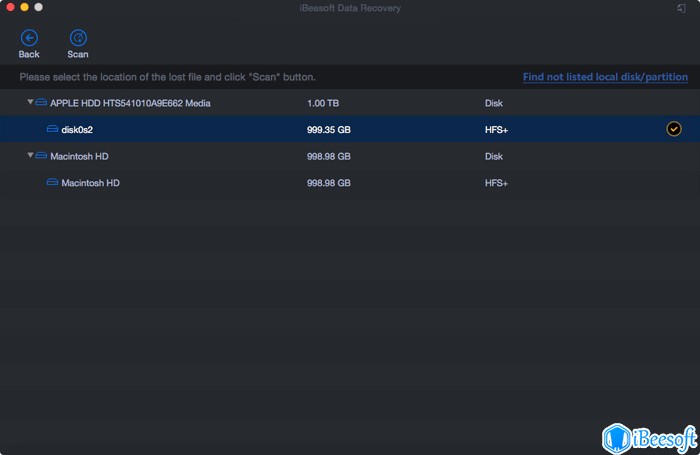 Step 5. Recover deleted files from SD card on Mac
When the scanning process is finished, you can see all found files are displayed in the result window and sorted into category. You're supposed to unfold the category in the left side, and then preview the files belonging to this category on the right. Find the target files and click "Recover" to save them on your Mac. To ensure the success of recovering deleted files from SD card to Mac, don't save the recovered files to the SD card ago. Save them to your Mac or another external hard drive. Or it is risky to lose them again.