Best Online Data Recovery for Mac – Free Download iBeesoft Data Recovery

How to Find the Best Online Recovery Tool for MacBook and iMac?
When I mention online recovery tool for Mac, it sounds a little strange for you and you can't find any related information on the internet. It may be a little concrete when I say online data recovery tool for Mac.
There is no online data recovery tool for Mac at all. You must know that if you want to recover lost or deleted files from Mac, there isn't any third-party online data recovery tool is available to scan your Mac. It is impossible to do it currently.
The good news is that you can download data recovery tool for Mac online, namely over the internet. There are so many software stores over the internet, offering you all kinds of mac data recovery tool to download online. You need to try and test, finding the best one that's right for you. How to judge an online data recovery tool for Mac is good or not? Check out:
The online store where the data recovery for Mac for online download is secure and reliable.
The data recovery for Mac online download version is virus-free and risk-free, never collecting any of your personal data.
Fully supports the files you want to recover from Mac
Fully compatible with your macOS
Easy-to-use, no computer technique requirements.
The best online recovery tool for Mac I recommend to you is iBeesoft Data Recovery. It is specially designed for Mac users to recover photos, videos, audio files, documents, emails and more from Mac partition, hard drives and external hard drives. It is quite easy-to-use, no computer techniques required. By following the built-in guide, you can learn how to use it easily to recover files on Mac.
Download the data recovery for Mac online now!
Step 1. Download the Mac data recovery online
Click the download button to download iBeesoft Data Recovery for Mac online. After then, install the software on your Mac. Feel free to install it, it is virus-free. It is fully compatible with all versions of macOS.
Step 2. Select files to scan
The data recovery for Mac you download online supports more than 200 types of files, including documents, videos, photos, audio files, archives and more. By default, all supported file types are selected, ready to be scanned. You only need to keep the wanted file types selected. Next, click "Start" to start the process of data recovery on Mac.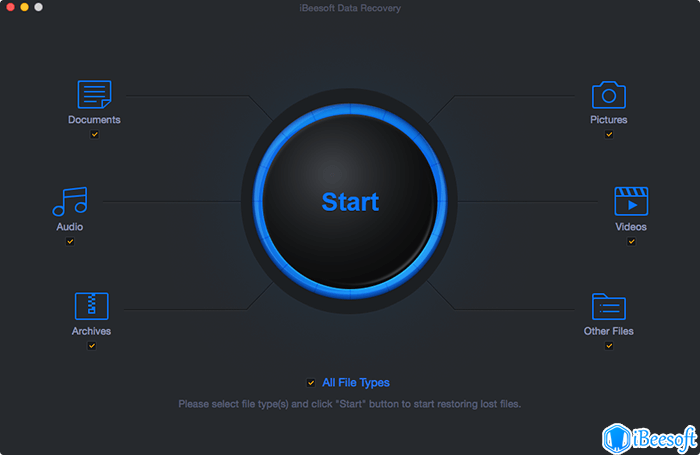 Step 3. Select hard drive/partition to scan
In the following window, all partitions and hard drives available on Mac will be listed. Please select the partition or hard drive from where you have deleted or lost the files on Mac and click the "Scan" button, letting the software scan for the deleted files.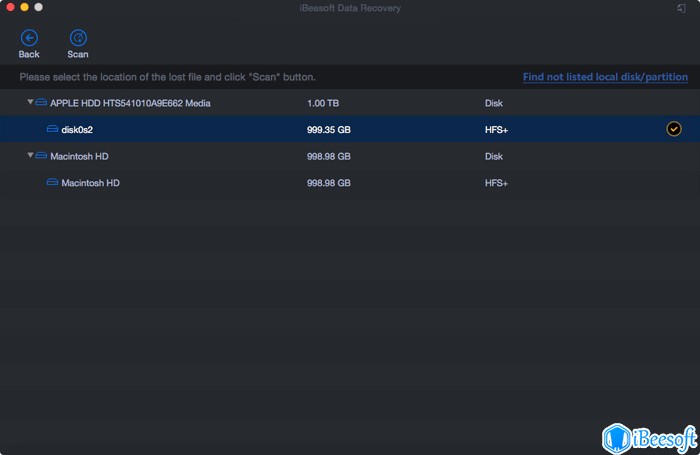 Step 4. Recover data from Mac
There is a progress bar on the software, telling you how it goes on with the scanning process. It only takes a few minutes for the software to find the lost files for you. After then, you can see all the found files are sorted into category. To preview them, you need to select the file type in the left side of the window first. After then, preview the files respectively. If they are want you are looking for, select them and click "Recover" to save them on your Mac again.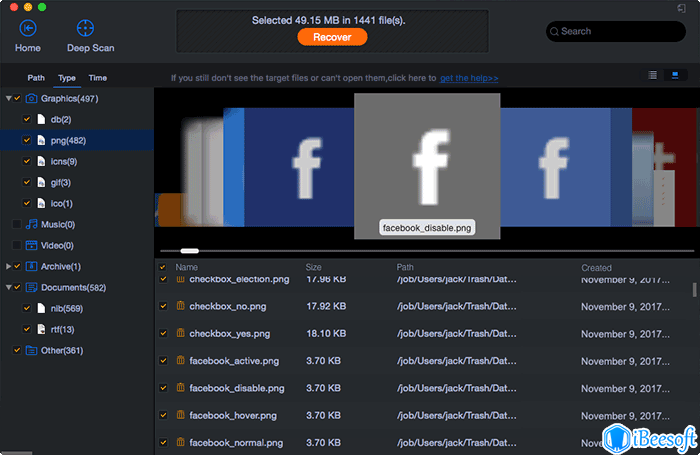 In the result window, you can see the "Deep Scan" option as well. It is used for deeper scan for lost files on Mac. If you can't find the target files in the Quick Scan window, then try the "Deep Scan" button.